Infections creep up in RMG belts
Since factory reopening, at least 58 workers infected at 35 units in Ashulia, Gazipur, N'ganj, Ctg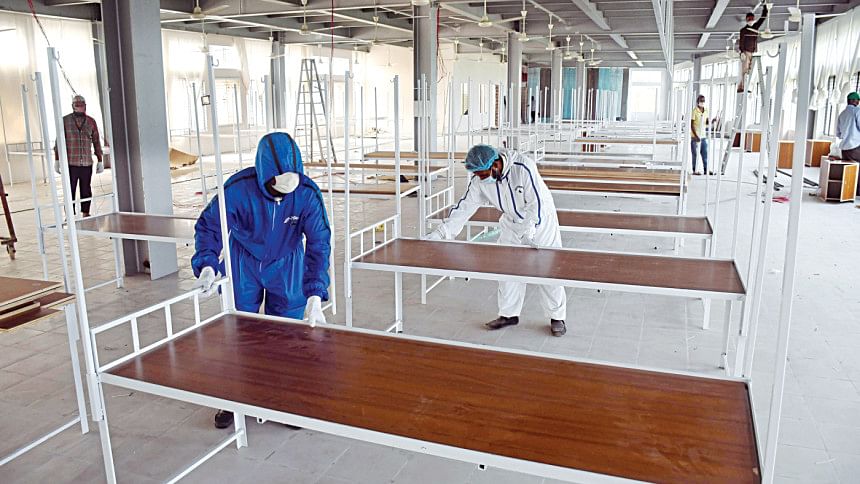 With more and more garment factories reopening every day, the deadly coronavirus appears to be spreading among workers in the industrial belts in Ashulia, Gazipur, Narayanganj and Chattogram.
As of yesterday, at least 58 workers from 35 garment factories got infected with the virus, said the industrial police.
The number of infected workers was 43 on Sunday. Of them, 35 were male and nine female, according to Bangladesh Garment Manufacturers and Exporters Association.
Earlier on April 28, two RMG workers tested positive for the virus just a couple of days after the factories started reopening.
The industrial police said 1,750 factories in different industrial belts across the country ran operation yesterday. The number was 1,382 on April 28.
Of the infected workers, 36 are from 19 factories in Ashulia, 12 from nine factories in Gazipur, five from three factories in Narayanganj, three from three factories in Chattogram, and two from a factory in Mymensingh.
Asked about the reopening of factories and the rise in Covid-19 infections among RMG workers, Ahsan H Mansur, executive director of the Policy Research Institute, said, "We have messed it up."
The factories were supposed to reopen in phases and zone-wise, not haphazardly, as decided at a high-profile meeting of government high-ups, leaders of trade bodies of the apparel sector, experts and economists on April 25, said Ahsan who was present there.
"Now we do not have any scope for closing the factories again because of economic reasons."
The economist advised the workers to be more careful, and also suggested that the factory authorities should take more effective health-safety measures to curb the spread of the virus among staffers.
He also urged the government to increase testing facilities and the number of hospital beds for Covid-19 patients.
For instance, the government can set up virus testing kiosks across the country, he added.
Seeking anonymity, a senior executive of the BGMEA said they have been instructing the factories to run operations following the health protocols such as measuring body temperature of workers and keeping information on the health status of the staffers.
Designated health workers at Ashulia Health Complex are collecting samples from garment workers with Covid-19 symptoms, added the executive.
The BGMEA website showed that a total of 461 factories were audited till May 10, and the health-safety measures and working conditions in 447 of those were found satisfactory.
The remaining 14 factories, which required improvement, were asked to come up with immediate corrective action plans to continue operation. Otherwise, those would be reported to the authorities concerned, it mentioned.