Trafficking to libya
Illegal Voyage to Europe: They call it 'game'
Traffickers use 3 routes to send Bangladeshi fortune seekers to the 'promised land'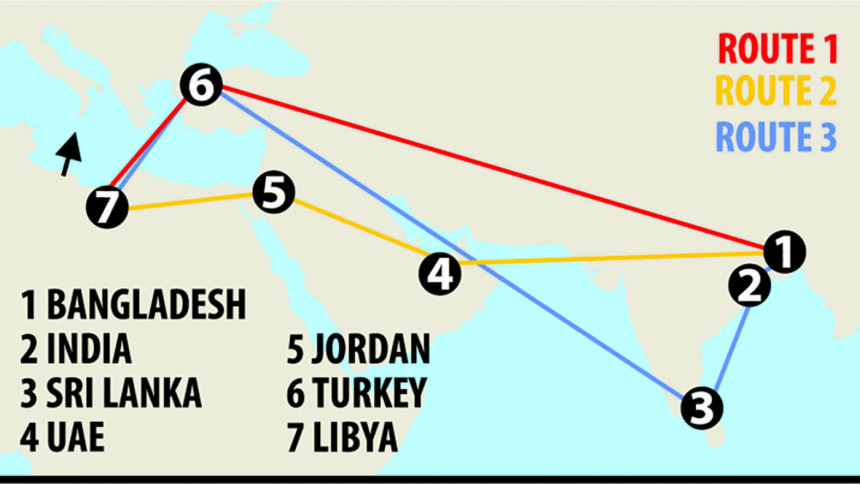 Transnational human traffickers use several countries for transits, including India, Sri Lanka, the United Arab Emirates, Jordan and Turkey, to send Bangladeshi job seekers first to Libya, and then to Europe through the Mediterranean Sea, Rab officials said.
A Bangladeshi man nicknamed "Goodluck Bhai" in Libya arranges the voyage from the Libyan coast, said Commander Mufti Mahmud Khan, Rab's legal and media wing director.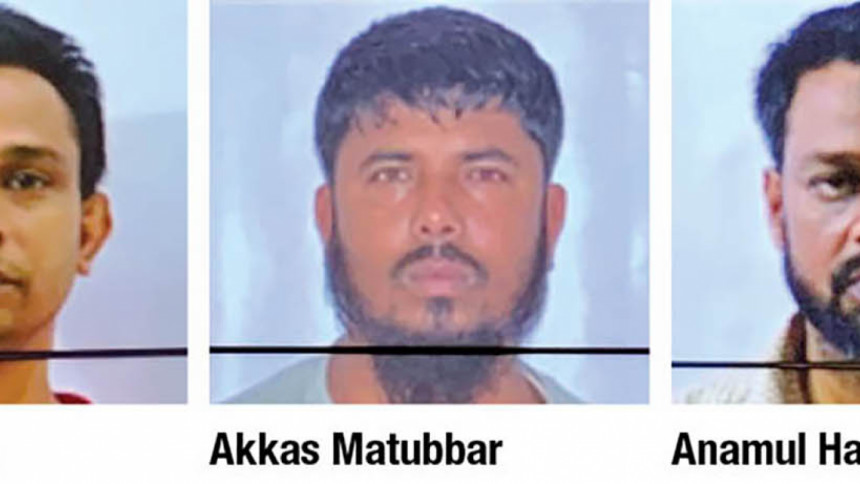 In their code language, the traffickers call it a "game" and make hefty sums, Tk 8-9 lakh from each migrant, according to Rab officials.
Rab officials learned this after interrogating three members of a trafficking ring involved in the trafficking some of the Bangladeshi job seekers who likely perished in the Mediterranean last week after their boat capsized.
Abdur Razzak Bhuiyan, 34, Akkas Matubbar, 39, and Anamul Haque Talukdar, 46, were arrested from the capital yesterday, Mufti said.
The arrests came after relatives of three victims filed separate cases in Sylhet and Shariatpur.
Anamul, owner of Yeahia Oversees, a travel agency in Sylhet, is involved in trafficking for 10 to 12 years. Razzak is his close associate, Mufti told a press briefing at Rab's Kawran Bazar media centre.
This gang may have trafficked several hundred Bangladeshis to Libya in the past few years.
Akkas has his own travel agency, Rab officials said, but did not disclose its name.
"We have come to know about five to six travel agencies involved in the trafficking of Bangladeshis. We are now verifying the information," Mufti added.
On May 9, a boat carrying 80 migrants capsized in the Mediterranean off Tunisian coast. There were 54 Bangladeshis on board and only 14 of them were rescued. Three bodies were found while 37 remain missing and feared dead, foreign ministry officials said.
Another boat carrying some 50 migrants, mostly Bangladeshis, reached Italy. A ship from the Tunisian port city of Zuwara had first carried the migrants and then transferred them to two boats in the middle of the sea. The overcrowded one capsized in the sea.
THREE ROUTES
Since the fall of Muammar Gaddafi in 2011, Libya has been in a civil war, creating a complete lawlessness. Bangladesh stopped sending workers to Libya in 2014. Taking advantage of Libya's lawlessness, traffickers began operating in various war-torn and poverty-struck countries in Africa and the Middle East.
These transnational syndicates include Bangladeshi traffickers.
Rab officials said they identified several such syndicates, each having 20 to 30 brokers. These brokers target low-income people in remote areas and lure them into the risky voyage, promising better life in Europe.
The traffickers use three routes to send the migrants to Europe, said Mufti. 
The routes are Bangladesh-Turkey-Libya-Europe; Bangladesh-India/Sri Lanka-Libya-Europe; and Bangladesh-UAE-Jordan-Libya-Europe, Rab officials said quoting the arrestees.
Some of the May 9 tragedy victims were taken to Libya through India-Sri Lanka-Istanbul route, they added.
For this trip, they first took the victims to Kolkata by bus and then to Delhi by air. Later, the migrants were sent to Sri Lanka by air, where they stayed around five days before heading for Libya, Rab said.
Before leaving Sri Lanka, which issues on-arrival visas, the local agents manage "Ok To Board" approval from Libyan authorities to depart from Sri Lanka and enter Libya.
These syndicates have agents in each of these countries. They collect Tk 4 to 5 lakh from each migrant before they depart Bangladesh. The rest of the money is collected in Libya as per the agreement, Mufti said.
They also force the migrants to do odd jobs in Libya if their family delay the payments, he said, adding that migrants sometimes needed to stay in Libya for up to one year.
"The trafficking gangs also confine the Bangladeshis and torture them to create pressure on their families to pay the money," Mufti said.
THE SEA ROUTE
Once the family members fully pay, the traffickers gather the Bangladeshis in a single place and train them on operating the rigid-inflatable boats (RIB) used to cross the Mediterranean to reach Europe, said Mufti.
Generally, an RIB can carry 40 to 45 people, but the syndicates load 85 to 90 to save money.
Many of these boats sink as migrants often fail to control them. Sometimes, migrants throw their sick fellows overboard to shake off some weight of the boats that take around 20 hours to reach the coasts of Italy.
Bangladeshis are among the nationals who take the risky journey via the Mediterranean.
The number of Bangladeshis drowned in the Mediterranean is not known, but according to the International Organisation for Migration, at least 443 migrants either died or went missing in the Mediterranean while trying to reach Europe in boats as of May 8 this year. The figures were 2,299 in 2018 and 3,139 in 2017.
'FORCED TO PAY'
In his case filed over the trafficking of his brother, Mofiz Uddin sued 20 people, five named and 15 unnamed.
In the complaint, Mofiz claimed Anamul, owner of Yeahia Overseas, had assured him and his brother Aziz of a safe journey to Italy. However, once in Libya, the traffickers took his brother into captivity and tortured him for payment.
The trafficking gang forced the family to pay the sum between December last year and May this year. They also threatened Aziz, his two cousins and an uncle, who were also on the boat, with death if they failed to pay, according to the case statement.
The other named accused are brokers Jahed Ahmed, Razzak Hossain, Saiful Islam and Monzur Rahman alias Goodluck.
Two more cases were filed in Sylhet and Shariatpur over the trafficking of two other victims.
At least 11 named and several unnamed people have been booked in these cases.