'I appeal to all, no lip service please'
Foreign minister urges int'l community about Rohingya repatriation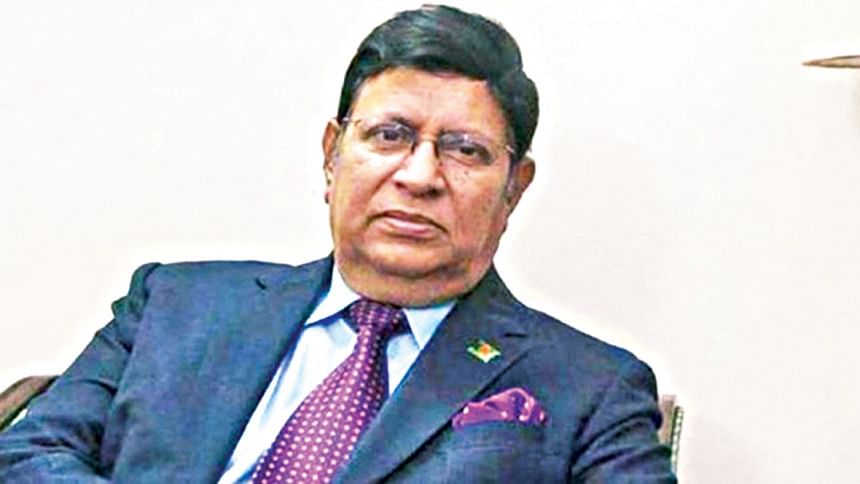 Foreign Minister AK Abdul Momen has appealed to the international community to work sincerely, instead of paying "lip service" for repatriation of the Rohingyas to Myanmar.
"There are 1.1 million Rohingyas in camps in Bangladesh. The majority of them are girls and women. It's time for the world leaders to come forward to help repatriate and reintegrate them in Rakhine and give them a future," he said yesterday.
The minister was addressing an event titled "Women in Diplomacy: How are We Doing?" at the Foreign Service Academy in the capital, marking the International Women's Day. It was organised by the Diplomatic Correspondents' Association of Bangladesh (DCAB) with the support of the Bangabandhu Research Centre for Foreign Policy and Diplomacy.
UN Resident Coordinator Mia Seppo, Swiss Ambassador to Bangladesh Nathalie Chuard, Swedish Ambassador Alexandra Berg von Linde, Maldives High Commissioner Shiruzimath Sameer, Bangladesh Foreign Secretary Masud Bin Momen, foreign ministry officials and DCAB leaders attended it.
Momen said that while Myanmar has been committing gross human rights violations, some countries that advocate human rights are doing business with it and the volume of their trade is increasing.
Imposing sanctions on some generals will not work. The international community should go to Rakhine and ask Myanmar to create conditions conducive to the repatriation of the Rohingyas in Rakhine, he noted.
The global community's focus must be on Myanmar, not on whether the refugees are sheltered in Kutupalong or Bhasan Char, mentioned Momen.
"If they [the Rohingyas] stay here for long, there are possibilities for creation of pockets of radicalisation. I appeal to all -- no lip service please...
"We should be more sensitive to the Rohingya women."
Momen highlighted the progress made in women empowerment in Bangladesh. At present, about 30 percent of the foreign ministry officials are women. They include eight female Bangladeshi ambassadors posted in different countries.
In response to DCAB member Israt Zahan Urmi's comment in her keynote speech that many of the Bangladeshi female workers abroad, especially in the Middle East, face physical, mental and sexual abuses, Momen said the government is working to reduce such cases.
He further said some women rights groups demanded that women must not be sent to Saudi Arabia to work there as domestic workers. The demand is contrary to the principle of gender equality.
"All have the right to mobility. Our constitution does not discriminate. However, if there are abuses, it is our responsibility to address those," Momen said.
Foreign Secretary Masud Bin Momen said torture of female domestic workers is a serious problem that must be addressed.
The ministry has adopted a policy of sending more female envoys to the Middle East countries so that they can work better to protect the rights of female workers.
He said men must change their mindset intreating women colleagues in workplaces, and that there must be a culture of respect for women everywhere.
UN Resident Coordinator Mia Seppo said women have special capabilities in peace-making. When they are involved in signing deals or negotiations, they have better chance of making peace due to their natural capacity to listen and speak with empathy.
"Gender equality is beneficial for both men and women," she noted.
DCAB honoured Mashfee Binte Shams, the first woman secretary at the foreign ministry, with a crest at the event. DCAB President Pantho Rahman and its General Secretary AKM Moinuddin, among others, spoke.
WORK AT BHASAN CHAR
The foreign minister has urged the UN Refugee Agency to work at Bhasan Char, which has a housing facility capable of sheltering 100,000 Rohingyas.
Around 12,000 Rohingyas have already been relocated there from refugee camps in Cox's Bazar.
Momen made the call yesterday when UNHCR's new representative Johannes van der Klaauw presented his credentials to the minister at his office.
"I told the representative that they are welcome to work at Bhasan Char," Momen told this correspondent.
The UN has been asking for a technical assessment of the Bhasan Char project before deciding to work there. Presently, 44 NGOs are providing humanitarian assistance to the Rohingyas at Bhasan Char.