Hope rekindled for Saudi returnees
Kingdom extends their visas until Oct 17; Biman to start 4 weekly flights to KSA from Sept 26, Covid-19 certificate mandatory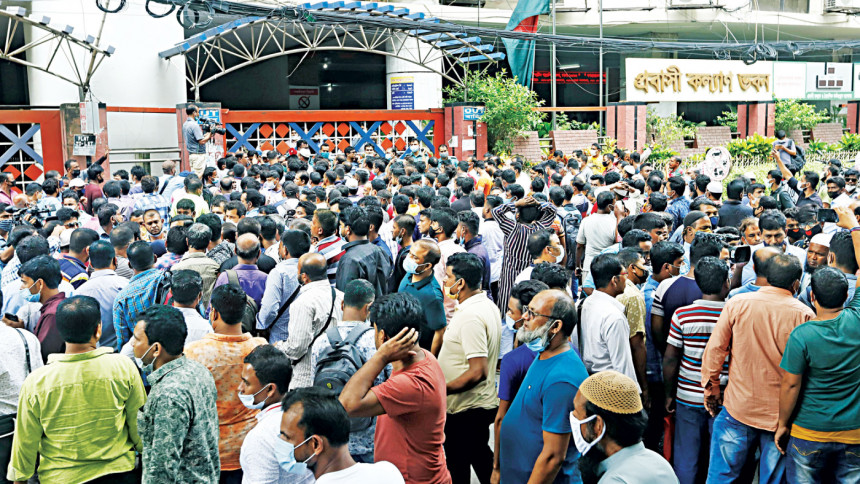 The Saudi government has agreed to extend visas for the Bangladeshis who returned home on holiday but could not go back to the kingdom due to the pandemic.
Foreign Minister AK Abdul Momen told The Daily Star that all the migrants stranded here would be allowed to go to Saudi Arabia.
They can travel on Biman and Saudia airlines, he said.
The minister said the migrants could get their expired visas renewed at the Saudi embassy in Bangladesh from Sunday and that their work permits (aqama) would remain valid until October 17.
The validity of the permits could be extended further if need be.
Momen also said the Saudi government had given landing permissions to Biman, which would help the return of the Bangladeshi migrants.
The government of Bangladesh has also given permission to all Saudi airlines to land here and take Bangladeshis back, he added.
State Minister for Foreign Affairs Shahriar Alam in a Facebook post said the Saudi government has permitted Biman Bangladesh Airlines to operate weekly two flights each to Riyadh and Jeddah.
Around 34,000 Bangladeshi migrants were worried that they would lose their jobs if they could not return to Saudi Arabia by September 30, when their visas and work permits were to expire.
Worried about losing their jobs, many had thronged the office of Saudia to get air tickets. A group of Bangladeshi workers demonstrated at Karwan Bazar for the third consecutive day yesterday demanding air tickets to Saudi Arabia.
Agitated expatriate workers also surrounded the expatriate welfare ministry at Eskaton around 11:00am yesterday.
Around 1:00pm, a six-member delegation of Saudi returnees called on the Overseas Employment Minister Imran Ahmad. The meeting lasted half an hour and the minister sought time till Monday to resolve the crisis.
FLIGHTS AND TICKETS
Saudia resumed regular flights to and from Dhaka yesterday. The first flight carried around 255 Bangladeshis to Saudi Arabia. But only around 800 more would have been able to go to Saudi Arabia on these twice-a-week flights by September 30, said officials of the Saudi Arabian Airlines.
Even with the addition of four weekly Biman flights to the kingdom, question remains on whether all the migrants would be able to return to work before October 17 unless other carriers operate flights or these two airlines run more.
The Civil Aviation Authority of Bangladesh (CAAB) initially gave Saudia permission to operate two weekly flights from Dhaka although the carrier sought seven.
CAAB Chairman Air-Vice Marshal M Mafidur Rahman on Tuesday assured that they would give permission to Saudia to operate as many flights as it wanted.
Biman is going to operate Dhaka-Jeddah flight on September 26 and Dhaka-Riyadh flight on September 27 for the return ticket holders of March 16 and 17.
Passengers with return tickets of March 16 and 17 were requested to contact the Biman Sales Office for booking tomorrow with necessary documents, including tickets, passports, approval from apps/links specified in Saudi Arabia, said Biman Managing Director and CEO Mokabbir Hossain in a message.
Other passengers will also be notified for booking in phases and when more flights are approved by the Saudi authorities, he said.
He said Covid-19 negative certificate was mandatory and all passengers would have to reach the kingdom within 48 hours of their test sample taken.
"All passengers will have to conduct the Covid-19 test in Dhaka and will have to travel from Dhaka," said the Biman MD.
Sources at the Hazrat Shahjalal International Airport and the expatriates' welfare ministry said around 35,000 migrants returned to the country from the kingdom on holiday since late February but could not go back due to the pandemic and subsequent suspension of flights in March.
Before this visa and work permit validity extension, the Saudi government had thrice extended the validity of work permits for Bangladesh citizens stuck at home. The last of three was to expire on September 30.
Home to more than 22 lakh Bangladeshis, Saudi Arabia is also the prime destination of Bangladeshi migrant workers and the biggest remittance-generating country for Bangladesh.
Earlier yesterday, Momen urged the Bangladeshi migrants to have patience.
"We all are working together. We're working very sincerely to resolve the problem. Having patience is very important," he told reporters at his office after an inter-ministerial meeting.
He said the government had requested the Saudi government to extend validity of visas and work permits by three months.
"We just made the request yesterday [Tuesday]," Momen said.