Home from prison but to be laid to rest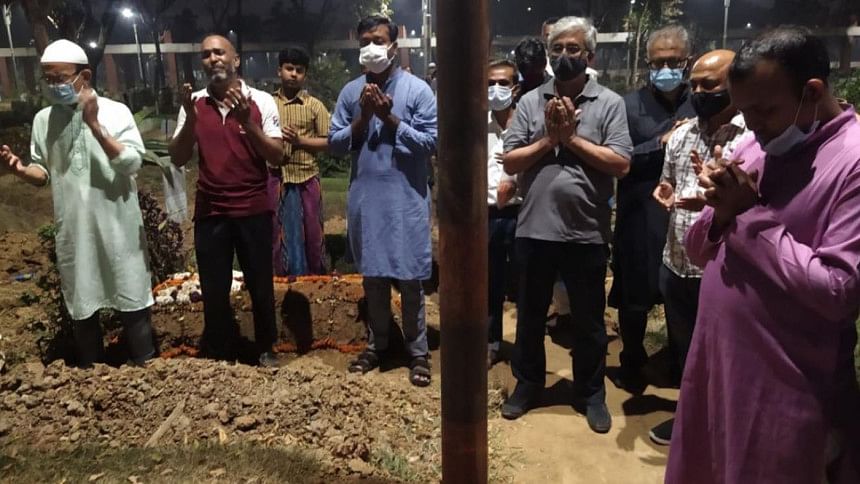 As Rab members were taking away writer Mushtaq Ahmed from his Lalmatia residence nine months ago, they assured the family that he would return home after a short while.
Finally, Mushtaq came back -- but dead and cold.
A pall of gloom descended on the house "Parampara" at 1/8, in Block-D as his body was brought there around 3:45pm yesterday with his family members, friends and relatives bursting into tears.
His wife Lipa Aktar was shell-shocked and speechless.
"She did not cry. Neither did she talk to anyone. It would have been better for her if she would cry," Dr Nafisur Rahman, cousin of Mushtaq, told The Daily Star yesterday.
Soon after Mushtaq was picked up in early May last year, Lipa told this newspaper that she and Mushtaq's aged parents asked the Rab men in plainclothes when he would return as they were whisking him away around 1:00am.
The Rab men replied that they would send him back after a little while following some questioning.
On May 8 last year, Mushtaq was made accused in a case filed under the controversial Digital Security Act with Ramna Police Station in the city and since then he had been in jail.
"I met him inside prison. We had a chat and he said that he was supposed to be free after quizzing. However, that did not happen," said Didarul Islam, a member of politico-civic organisation called Rashtrachinta, another arrestee in the case who is now currently on bail.
Denied bail six times, Mushtaq passed away on Thursday to be the first man to die in custody after being arrested under DSA, triggering widespread protests and condemnations.
He was buried at the Azimpur Graveyard last night after a Namaz-e-Janaza at Minar Mosque in Lalmatia.
Nafisur said when Mushtaq collapsed in jail, her blood pressure was recorded at 40/20. "It was very low. Then jail hospital authorities administered a steroid injection. Then he was sent to Shaheed Tajuddin Medical College and Hospital."
Nafisur, himself a physician, also said, "If necessary support was given to him [Mushtaq] during the transfer between the two hospitals, he could have survived."
Earlier, the body of the imprisoned 53-year-old writer was handed over to his family members and relatives after inquest and autopsy at the Shaheed Tajuddin hospital morgue.
Hospital authorities said Gazipur Executive Magistrate Wasiuzzaman Chowdhury prepared the inquest report while Dr Shafi Md Mohaimen, head of the forensic medicine department at Shaheed Tajuddin hospital, completed the autopsy.
Wasiuzzaman said initially there were no visible or mentionable signs of injuries on his body. However, details would be learnt after receiving the autopsy report.
Dr Shafi said Mushtaq was brought to the hospital dead and apparently there were no injury marks on his body. Samples collected for viscera and chemical tests will be sent to Dhaka.
Mushtaq's cousin Nafisur Rahman, while waiting at the hospital to receive the body, told journalists that the post-mortem has been done and before receiving a report he has nothing more to say.
Other relatives and acquaintances who went to the morgue said the writer might not have died if he had been out of jail. The death is a great loss to the family and friends, they added.
Didarul Bhuiyan, in tears, said he, Mushtaq and cartoonist Kishore were first taken to the Keraniganj central jail. They were then sent to Kashimpur in August last year and kept separately.
"I never ever thought that I would have to see his body. His death showed us that none is free in this country," he said.
"I may face another case for talking before the media."
Gazipur online activist Anwar Hossain, also the convenor of Bangladesh Nagarik Adhikar Sangrakkhan Parished, who is facing two cases under the DSA, said the state cannot avoid the responsibility when a free thinker dies in custody.
Meanwhile, Home Minister Asaduzzaman Khan Kamal said an enquiry committee would be formed to look into the death of Mushtaq in custody and necessary actions will be taken if needed following the autopsy report.
"The IG prison told me that the writer suddenly felt sick and was treated in the jail hospital. Later, he was taken to Shaheed Tajuddin hospital as his condition deteriorated and he died there," he also said, while talking to reporters after a programme in Chattogram.
Syed Bayazid, sub-inspector of Joydebpur Police Station, said an unnatural death case has been filed in connection with the passing of Mushtaq.