Hefajat leader Shafi dies
His death comes a day after unrest at his Ctg bastion
Shah Ahmad Shafi, the supreme leader of Hefajat-e Islam who often drew controversy for opposing women's empowerment and education, passed away yesterday evening.
His demise came a day after he resigned as the director general of Al Jameyatul Ahlia Darul Ulum Moinul Islam Madrasa, popularly known as Hathazari madrasa, following two days of student unrest.
Ahmad Shafi, the top guardian figure of Qawmi madrasa education in Bangladesh, was undergoing treatment at a hospital in the capital, suffering from old-age complications.
Soon after stepping down from the post he held for more than three decades, the centenarian was taken to Chattogram Medical College Hospital on Thursday night as his condition deteriorated. He was put on life support.
He was flown to the capital's Asgor Ali Hospital by an air ambulance around 4:30pm yesterday, said ANM Obaidullah, publicity secretary of Hefajat's Chattogram unit.
Doctors declared him dead around 6:30pm.
Quoting the family members, Dr Aftabul Islam, deputy director of CMCH, said Ahmad Shafi had been suffering from diabetes, pressure and heart related problems for a long time.
Ahmad Shafi's son Anas Madani, who was also removed from the post of assistant director at Hathazari Madrasa on Wednesday night, told journalists at Asgor Ali Hospital that his father's body will be taken to Hathazari by road.
"He was doing better. But his condition deteriorated following the incident at the madrasa."
Ahmad Shafi will be buried at the Hathazari graveyard following a Namaz-e Janaza to be held around 2:00pm today.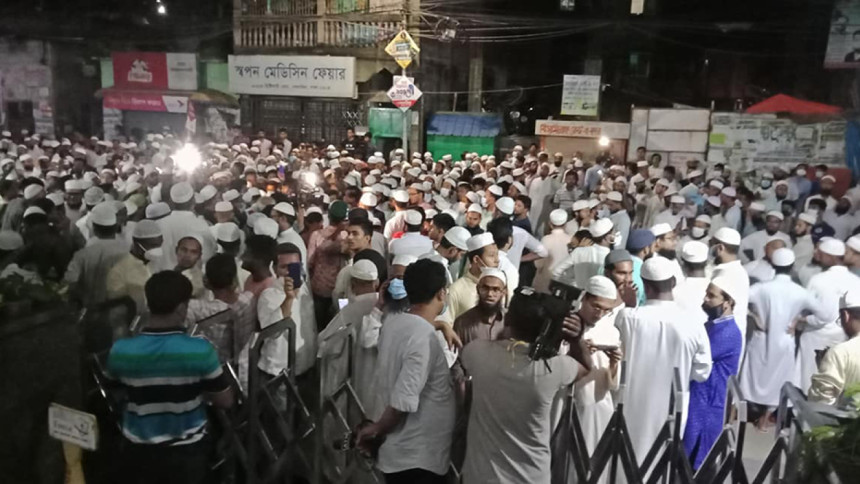 The renowned Islamic scholar was born in 1920 at Notuartila village of Shilok union under Rangunia upazila where he received his primary religious education at Muabinul Islamia Madrasa.
Then he went to Hathazari Darul Ulum Moinul Islam Madrasa. Later, he studied at the famous Darul Uloom Deoband in India.
In 1986, Ahmad Shafi took charge of Hathazari madrasa, the biggest institution of Qawmi education in the country.
He later became the chairman of Befaqul Madarisil Arabia Bangladesh, also called as the Qawmi Madrasa Education Board.
His organisation Hefajat-e Islam first appeared on the scene in 2009 by protesting a draft national women development policy that provided equal inheritance rights to women.
A year later, it demanded cancellation of a proposed national education policy that focused on secular curriculum for schools and colleges.
In 2013, Hefajat grabbed the spotlight when it appeared on the scene as a force countering the Shahbagh movement initiated by bloggers and online activists demanding death penalty for war criminal Abdul Quader Mollah.
After the February 15 killing of Rajib, a blogger who was branded an atheist, Hefajat began to allege that some of the Shahbagh activists' blog posts offended the "Muslim's religious feelings".
On April 6, its activists and supporters marched towards Dhaka and held a rally at Shapla Chattar with a 13-point demand, including enactment of anti-blasphemy act and stringent punishment of "atheist bloggers".
Then came the May 5 mayhem.
As Hefajat activists turned increasingly violent and kept Motijheel occupied for nearly 12 hours after their rally there on May 5, 2013, the law enforcers swung into action after midnight and drove them away.
On May 6, senior leaders of Hefajat moved to Chattogram claiming the government launched a mass killing at their rally. But they could not show up with the exact figure of how many died on that night.
Police filed around 83 cases against Hefazat leaders across the country for creating anarchy. Many of the senior leaders were arrested soon after the incident.
But things would change in the following years and Shafi and the Awami League government would become close to each other. Earlier, he seemed leaning towards the BNP.
At a "Shokrana Mahfil" in 2019, Shafi accorded Prime Minister Sheikh Hasina the title "Mother of the Qawmi" for recognising the highest Qawmi degree as equivalent to a post-graduate degree.
Ahmad Shafi often admired the government for "its role in protecting Islam".
A faction led by Junayed Babunagari, secretary general of Hefajat was dead against the Hefajat's soft approach to the government, resulting in the latest clash on the premises of Hathazari madrasa.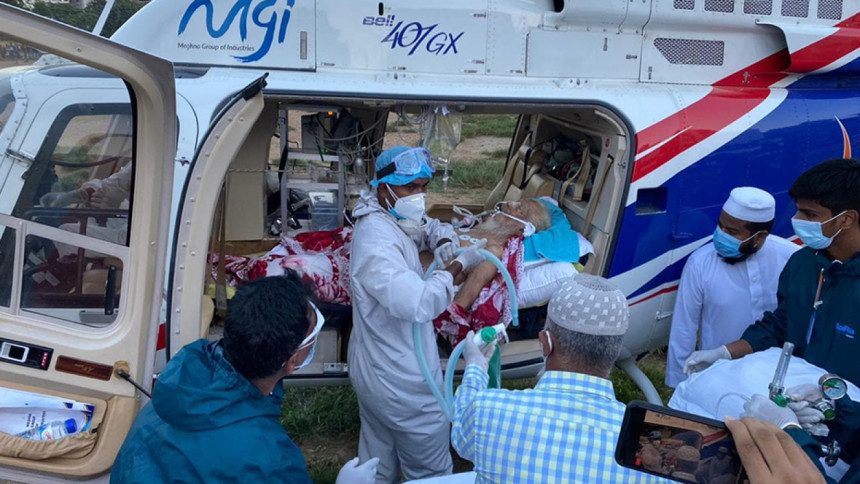 CONTROVERSY
The Hefajat ameer went on to make news now and then with his controversial statements, for which he often drew flak from different quarters, especially for his conservative remarks that belittled women.
He was known for his stance against women's education and employment. In 2013, during a sermon he made suggestive remarks comparing women with tamarind.
"You women should stay within the four walls of your houses. Sitting inside your husband's home you should take care of your husband's furniture and raise your children, your male kids. These are your jobs. Why do you have to go outside?" he went on saying.
In 2019, during a sermon delivered to the parents of the students of Hathazari madrasa, Shafi asked the parents not to send their daughters to school beyond grade four or five.
CONDOLENCE
Condolences poured in from different socio-political parties, Islamic organisations immediately after the demise of Ahmad Shafi.
Prime Minister Sheikh Hasina, different ministers and distinguished personalities expressed profound shock and sorrow at his death.
In her condolence message, Sheikh Hasina said Allama Shafi made important contributions to preaching and expansion of Islamic education in the country.
"Besides, Allama Shafi played a role in modernisation of the Qawmi madrasa education system," she said.
The premier prayed for the salvation and eternal peace of his departed soul and conveyed profound sympathy to the bereaved family.
President Abdul Hamid, in a message, said Allama Shafi had played an important role in promoting Islam at home and abroad. "At his death, the country lost a prominent Islamic scholar."