Global Hunger Index: Bangladesh moves 13 notches up
Outshines India and Pakistan, ranks 75th among 107 nations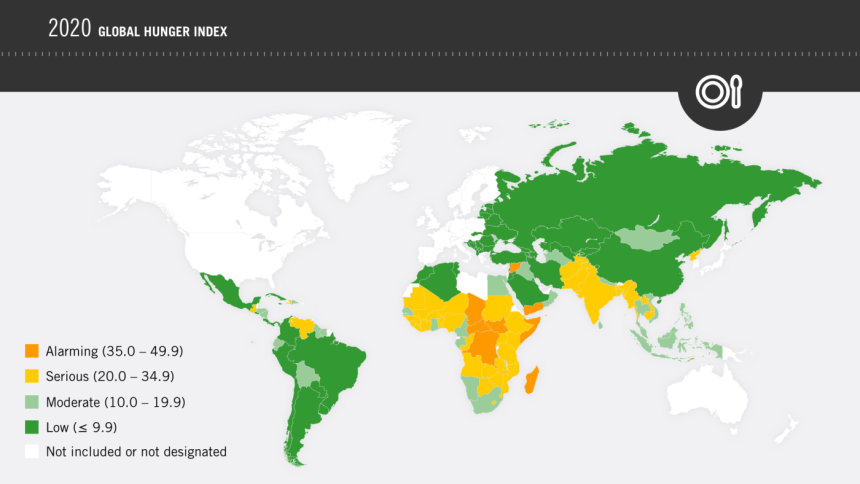 Bangladesh has been ranked 75th out of 107 qualifying countries in the Global Hunger Index (GHI) 2020 with a score of 20.4.
The country has moved 13 notches up from last year's 88th position.
Bangladesh also did better than South Asian countries Pakistan (88th), India (94th), and Afghanistan (99th), according to the report jointly published by Concern Worldwide and Welthungerhilfe on October 12.
With the score 20.4, Bangladesh, however, has a level of hunger that is "serious", the report mentioned.
Among other qualifying South Asian countries, Sri Lanka (64th) and Nepal (73rd) did better than Bangladesh in the index.
"Overall, this is an excellent performance [for Bangladesh]," said KAS Murshid, director general of Bangladesh Institute of Development Studies (BIDS).
It needs to be seen which year's data has been used to prepare the index, what are the variables used and what factors contributed to the improvement, he said.
Murshid said as it is a relative ranking, Bangladesh did better than others in agriculture.
"Even though growth slowed in recent years, the country's agricultural performance has been good."
Looking forward, further diversification of agriculture is needed apart from increasing productivity, he observed.
Besides, ensuring food security has become essential because of the uncertainty created by the Covid-19 pandemic, he said, adding that this has become more important than ever before. "We saw in the past that food was not available even though we had money to purchase."
Besides, still a lot of people are poor. Many suffer from malnutrition. Attention has to be paid to this area to realise the potential of the country's human resources, Murshid said.
The GHI is a peer-reviewed annual report designed to comprehensively measure and track hunger at the global, regional, and country levels. Its aim is to trigger action to reduce hunger around the world.
It calculates the levels of hunger and undernutrition based on four indicators -- undernourishment, child wasting, child stunting, and child mortality.
Out of 100 points, 0 is the best score (no hunger) and 100 is the worst. In practice, neither of these extremes is reached.
According to the report, 17 countries, mostly from Europe and the Americas, with scores less than 5 have collectively been ranked at 1-17 in the index. North Macedonia and Russia Federation have been placed at 18th place with both scoring 5.2.
According to the index, three countries -- Chad, Timor-Leste, and Madagascar -- suffer from levels of hunger that are alarming and 31 have serious levels of hunger.
Chad has the highest score of 44.7.
At regional level, hunger is highest in the regions of Africa south of the Sahara and South Asia, whose 2020 GHI scores are 27.8 and 26.0, respectively.
South Asia has the largest number of undernourished people in the world, the report mentioned.
Despite declines in recent years, child mortality in South Asia is still unacceptably high, with improvements in child nutrition needed, it said.
The mortality rate of children under five in South Asia as of 2018 was 4.1 percent, compared with 9.2 percent in 2000.
According to the report, the high child stunting rate in South Asia is driven by multiple factors.
The key factors that contribute to stunting in the region are poor infants and young child feeding practices, poor nutrition among women before and during pregnancy, and poor sanitation practices.
Data from 1991 through 2014 for Bangladesh, India, Nepal, and Pakistan showed that stunting is concentrated among children from households facing multiple forms of deprivation, including poor dietary diversity, low levels of maternal education, and household poverty.
The report said the Covid-19 pandemic has undermined food and nutrition security for many, and its effects will likely ripple into the future.
It is critical to understand that the GHI scores presented in the 2020 report do not yet reflect the impact of Covid-19 on hunger and undernutrition, said the report.
Nonetheless, the GHI scores and indicator data point to the parts of the world that are already suffering from hunger and undernutrition, putting them in a precarious and vulnerable position to face the current crisis, it added.