Focus on skills
Education minister says universities must provide learners with knowledge, skills to become entrepreneurs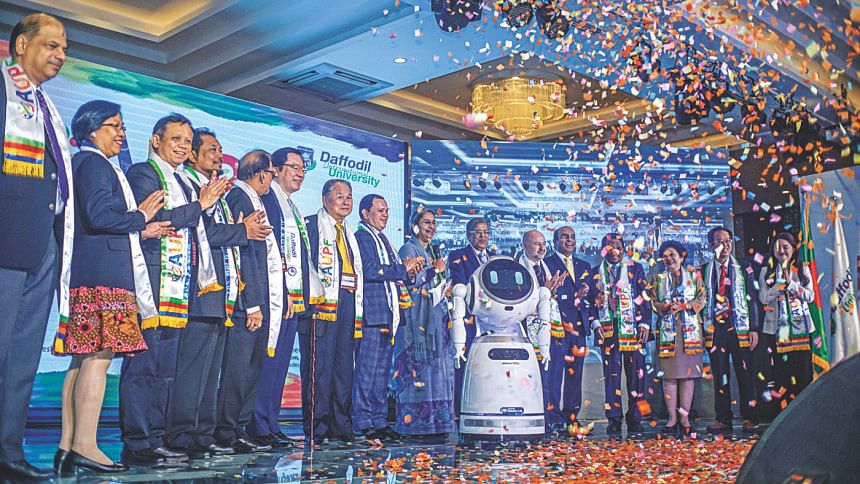 Universities should provide students with the knowledge and skills that equip them to become entrepreneurs, said policy makers and academics yesterday.
"We keep saying that graduates fail to get jobs, but employers keep complaining that the graduates don't have the necessary skills," Education Minister Dipu Moni said while inaugurating the 18th Asian University Presidents Forum (AUPF) 2019 at a hotel in the capital.
Dipu Moni added that strong collaboration between industries and academia was needed to address the problem.
Presidents, rectors, and vice-chancellors of universities in 15 Asian countries are participating in the event organised by Daffodil International University (DIU) and Association of Private Universities of Bangladesh (APUB).
The three-day programme is titled Future of Entrepreneurship Education and Experiential Learning: Determinants of Developing Successful Entrepreneurial Eco-System in Asian Economies.
"We do not only want to create graduates who are ready for the job market, but we also want our graduates to become entrepreneurs and employ others. We have to create an environment where we can provide our learners with the skills of entrepreneurship," the education minister said.
AUPF standing committee member and DIU trustee board Chairman Sabur Khan said higher education was expanding fast and there was a need to improve the quality of education.
Baybars Altuntas, chairperson of World Business Angels Investment Forum, Turkey, as the keynote speaker said entrepreneurs were facing big challenges and access to finance was the biggest one.
He said angel investors were increasing their investments in start-ups. Angel investors are wealthy individuals or groups who invest in start-ups or early-stage small businesses.
"The young generation is producing start-ups and good start-up ideas…" he said, adding, "Universities of the US and Europe have started to establish their own business centre networks. They are inviting graduates of universities to come together under a network and invest in start-ups from their universities."
Speakers at a panel discussion stressed the need for collaborative efforts among government, businesses, and universities.
Southern University Bangladesh founder and trustee board Vice-President Prof Sarwar Jahan presented a paper on the role of internship in preparing students to be entrepreneurs.
He said universities in the country were creating job-seekers rather than job providers.
Students should be inspired to become entrepreneurs, he added.
Jekuk Chang, president of Dongseo University in South Korea; Prof Abdul Mannan Choudhury, vice chairman of APUB and VC of World University Bangladesh; and Prof SM Mahbub-ul-Haque Majumder, DIU pro-VC, also spoke at the programme.
Prof Abu Yousuf Md Abdullah, VC of Northern University of Business and Technology Khulna, presented a paper on the role of alternative financing in growth and development of entrepreneurship.
Professor Regina Valutyte, vice-rector for academic affairs at Mykolas Romeris University of Lithuania, said there should at least be a course on entrepreneurship in different departments of universities, if it is not possible to open a separate department.
Prof Mohammed Masum Iqbal, dean of business faculty at DIU said students should be determined to be entrepreneurs.
The closing ceremony of AUPF will take place on DIU permanent campus at Ashulia in Savar today. University Grants Commission Chairman Prof Kazi Shahidullah will be the chief guest.
Originating from a friendly collaboration between institutions of higher education in China and Thailand, the AUPF was officially established in 2002 to include higher education institutions across Asia.
Since its inception, the AUPF has expanded throughout Asia and has congregated annually in different Asian countries. The last conference was held in Indonesia and the next one would be held in India.