First jab of Covid vaccine suspended
Govt hopes to receive 1 lakh doses from Covax in May; another 20 lakh doses needed for second shots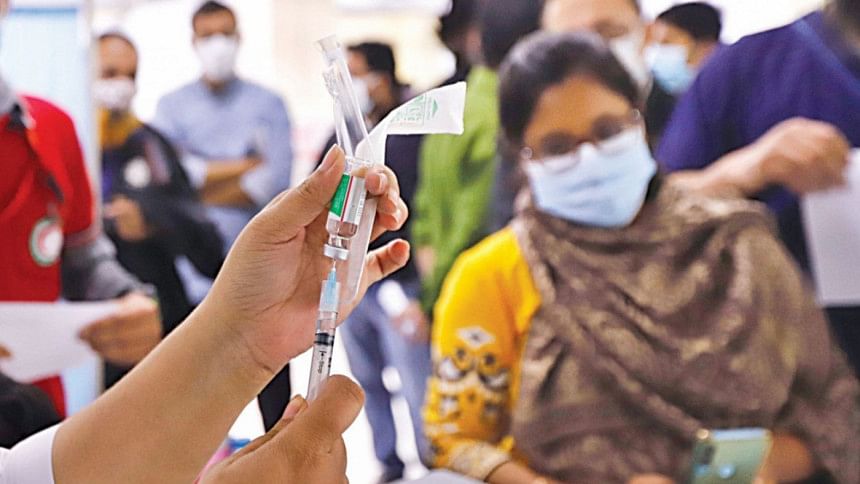 The government suspended administering the first dose of the coronavirus vaccine yesterday, just a day after the Indian government said there will not be another shipment of the vaccine to Bangladesh anytime soon.
A circular issued by the Directorate General of Health Services (DGHS) about the suspension didn't mention when the authorities might resume administering the first dose.
In another development, the DGHS said it needs 20 lakh doses of the Oxford-AstraZeneca vaccine to continue providing people with their second jab.
"We asked Beximco to see if they can supply 20 lakh doses immediately," DGHS Director General Prof Abul Bashar Mohammad Khurshid Alam told The Daily Star yesterday.
The DGHS will receive one lakh doses of the Pfizer vaccine from the COVAX facility by May, he said.
Besides, China has offered five lakh doses of its Sinopharm vaccine which has already been approved Bangladesh's drug administration. Officials hope that these doses will arrive by May.
Delhi on Saturday told Dhaka that the supply of the oxford vaccine will be delayed due to a shortage of raw materials and massive demand in India.
Bangladesh foreign ministry wrote to the Indian high commission last week, seeking information about the supply of the vaccine as per a contract.
Nazmul Hassan Papon, managing director of Beximco pharma, said, "We hope that we will get some vaccine. But I can't tell for sure."
Health experts predict that the inoculation programme will suffer for a while unless a miracle happens.
"The government must manage the Oxford vaccine for those who took its first jab. And at the same time, they should find out other sources," said Sayedur Rahman, chairman of pharmacology at the Bangabandhu Sheikh Mujib Medical University Hospital.
He added that China's Sinopharm and Russia's Sputnik V are good options.
Besides, a Bangladeshi drug maker has informed the government that it can produce the Moderna and Jonson & Jonson vaccines and it had communicated both the companies.
"We asked the local company to submit the relevant documents mentioning the cost," Prof Khurshid told The Daily Star.
The DGHS is trying to ensure the Sinopharm and Sputnik V arrive soon, he added.
The government on December 13 last year signed a deal with Serum Institute of India on purchasing 3 crore doses of the AstraZeneca vaccine. As per the deal, Bangladesh was supposed to get 50 lakh doses a month.
As of yesterday, only 70 lakh doses have been shipped to Bangladesh. The Indian government had sent an additional 33 lakh doses as gift.