Dhaka Circular Rail: Belated but bold
Feasibility study on the mega project says it may take 6 years; likely to make commute from surrounding dists easier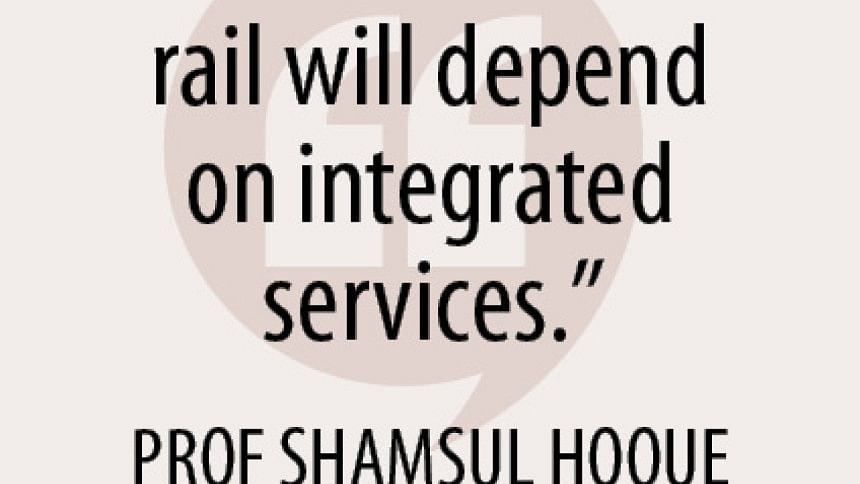 Bangladesh Railway recently carried out a feasibility study to build a circular rail network in Dhaka -- a mega project that is expected to ease traffic congestion on city roads.
The project, which the railway study says will take six years to complete and is estimated to cost $8.37 billion, is likely to provide a more efficient commute both for people in the capital and those from surrounding districts coming into the city.
The circular rail along the existing inner ring road of the capital and part of Narayanganj district will be 80.89km long.
The proposed route is Bishwa Ijtema ground-Uttara-Dhaka Zoo-Gabtoli- Mohammadpur-Sadarghat-Postagola-Fatullah-Chashara-Adamjee-Demra-Trimohini-Purbachal-Tongi.
The rail network will have 24 stations -- 11 of which will have interchange facilities with the metro rail, dedicated bus services, and Sadarghat launch terminal, said the study report.
Around 10km of the rail track will be underground, while the rest will be elevated; three of the stations will be underground, and the remaining 21 elevated. The network will have two depots -- at Demra and Termukh.
A China-Bangladesh joint venture firm conducted the feasibility study and submitted the draft report to the project authorities recently, said Bangladesh Railway officials.
The project authorities have sent copies of the report to various agencies including the Roads and Highways Department (RHD), Dhaka Transport Coordination Authority (DTCA), Bangladesh Inland Water Transport Authority (BIWTA), and Dhaka Mass Transit Company Ltd (DMTCL) for their opinions.
Contacted, Project Director Monirul Islam Firozi told The Daily Star, "We will give a presentation over the study report at a meeting in the presence of the railways minister soon. The report will be finalised incorporating all the opinions."
He said the detailed design and Development Project Proposal (DPP) will be prepared after that.
Asked about the funding of the mega project, which may cost roughly Tk 710 billion, he said designated government agencies will work simultaneously to manage its funds.
The government proposed establishing a circular rail network to facilitate the daily influx of Dhaka-bound workers and traders from peripheral districts like Gazipur, Manikganj, Munshiganj, Narayanganj, Narsingdi, and Tangail.
Besides, the circular rail network -- already popular in many countries -- will greatly reduce traffic congestion in Dhaka, which so far centres around road communications, said BR officials.
Using the network, one will be able to go from one end of the capital to the other without having to enter the city. Its many interchange stations with the metro rail, bus rapid transit, or other modes, will also allow people to enter the city, they said.
Traffic congestion in Dhaka consumes around five million working hours every day and the average speed of vehicles during rush hours has come down to 5km/h, according to a 2018 report of Buet's Accident Research Institute (ARI).
The congestion causes an annual loss of between Tk 20,000 crore to Tk 55,000 crore, said ARI, citing findings of organisations working on the issue.
PROJECT FEASIBILITY
The government conducted a pre-feasibility study for the circular rail network by a Chinese firm, which had estimated a cost of $8.5 billion for the project with 20 stations under an 80km network.
BR then signed a Tk 24.56 crore deal with a China-Bangladesh joint venture firm in April 2019 to conduct this feasibility study.
The joint venture company comprises China Railway SIYUAN Survey and Design Group Company Limited and two local firms -- BETS Consulting Services Ltd, and Engineers and Advisors Ltd.
The conglomerate was supposed to complete work on the study within one year but the Covid-19 pandemic caused delays.
Prominent transport expert Prof Shamsul Hoque of Buet's civil engineering department said, "This is belated but a good initiative."
However, he said, effectiveness of such a project depends on many factors -- including having a proper land use plan, proper integration with other transport modes, and effective operation.
"Success of circular rail will depend on integrated services," Prof Shamsul told The Daily Star recently.
"In an unplanned city like Dhaka, consultants can draw a rosy picture but problems may be caused if the authorities go to implement it without proper coordination," he warned.
Referring to BR's "poor operation and service", Prof Shamsul said BR will not be able to efficiently operate the circular rail network. There should be a separate authority for providing such services, he added.
PROJECT FUNDING
On September 19, 2018, the cabinet committee on economic affairs gave its nod to a proposal for construction of the circular line under a public-private partnership (PPP).
The same year, more than a dozen Japanese companies had shown interest in investing in eight infrastructure projects in Bangladesh under a new government-to-government initiative -- the circular rail line being one of them.
Besides, last year, the South Korean government also expressed interest in investing in the project.
"This project will cost a lot of money. So, implementing the project under PPP will be more viable. However, we are also open to implementing it as an investment project," a BR official said.
STATIONS
The points where the stations will be located are near Bishwa Ijtema ground, Dhour, Uttara, Dhaka Zoo, Dhaka Zoo South, Gabtoli, Mohammadpur, Rayerbazar, Kamrangirchar, Sadarghat, Postagola, Pagla, Fatullah, Chashara, Chittaranjan, Adamjee, Siddhirganj, Demra, Trimohini, Beraid, Purbachal, Purbachal North, Termukh, and Tongi.
Of these, Dhour, Gabtoli, Mohammadpur, Sadarghat, Chashara, Siddhirganj, Demra, Trimohini, Beraid, Purbachal, Termukh, and Tongi will have interchange facilities, meaning these are points from where one can catch another mode of transport like the metro rail, bus, or launch.