Demand for Khaleda's Release: BNP men block road, vandalise vehicles in city
Activists of a pro-BNP organisation and police personnel clashed after the activists, while agitating for Khaleda Zia's release, blocked a road in the capital's High Court area yesterday.
The protesters damaged several vehicles in the area, said police, adding that they also had not taken permission for the demonstration. 
The incident happened two days after BNP Secretary General Mirza Fakhrul Islam Alamgir said they would no longer seek any permission to hold any programmes.
"We will arrange programmes as per our wish," he said at a rally in front of the party's Nayapaltan headquarters on Sunday.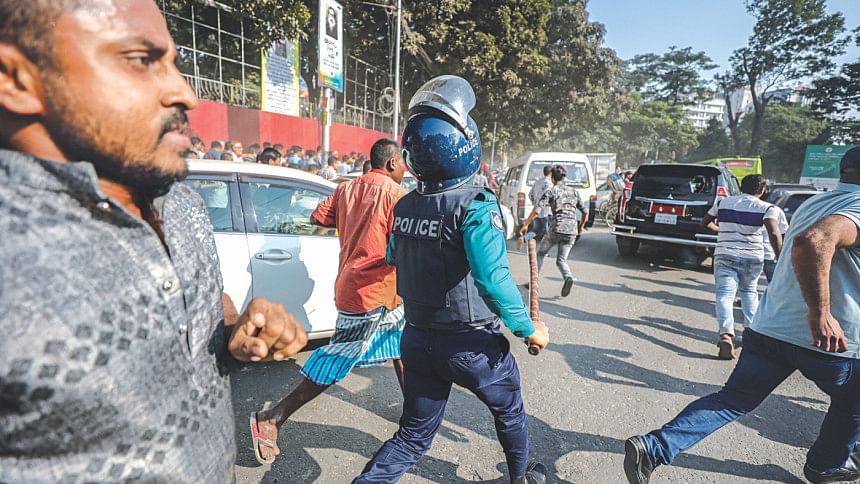 Around 1:00pm yesterday, around 200 BNP men, led by the party's Vice Chairman Abdullah Al Noman and under the banner of Jatiyatabadi Muktijoddha Projonmo Dal, took position on the road and started chanting slogans demanding the release of the party chairperson.
The protest caused a huge traffic congestion in the area and police asked the demonstrators to leave.
As the BNP men defied the police call, the law enforcers baton-charged them and lobbed tear gas canisters to disperse them.
The agitators retaliated by throwing brickbats at the policemen, said witnesses. At one point, the protesters left.
Sazzadur Rahman, deputy commissioner (Ramna Division) of the Dhaka Metropolitan Police, said the BNP men were staging the protest without taking any police permission.
"We tried to disperse them but they attacked us. Several policemen suffered minor injuries," he told The Daily Star.
He also said police dispersed the BNP men after they damaged windshields of several vehicles. 
The BNP men came from a programme that was held at the Jatiya Press Club earlier in the day. Party standing committee member Moudud Ahmed was scheduled to be the chief guest at the programme, but he did not join.  
 Later, BNP Vice Chairman Shawkat Mahmud, Gonoshasthaya Kendra founder Dr Zafrullah Chowdhury and Muktijoddha Dal President Ishtiaq Aziz Ulfat, among others, took part in the demonstration.
The protesters also chanted slogans blaming the government for the hike in prices of essentials, including onion.
Talking to reporters after the incident, BNP leader Noman alleged police attacked their "peaceful" programme without any provocations.
"I protest and condemn the incident. This police attack proves that there is no democracy in the country," he said.
Khaleda has been in jail since she was convicted in the Zia Orphanage Trust corruption case on February 8 last year. She has been receiving treatment at the BSMMU since April 1 this year.