Death sets Mushtaq free from DSA, jail
Brought dead to hospital in Gazipur from Kashimpur jail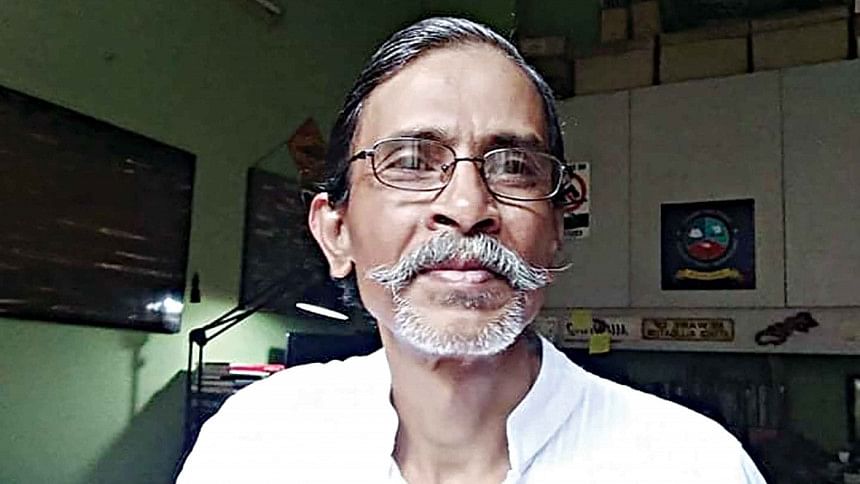 He was denied bail six times and finally passed away last night before he could ever walk free. 
Writer Mushtaq Ahmed, who had been locked up under the controversial Digital Security Act for over nine months, was in the Kashimpur High Security Jail-3 in Gazipur.
"He lost consciousness suddenly around 7:10pm. Immediately, we took him to Shaheed Tajuddin Ahmad Medical College Hospital. There, doctor declared him dead around 8:20pm," Gias Uddin, acting superintendent of Kashimpur High Security Jail, told The Daily Star.
Mushtaq was 53.
Asked if the writer had any previous health issues, he said Mushtaq used to take pills for gastric problems but never complained about anything.
Quoting doctors, Brig Gen Md Mominur Rahman Mamun, inspector general of prisons, told The Daily Star that Mushtaq was brought in dead at the hospital and that details would be known once the autopsy was done.
Md Sharif, a doctor at the hospital, also said Mushtaq was dead on arrival.
A relative, wishing not to be named, told The Daily Star that they could not believe that Mushtaq was dead. They did not know whether he had any heart disease.
The jail authorities called Mushtaq's brother-in-law after failing to reach anyone at his home number, added the relative.
Mushtaq's parents went to the hospital at night.
According to family sources, the body would be handed over to them this morning.
Mushtaq lived with his wife Lipa Akhter and elderly parents in Lalmatia.
He used to write under the pen name Michael Kumir Thakur. His book "Kumir Chasher Diary" was published in November 2018, and he was working on another book. 
He was critical, on social media, of the government's handling of the pandemic.
On May 6 last year, Rapid Action Battalion arrested him at his Dhaka home for "spreading rumours and carrying out anti-government activities".
The charges were filed under the DSA and he had been in that prison since August 20.
The other arrestees in the case are Ahmed Kabir Kishore, a cartoonist; Didarul Islam, a member of politico-civic organisation called Rashtrachinta; and Minhaj Mannan Emon, managing director of BLE securities and shareholder-director of Dhaka Stock Exchange.
Besides, seven more people, including Swedish-Bangladeshi journalist Tasneem Khalil, who runs Netra News; US-based journalist Shahed Alam; blogger Asif Mohiuddin; and expatriate Zulkarnain Saer Khan were named in the case.
Mushtaq and Kishore were brought into a courtroom before a judge two weeks ago.
Nobody knew they would suddenly be brought to the court, not even their families, who had not seen them in person since their arrests, because of Covid-19 regulations on visitors in prisons.
Their families said this was their first trip out of prison, since they were both produced before a court on May 6 last year.
On February 23, Mushtaq and Kishore were brought to the cyber crimes tribunal for hearing.
Kishore's brother Ahsan Kabir had last seen the duo then.
Upon seeing Mushtaq, Kabir embraced him and Mushtaq requested Kabir to get him some food. "He wanted paratha and beef curry and I gave that to him to eat at the court," he said last night.
Mushtaq was again denied bail that day. The judge directed the investigators to launch a "further probe" into the case and submit a report by March 23
The week before their appearance at the tribunal, Mushtaq and Kishore had been officially charged by the police in a case filed under the DSA last year.
In its entirety, the case is a collection of 10 social media posts and links, as per the first information report filed on May 6.
The links submitted as evidence lead to Facebook posts and cartoons made before the pandemic. Those mock the health care system of the country.
There were re-shares of various news articles that commentate on the coronavirus outbreak.
Some of the links were posted by a satirical Facebook page called "I am Bangladeshi", of which Mushtaq and Kishore were admins.
These 10 links were submitted as evidence into a litany of charges, including spreading propaganda against the Liberation War of Bangladesh, Father of the Nation, National Anthem, and National Flag; tarnishing the image of the nation; spreading confusion; creating hostility, hatred among people; destroying communal harmony or creating unrest, disorder; and threatening to deteriorate law and order.
Last night, Kishore's brother Kabir recalled the last time he saw his brother, on February 23.
"Kishore had gone through so much torture that he was walking with a limp … He told me he was tortured," said Kabir.
Kishore's left ear drum was perforated due to torture and pus was oozing out and his hearing was impaired, he said.
"His eyesight was drastically reduced and he lost at least 10kg in weight," said Kabir.
Kabir now fears for Kishore's life.
"This is a murder in the name of justice," he said about the death of Mushtaq.