Crossing the Mediterranean: Trip doomed from start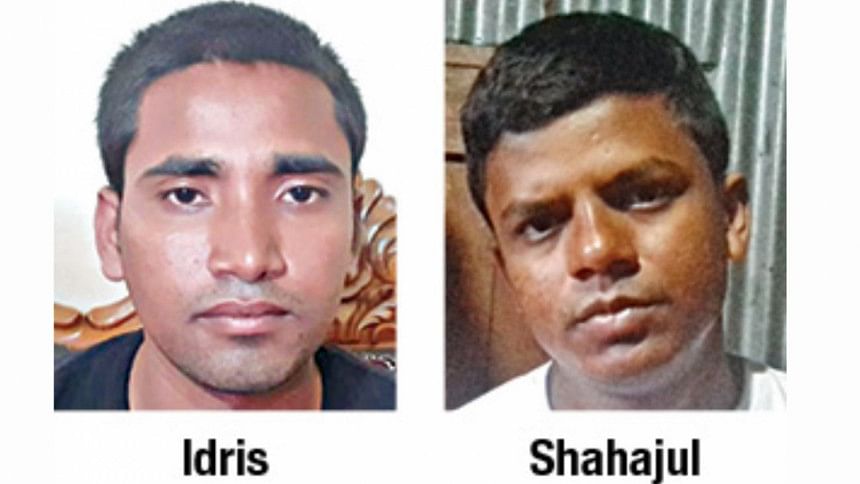 Traffickers crammed 75 people, including 64 Bangladeshis, in a 33-seater motorboat for the journey by sea from the coast of Libya to Europe.  
The journey, which began on May 27, came to a sudden halt two days later when the boat ran out of fuel midway. Soon, the food also ran out.  
Just when things could not get any worse, a hole was found in the vessel hull. As water began to seep in, the boat slowly began to go under water.    
"We were in serious trouble then," Shahajul Khandker of Chhatura Sharif village under Dharkhar union of Akhura in Brahmanbaria told The Daily Star, while sharing horrifying stories of his entire journey to Libya.  
Shahajul is one of 17 Bangladeshis, mostly from Madaripur and Brahmanbaria, who returned home on Friday, helped by the Bangladesh government and the International Organization for Migration (IOM).  
The migrants were rescued by an Egyptian ship on May 31, but not before they had lost all hope. 
The migrants first spotted the big ship from their sinking boat in the morning of May 30. 
Idris Jamadar, another refugee also from Chhatura Sharif village, recalled their rescue. 
"We were excited when we saw the ship.
We signaled to it in many ways, making flags out of bright coloured clothes, but they did not see us," he said. 
Once the evening drew to a close, the passengers on the boat began to worry. If the daylight passed, then they could not be spotted. That is when they took drastic measures.  
"We decided that 15 of us would jump off the boat at the same time to make a big splash, while the rest of us would wave pieces of bright cloths," Idris said. 
After the migrants dove off the boat, for a while nothing changed. 
But then a harbinger of hope arrived. Some of the migrants spotted a plane in the sky, which circled around their boat some five times.  
"When we saw the plane, we believed we would be rescued," Idris said. 
Soon, the ship they had seen earlier, turned around and came to rescue them on May 31. It dropped barrels on the sea for the migrants to hold onto and float towards the ship. "I jumped off the boat and swam towards the barrels to save my life," Shahajul recalled. 
After their rescue, neither any European country nor Tunisia had agreed to accept them.   
The 75, who were on the vessel some 25 kilometers off the Tunisian coast of Zarzis, also did not want to get back to Tunisia but wanted to go to Europe instead. 
On June 16, Bangladesh Ambassador to Libya Sheikh Sekander Ali journeyed to the migrant ship in the middle of the sea to convince the Bangladeshis to return to Bangladesh via Tunisia.    
On that condition, Tunisian authorities agreed to allow them to enter their country.  
Accordingly, the migrants were brought to an IOM shelter centre.   
Seventeen of the migrants, who had agreed to return, arrived at the Hazrat Shahjalal International Airport around 5:00pm on Thursday. After about 12 hours of procedures at immigration, they were released at 5:00am on Friday.  
BROKEN DREAMS, BROKEN PEOPLE
Idris Jamadar, one of the returnees that The Daily Star spoke to, is no longer the same.   
Before his ill-fated journey towards Europe, he had been a jovial youth who spent a lot of time in a nearby bazar, chatting with his friends.   
Now, he hardly ever leaves home. He is also scared and anxious. The scarring memories of the past few months are still fresh.  
Idris said he was one of the 15 migrants who jumped out of the boat and held onto a floating barrel to save his life. "We did not want to go back to Bangladesh because we had spent huge a lot of money [to get here]," Idris said.   
He spent Tk 5.3 lakh in various phases of the route from Bangladesh to Libya and finally to the Europe-bound vessel. "We want our money back and the human traffickers punished," he said.   
Before the dreams of Europe had gripped his parents, Idris was pursuing an honours degree in economics in Brahmanbaria College.   
His parents made him drop out just before his third year.  
"We wondered why he should waste time studying when he can go to Europe and earn more money there," his father Yunus Jamader said, adding Idris had two cousins already in Italy.  
Despite the inherent risks, the journey to Europe is quite a common dream in Chhatura Sharif village, known as Italy village by the locals. Some claim that around 70% of village youths have either gone to or will go to Europe soon.      
Shahajul Khandker, another rescued migrant of the same village, is one of those youths. He too held onto a barrel, right next to Idris, once the boat began to sink.  
Shahajul said he was lured into going to Europe by broker Swapan Mia of Ujanishar village of Brahmanbaria sadar.   
He began his voyage on June 8 last year from Hazrat Shahjalal International Airport in Dhaka to the Libyan town of Benghazi. 
From there, one Rafiqul Islam alias Selim transported him, along with the other migrants, to a camp, where the torture began.  
"We were tortured there and forced to tell our relatives over phone that we had reached safely and to make the payment to the members of their syndicate in Bangladesh," he said.  
Once the money was paid, the migrants were then taken to Tripoli. Before reaching the city, they were detained by police. According to Shahajul, another evil nexus revealed itself at that point.   
The trafficking syndicate in Bangladesh was then paid Tk 1.5 lakh, which somehow made its way to the Libyan police, who freed the migrants.  
Upon finally reaching Tripoli, the Bangladeshi migrants found a job in a restaurant in the city where they worked for more than a month. From there, Selim transported them to a different place near the Libyan coast where they were confined for about six months.  
"We had to spend horrible days there in crowded rooms with little food," Shahajul said, breaking into tears at the haunting memories.   
Finally, they were put onboard the Europe-bound boat from which they were rescued.   
Earlier on May 9, a boat carrying around 65 migrants, including 40 Bangladeshis, capsized in the Mediterranean Sea near the coast of Tunisia, killing many.   
According to Bangladesh Embassy in Libya, some Bangladeshis, among other nationalities, were rescued from boats in the sea on their way to Europe in recent weeks.  
Since the civil war began in Libya after the fall of the country's leader Muammar Gaddafi in 2011, the North African country has become a major route of human trafficking or smuggling to Europe.