Covid-19 Vaccine: Only a third of the recipients women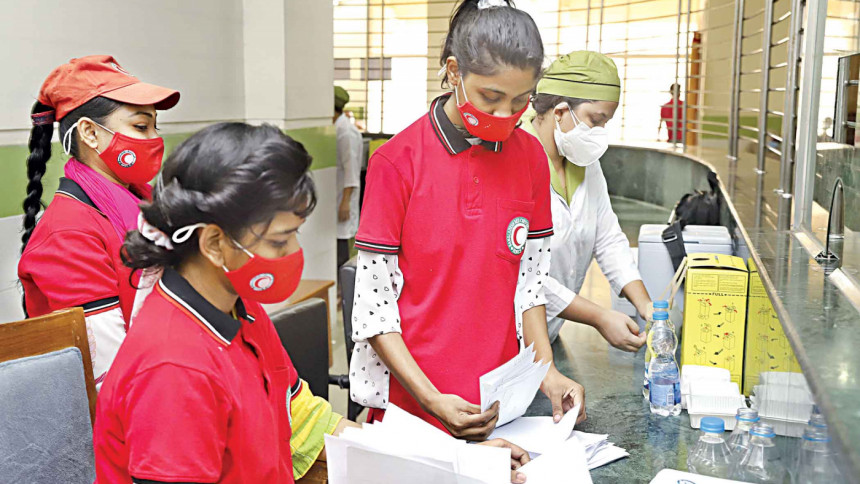 The mass vaccination campaign has so far drawn much fewer women than men.
Of around 13 lakh people inoculated till Monday, around 33 percent were women and the rest were men.  
Till yesterday, a total of 18,48,313 people were vaccinated with 614,658 being women.
Women also seem to be lagging behind in registration. Till yesterday, 28,63,300 people had registered for vaccination, of whom around 11 lakh were women.
According to the Bangladesh Bureau of Statistics, the female population in the country is 8.13 crore, of whom around 17 percent are aged 50 and above.
Experts said the reasons behind such poor response was that women traditionally depended on men for access to healthcare in the country.
They also said mass awareness campaigns should be strengthened, targeting women specifically, to bring more people under the vaccination programme in order to curb transmission of Covid-19, which has already claimed around 9,000 lives in the country.
Dr Sayedur Rahman, chairman of pharmacology at Bangabandhu Sheikh Mujib Medical University, said there were two reasons behind the poor response from women.
"Covid-19's mortality and morbidity rates are less among women than men. That is why the fear is also less among women. Secondly, previous vaccination programmes were carried out on a door-to-door basis, but now people have to go to hospitals. It is basically town centric," he told The Daily Star yesterday.
Rahman also said women in rural areas are not as familiar with technology, which is a barrier when trying to get registered for vaccination.
"The main problem is the elderly population, all of whom are yet to come under the vaccination programme. Elderly people have compromised immunity, which is why they should be vaccinated first, otherwise the whole exercise will be futile," he said.
The lowest number of vaccinated women -- 1,968 -- was in Sherpur district, while the highest number -- 69,587 -- was in Dhaka.
Dr AKM Anwarur Rauf, civil surgeon of Sherpur, said the area is basically a predominantly agricultural area, due to which most women are busy with their household work.
He also said people, especially women, in the area are not given proper awareness regarding the vaccination campaign.
"We have instructed healthcare assistants to go door-to-door and encourage women to get vaccinated. And if anyone faces any difficulty, they can get registered at the community clinics," he added.
Government officials said they were satisfied with the progress of the vaccination campaign but concerned about the low response from women.
The government launched the mass vaccination programme across the country 336 days after the first Covid-19 case was reported in the country on March 8, 2020. Starting from February 7, vaccination centres have been operating every day except Fridays.
Mushtaq Hussain, consultant to the Institute of Epidemiology, Disease Control and Research, said women, especially in rural areas, are still reluctant to take vaccines.
"Government should open registration booths in every ward so that people register easily and get vaccinated. Family is the biggest source of encouragement. Family members should come forward and help their women get registered and vaccinated," he said.
The mass inoculation drive began with an initial aim to vaccinate 60 lakh frontline workers and people aged 55 and above by this month. The government, on January 27, opened online registration on www.surokkha.gov.bd.
Due to a tepid response in the online registration system, the health directorate brought down the target from 60 lakh to 35 lakh on February 3. On Saturday, however, the target was raised to 70 lakh.
The vaccination campaign gained momentum after the age limit was relaxed to 40 from 55 on February 8.