Coronavirus Outbreak: 'No spread yet at community level'
After testing around 20 patients suffering from atypical pneumonia, an infection of the respiratory system, the authorities yesterday claimed there has so far been no community transmission cases of coronavirus in the country.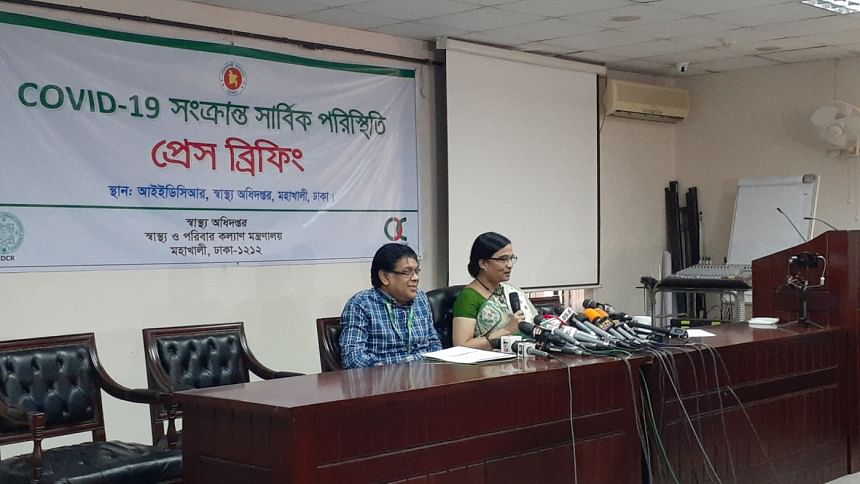 After testing around 20 patients suffering from atypical pneumonia, an infection of the respiratory system, the authorities yesterday claimed there has so far been no community transmission cases of coronavirus in the country.   
It means all the coronavirus patients are either the ones who travelled from countries badly affected by the coronavirus pandemic or their family members who came in contact with them, they said.
"We have tested more than 20 cases of atypical pneumonia. Based on this, we are sure there is no community transmission," Prof Meerjady Sabrina Flora, director of the Institute of Epidemiology, Disease Control and Research (IEDCR), said replying to a query at a press briefing yesterday.
Experts, however, said the number of patients with atypical pneumonia would be much higher and that the sample was not adequate to reach such a conclusion.
They said patients with atypical pneumonia show similar symptoms of coronavirus and any increase in atypical pneumonia cases should be brought under strict surveillance.
The WHO protocol adopted by the WHO-China Joint commission on Covid-19 also suggests that countries with confirmed imported cases have to immediately expand surveillance by testing all patients with atypical pneumonia.
At yesterday's briefing, the IEDCR director also said two new persons were diagnosed with Covid-19, taking the total number of confirmed coronavirus cases in the country to 10.
One of the two patients returned from Italy recently while the other contracted the virus from one of his relatives who recently travelled to Bangladesh from the US and left.
Three of the 10 have recovered while the others are under treatment, said Prof Flora.
She also said the IEDCR tested 326 suspected patients for coronavirus till yesterday. 
Forty-nine were tested in the last 24 hours till 7:15pm, said an IEDCR press release.
Replying to a query, Flora said they carried out the tests on 20 atypical pneumonia patients in line with WHO protocol to determine the spread of coronavirus at the country's community level.
This claim, however, contradicts the WHO protocol itself, experts have pointed out.
To get a clearer picture, they said, the authorities should intensify collection of random samples from people showing flu-like symptoms, even if they did not visit any of the coronavirus-hit countries.
"Testing only 20 samples of atypical pneumonia cases is not enough to know the level of community transmission in the country. Besides, these tests are not being done maintaining standard procedures," Prof Mahmudur Rahman, a former director of IEDCR, told The Daily Star yesterday.
"It is not systematic. It seemed the tests were done following a passive method. It should have been the active method."
By an active method, he meant collection of samples in a planned way from atypical pneumonia patients from across the country.
According to WHO protocol, there should be more tests of atypical pneumonia to know whether the virus has actually spread to communities, he said.
"Currently, no test is being done if there is no travel history [of visiting the affected countries]," he said, suggesting randomly testing anyone with symptoms like cough, fever and respiratory difficulties, even if they haven't come from abroad or had no direct contact with them.
Currently, 19 hospitals across the country have influenza surveillance system where different pneumonia cases, including atypical pneumonia, have been analysed since 2007.
The Daily Star could not confirm the number of atypical pneumonia cases reported from those hospitals.
The National Influenza Centre at the IEDCR also does not have any updated data, said its sources.
At a press conference in Geneva yesterday, WHO chief Tedros Adhanom urged all countries to test all suspected cases for detecting coronavirus.
"We have also seen a rapid escalation in social distancing measures, like closing schools and cancelling sporting events and other gatherings. But we have not seen an urgent enough escalation in testing, isolation and contact tracing – which is the backbone of the response," he said.
'SLACK' RESPONSE FROM IEDCR HOTLINE
Talking to this correspondent from a certain distance, several people alleged that they were not being able to contact the IEDCR through its hotline numbers to report any suspected case.
Around noon yesterday, at least 11 people gathered in front of the IEDCR office.
"I called the 17 hotline numbers for like 90 times, but none picked up my calls. That's why I've come here," said a teacher at a school in Mirpur, adding that she needed to confirm through test whether she had the virus.
She suspected she had contracted the virus from one of her students whose father recently came from Italy.
A man, who came from Oman recently and had fever accompanied by cough, also said he tried many times, but nobody picked up his calls.
Prof Flora, however, dismissed the allegation. "This is not true. Our 17 doctors are responding to all calls," she said.