Combating coronavirus: Chinese team bemoans lack of awareness
Before leaving, the medical experts also point out inadequate testing, treatment facilities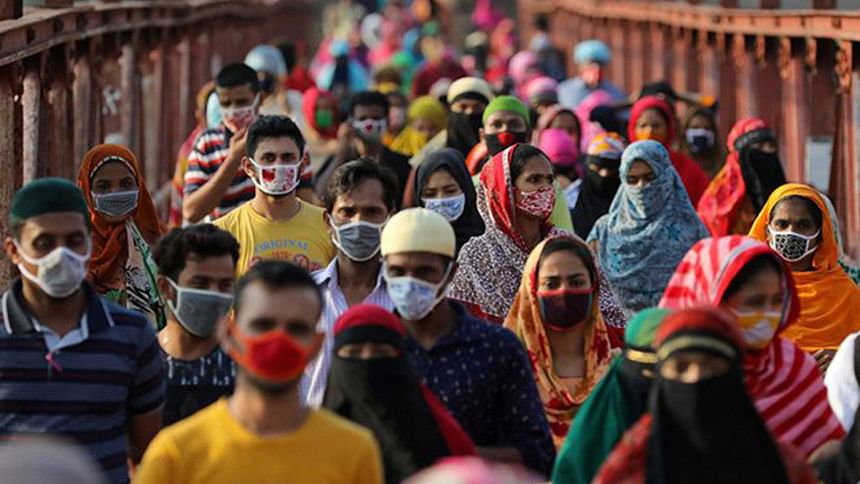 A Chinese medical expert team pointed out that the general public and to some extent the health officials here lack awareness about social distancing and hygiene practices necessary to combat the spread of coronavirus.
There is also not enough testing, isolating and treatment in Bangladesh, the team said after observing hospitals, quarantine and testing facilities and talking with health care professionals and officials for 14 days in Bangladesh.
At a virtual conference addressing the Diplomatic Correspondents Association of Bangladesh on Sunday, the Chinese delegates said the outbreak didn't seem to have peaked.
"Why would so many patients, doctors and even police officials die? Also, the coronavirus infection has spread to different parts of the country beyond Dhaka," said Hualong Yan, deputy chief of mission at the Chinese Embassy in Dhaka.
As of yesterday, 1,15,786 people tested positive for coronavirus and 1,502 died with Covid-19 in Bangladesh.
"In China, we could keep the infection within Wuhan in Hubei through strong lockdown, testing, reporting, isolating and treatment," said Hualong.
The 10-member expert team's visit happened after a telephone conversation between Prime Minister Sheikh Hasina and Chinese President Xi Jinping on May 20 when the latter reassured Hasina of standing by Bangladesh in this war against Covid-19.
The team, which left for China yesterday, prepared four reports on the Covid-19 situation and made recommendations for Bangladesh and submitted it to the Chinese Embassy in Dhaka. The embassy will submit it to the health ministry in a week, said Hualong.
Shuming Xianyu of the expert team said the medical personnel had been working hard day and night, but the overall public awareness on hygiene was low.
She described how the masks and personal protective equipment should be used.
There are lots of people walking on the streets, she said. Maybe they are wearing masks and gloves and thinking they are protected, but they are not maintaining social distance. It is not appropriate to get the hands close to one's mouth or nose even when one is wearing masks and gloves.
Xianyu said eating or drinking just after removing the masks is not right at all. One must use the lace of the mask tied to the ear to remove masks and must wash hands before touching anything like food or a water bottle.
Proper use of masks can prevent 95 percent of infections, she added.
The government officials, health care personnel and the public should know and strictly follow the right rules of hygiene and health practices.
Hualong Yan said the Chinese authorities formed a national team of 40 health personnel who visited Wuhan during the outbreak, but none of them got infected. But many of the doctors in Bangladesh are being infected. That means proper PPE and medical protocols are not being maintained.
One has to admit that unlike China there is a shortage of resources -- PPE and other equipment -- in Bangladesh, Hualong added.
Frontline workers and the Bangladesh government are doing a better job than many other countries are doing, but there is a lot to be improved, he added.
Hualong said the Chinese government enforced strong lockdown in the beginning of the outbreak in Wuhan, tested large numbers of people for free and isolated the patients at makeshift hospitals, because keeping them with their families would not have been right.
"We have also used our traditional medicine based on symptoms, alongside providing nutritious food to the patients. These are very important. Besides, the patients must not worry. They must keep mentally strong," he said.
When the outbreak peaks will depend on how the measures of infection control are enforced, an expert said.
The team also said it only supported PCR tests for Covid-19, not antibody tests. It also supports plasma therapy which was proved to be useful in China.
Hualong said five Chinese companies are working on developing vaccines and Bangladesh would be one of China's first friends to get the vaccines.
"China and Bangladesh had an in-depth discussion and we will support Bangladesh in our highest capacity in fighting the virus. It's a common enemy of the world. We must cooperate."