Brutality unbound
BSF men pull out all fingernails of a Bangladeshi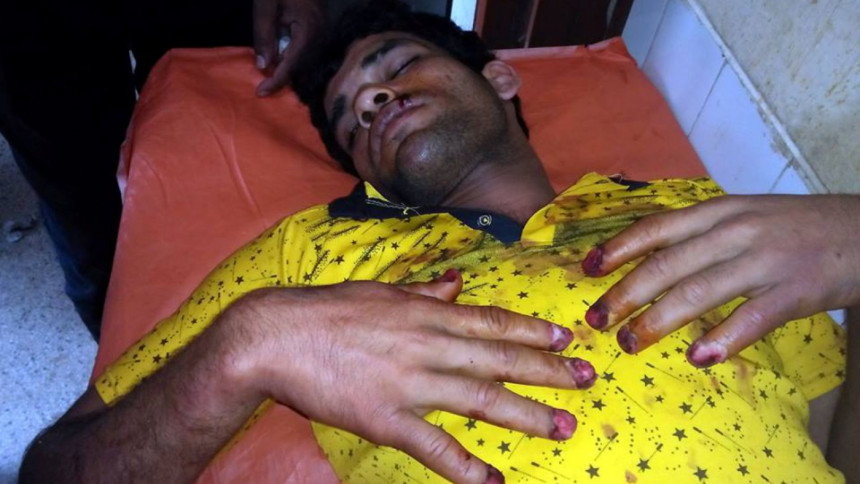 India's Border Security Force (BSF) has tortured a Bangladeshi man by pulling out all 10 of his fingernails with pliers after he got caught for illegal entry.
Md Azim Uddin alias Vuttu, 25, was also left untreated for three days after the brutality at Rangamati camp of India's Malda district, which borders Naogaon.
He is the son of late Foyjul Kabir of border village Tulshidanga Dakkhin Patari in Naogaon's Sapahar upazila, said BGB and police officials.
Hearing the news, Border Guards Bangladesh (BGB) rescued the man at 5:00am yesterday, and admitted him to Sapahar Upazila Health Complex.
"We sent a note of strong protest for the inhumane torture," Lt Col Tuhin Mohammad Masud, director of 16 BGB Battalion, said, adding that they proposed a battalion commander-level flag meeting over the issue on Sunday.
The man was taken to the health complex at 11:00am, said Dr Arifuzzman.
"It was horrible to see the patient. The T-shirt and lungi he was wearing was stained with blood. Other than the wounded fingertips, he bore several 24 to 48 hours old injuries and bruises on his hands, legs and thighs," the doctor said. 
The patient would take a long time to recover, he added.
At the hospital, the torture victim talked to journalists, police and doctors.
According to Azim, he and three others went to India on April 25 without any travel documents for smuggling in cattle as they usually get Tk 8,000 from cattle traders for bringing each pair of cattle.
When they were coming back to Bangladesh on the same night, BSF challenged them. Three of his companions escaped safely to Bangladesh, but he was caught.
BSF took him to the Rangamati camp tortured him for three days. At one point, the BSF men pulled off his fingernails, during which he fainted several times, he said.
Habibur Rahman, commander of BGB Adatola Border outpost, filed a case with Sapahar Police Station, accusing Azim of illegal entry into India.
Officer-in-charge of the police station, Shamsul Alam Shah, said BSF handed Azim over to BGB without signing any written document about his conditions.
"Azim was arrested in connection with the case, and he is undergoing treatment at the hospital in police custody," the OC said.