Boro Harvest, Price: Farmers happy, yet experts worry
High paddy price, stockpiling may affect retail market of rice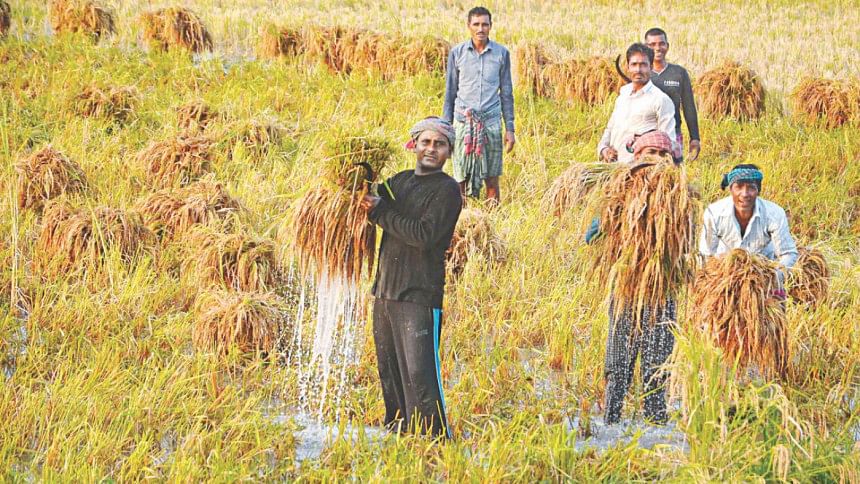 Anticipating an increased demand for food grain, a section of rice millers and wholesalers are exhibiting stockpiling tendencies, pushing up the price of the recently harvested Boro paddy.
Since the coronavirus pandemic led to a countrywide shutdown, people have been buying more rice, feeling insecure about its future availability.
To cash on this behaviour, rice millers and wholesalers are buying Boro paddy in large volumes at Tk 250 to Tk 400 per maund (40 kg) -- more than what they paid last year.
Though high paddy prices are making farmers happy, it may affect the retail price of rice, making the staple unaffordable to millions of low-income people, who lost their income during the pandemic, experts fear.
To keep the rice market under control, economists have urged the government to increase its food grain stock by purchasing more paddy.
WHAT FARMERS SAY
Talking to farmers from districts with higher Boro production, our correspondents reported that the paddy price is ranging between Tk 650 to Tk 800 per maund. Last year, around this time the paddy was selling for an average of Tk 500 per maund.
Farmer Ratiranjan Das from Madhyanagar of Sunamganj's Dharmapasha upazila is seeing good production after several years of bad yield and low prices.
"The price is ranging between Tk 650 to Tk 780 taka per maund in the local bazaar depending on the variety, quality and moisture content of paddy," he informed.
In Mymensingh, the price of paddy has gone up to as high as Tk 800 per maund, said Ali Asgar, a farmer of Chargobindapur of the district.
"The price of Boro paddy is around Tk 600 to Tk 700 per maund depending on variety. It was around Tk 400 to Tk 450 last year," said farmer Abdul Gani of Dolua Dogachhi village of Nilphamari Sadar upazila.
However, farmers of Moulvibazar and Netrokona are not getting very high prices yet.
"In local bazaars of Moulvibazar, the price is ranging between Tk 550 to Tk 600 per maund", said Mosabbir Ali, a farmer of Bhukshimoil of Kulaura upazila in the district.
In Netrokona's remote areas, buyers are deducting the cost of transportation from the purchase price so farmers are getting less money, said Dilip Talukder of Chakua village in the district's Khaliajhuri upazila.
Abidur Rahman Kayes, a rice trader of Kazirbazar in Sylhet, said, "The price of new rice from the fresh Boro harvest is ranging between Tk 1,400 to Tk 1,500 per maund and is increasing because of the rising paddy price."
Compared to last year, the price of new rice is higher, he added.
WHAT MILLERS SAY
"Millers, wholesalers, middleman, small traders -- everyone with money is buying paddy now to make profit as the demand is likely to increase due to the coronavirus pandemic," said Ashrafur Rahman Chowdhury, general secretary of Sunamganj Rice Mill Malik Samity.
He said around 4,500 millers under the Samity are buying at least 500 maunds more rice than last year.
Although a bumper harvest of the Boro paddy is expected this year, Md Tareq Anam, national sales manager (rice) of Rashid Group, one of the biggest rice millers in the country noted that recent rainfall affected the crop in some areas in Jashore.
Besides, harvest is not yet complete because of labour shortage, he added.
"The supply of rice has reduced in the market because of humanitarian aid by individuals and groups. Some consumers are also stockpiling fearing uncertainty. As a result, traders are refilling their stock," he said.
KM Layek Ali, general secretary of the Bangladesh Auto Major and Husking Mills Association, said millers are buying paddy to supply to state godowns as per the contract with the government.
Besides, cultivation of fine grain appears to be less this year compared to the previous season. As a result, millers, who market fine rice such as miniket, are buying more to build stock for the whole year.
GOVT MEASURES NEEDED
Although the government doubled its paddy procurement quantity this year and has started buying eight lakh tonnes of paddy, 10 lakh tonnes of parboiled rice and 1.5 lakh tonnes of sunburnt rice, experts opine it should be increased further.
"The government is purchasing around 10 percent of the total production of Boro. But to influence the market price during the pandemic, the stock must be increased," said Professor Jasim Uddin Ahmed, chairman of Agricultural Economics and Policy department of Sylhet Agriculture University.
This year, the targeted production of Boro paddy is 2.04 crore tonnes from 47.54 lakh hectares of land, as per the Department of Agriculture Extension.
"As the government can't build new storage overnight, they should rent unused buildings. The more paddy in government storage, the more the market will be in control," said the professor.
However, Md Amzad Hossain, director of Supply, Distribution and Marketing Division of the Directorate General of Food, said,
"We are facing an unpredictable situation due to the coronavirus pandemic and some people are buying paddy to stockpile for profit."
He added, "It is too early to comment on what will happen in future as it all depends on how long we will be in such a pandemic situation."
[Our Nilphamari Correspondent EAM Asaduzzaman, Mymensingh Correspondent Aminul Islam and Moulvibazar Correspondent Mintu Deshwara contributed to this report]