Bhasan Char: All set to take in Rohingyas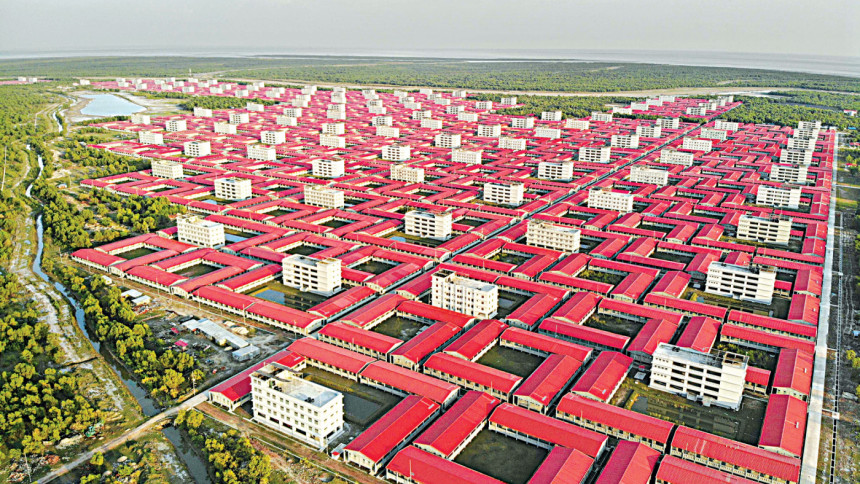 When one thinks of a char, the idea of swaths of land -- barren or cultivable -- comes to the mind. Bhasan Char, a remote island in Hatiya, however, is completely different.
It now looks like a planned modern township with rows of white multi-storey buildings. Equipped with electricity, water supply, common kitchens and playgrounds, Bhasan Char seems well prepared to welcome the Rohingyas.
"With 120 cluster villages that are capable of accommodating one lakh people, the housing project in Bhasan Char is ready. We are waiting for the Rohingyas to come and start living here," Project Director Abdullah Al Mamun Chowdhury told this correspondent who visited the place recently.
From the mainland in Chattogram, it takes two hours to reach Bhasan Char -- around 40 kilometres off Noakhali -- by boat. Once one arrives in the island in the Bay of Bengal, buildings equipped with electricity and solar panels as well as biogas plants and functioning mobile phone networks might take them by surprise.
The houses have been built four feet above the ground with concrete blocks. The entire housing site is protected by a 13-km-long flood embankment.
A family of four will live in each room in the new township which the Bangladesh government built for over Tk 3,000 crore over three years. Each building will house 16 families in its 16 rooms providing more than the UN stipulated 37 square feet per head, said project officials.
Two playgrounds are ready for the Rohingya children. Extra space for playing is also available in every cluster house. There are places for prayers, burials, and markets. Accommodations have also been made available for officials of the government, the UN and different NGOs.
The project, funded with public money, was taken after some 750,000 Rohingyas fled a brutal military campaign in Myanmar's Rakhine and took shelter in Cox's Bazar in the months following August 2017. They joined some 300,000 other Rohingyas, who had fled previous waves of violence in Rakhine.
Compared to the cramped conditions the refugees are in now, the housing project appears to be a much better option for them. Currently, a family of six to eight people lives within a space that is barely 400 square feet.
In Bhasan Char, which appeared only in 2006, the rooms have steel beds and ceiling fans. Each cluster of buildings has access to a rain harvesting pond that provides for an alternative water source.
Each of the township's 120 plots comes with their own cyclone shelters which are capable of accommodating 1,000 people and 200 cattle. With solar powered street lights and constant CCTV coverage, Bhasan Char will be able to house 100,000 people and ease the pressure at the congested camps in Ukhiya and Teknaf, said project officials, adding that the island now has 43km of street, said project officials.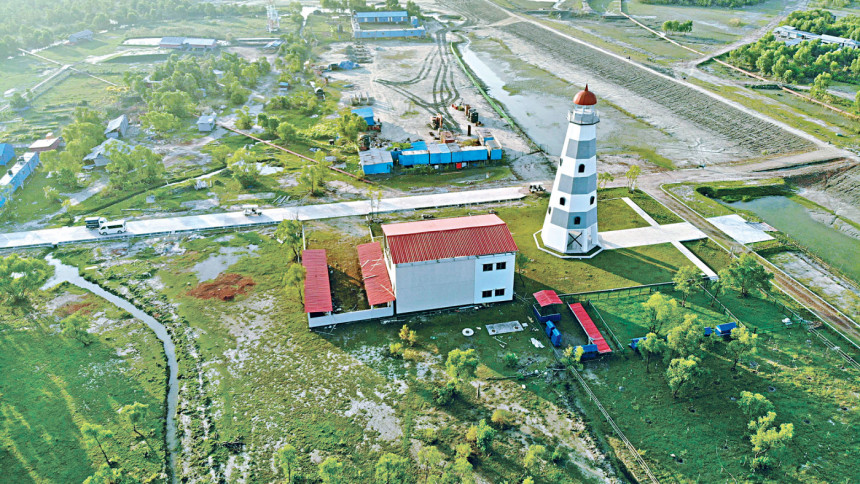 Four community clinics, two 20-bed hospitals along with two schools and three mosques are expected to cater for the needs of the residents. There are markets along with four warehouses for storing food and other goods, said the officials.
Besides, there are two big lakes on the island. A large number of trees that are common in Bangladesh's coastal regions and known to increase natural defence against disasters, including lemon, coconut and kewra, have been planted.
The total area of the Bhasan char is around 13,000 acres and out of this, around 6,427 acres are usable. The total project area is 1,702 acres, but cluster houses were constructed on around 432 acres.
From Sandwip, Bhasan Char is 4.5 nautical miles away and it's only a one hour trip by boat. It is 13.2 nautical miles away from Hatiya, 21 nautical miles from Noakhali and 28 nautical miles from Patenga of Chattogram.
For any emergency communication, there are two helipads on the island.
Md Riaz Uddin, a grocery shopkeeper in Bhasan Char, said he along with a hundred other small traders came to the island around two years ago. "This is not an island. It is a town. If Rohingyas come here then it will be a big city. We are waiting for their arrival as it will boost our trade."
Mamun, director of the Ashrayan-3 Project (the official title of the Bhasan Char Project), meanwhile, has warned that the infrastructure might turn into ruins if the relocation did not take place in a year and a half.
The project was approved in November 2017. The authorities have been implementing the project under the directives of the prime minister. Principal secretary to the PMO regularly monitored the progress of the project.
The Bangladesh Navy was given the responsibility to implement the project. Two British companies worked as consultants for onshore and offshore activities, he added.
Foreign Minister Dr AK Abdul Momen on Sunday said there was a pressure on the government by international NGOs, including UNHCR, against Bhasan Char relocation though some Rohingyas were "willing to go there to enjoy the wonderful facilities".
Rohingya leaders, who went on a "go-and-visit" to the Bhasan Char housing project, said they were happy with the facilities there and that those were far better than their current living conditions in Teknaf and Ukhiya camps.
The UN and aid agencies argue that the island was isolated, flood-prone and would be hazardous for Rohingyas because of cyclones and tidal surges. The UN refugee agency, meanwhile, submitted its terms of reference to the government seeking a technical assessment and is still awaiting response. The agency also says any Rohingya relocation must be voluntary.
The Bhasan Char lighthouse, a 90-metre tower, also called the Beacon of Hope, is perhaps the most indicative of the government's belief in this settlement despite the apprehension and opposition from some national and international quarters.