BCB, Shakib at odds again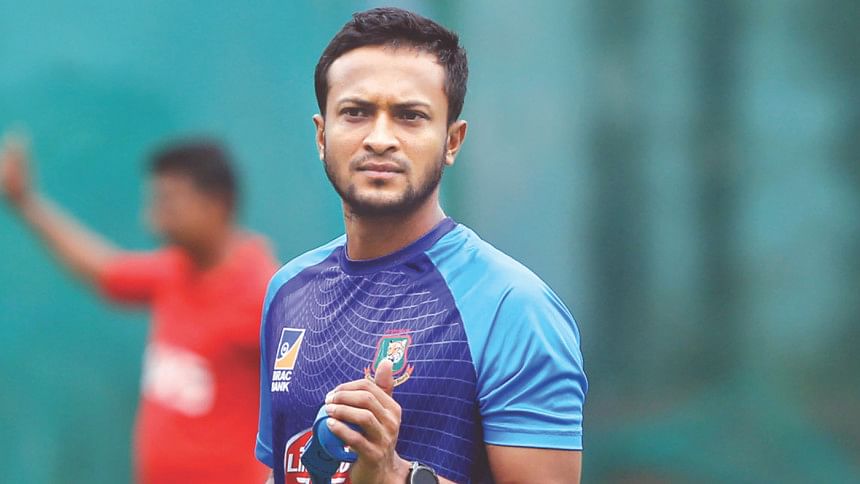 The Bangladesh Cricket Board (BCB) issued a letter addressing Test and T20I captain Shakib Al Hasan yesterday, asking him to clarify why he had breached his contract by signing a deal with one of the country's top mobile phone operators without informing the board.
On Tuesday, Shakib had inked an agreement with the national team's former sponsors, Grameenphone, for an undisclosed sum at a time when he was also playing a pivotal role behind the cricketers' strike for better pay and benefits.
According to BCB CEO Nizamuddin Chowdhury, Shakib was not supposed to sign any such deal for two reasons.
"He cannot sign such a deal for two reasons. Firstly, it is clearly mentioned in one of the clauses in the players' central contracts that all players must get clearance from the board before signing any commercial endorsement. Secondly, there is a written memo through which all players were advised to discuss with the board before signing any deal with any telecom company," Nizamuddin told The Daily Star yesterday.
BCB President Nazmul Hassan echoed similar sentiments earlier in the day.
"According to our laws, he was not in any way supposed to do that [sign the deal]. The telecom company and the player, both parties are aware of it. So, at first we need to give him a chance to clarify why he did it and that's why we are serving him with an official letter. But one thing we know is that in no way he could do that -- it is completely illegal," Hassan told reporters in Mirpur.
Hassan also rubbished any insinuations that the board would cut the premier all-rounder some slack in this regard.
Earlier in the day, Shakib met with Nizamuddin at the BCB office in Mirpur regarding the matter, but the 32-year-old came out of the meeting in a rather relaxed mood at noon before joining the national team on their second day of the training camp in preparation of the tour of India next month.