'Attempt To Rape, Murder Pori Moni': Nasir, 4 others arrested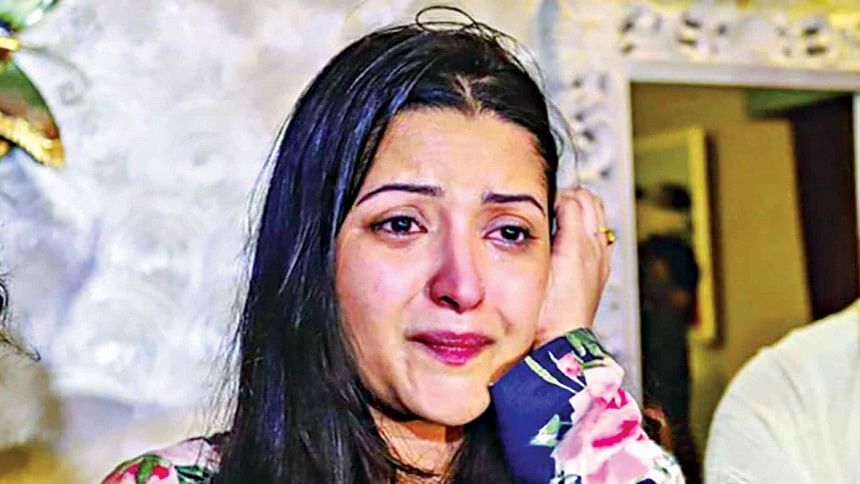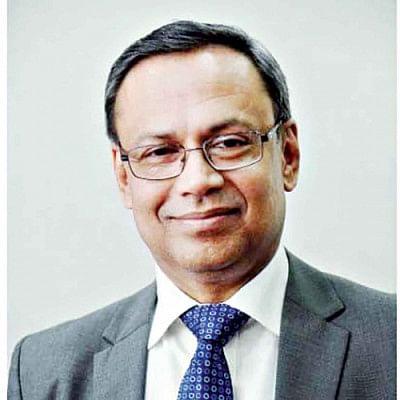 Police arrested five people, including a real-estate businessman and presidium member of the Jatiya Party, yesterday after film actor Pori Moni filed a case with Savar Police Station over their attempt to rape and murder her.
A team of detectives conducted a raid at a house in Uttara Sector-1 and made the arrest after Savar police sought help from Dhaka Metropolitan Police in this regard, said Harun or Rashid, joint commissioner (North) of Detective Branch of DMP.
Two of the arrestees -- Nasir, 65, the businessman and also a former president of Uttara Club Limited, and Tuhin Siddique Omi, a businessman -- are the named accused in the case.
Police said the flat belonged to Omi and Nasir was in hiding there.
Talking to The Daily Star over telephone, Jatiya Party Chairman and deputy leader of the opposition GM Quader said they would expel Nasir U Mahmud from the party if he was found guilty.
Three young women, who are said to be members of a DJ group, were arrested along with yaba tablets, foreign liquor and beer from the flat, the official said.
"We will interrogate them. If needed, we will seek remand for them," he told reporters, adding that a fresh case under the narcotics control act will be filed as drugs and alcohol were recovered during the raid.
DB official Harun claimed the accused used to stage parties at the Uttara house -- from where they were arrested -- and at different clubs, often exploiting young women.
Detectives came to know that those arrested, including Nasir, are involved in alcohol trading, the official claimed, adding that they will investigate the allegations.
Meanwhile, Dhaka Boat Club authorities yesterday expelled Nasir as a member [entertainment and cultural affairs] of the executive committee (EC) of the club. The decision was taken during a meeting presided over by club President and Inspector General of Police Benazir Ahmed.
The meeting also suspended the memberships of Omi and one Shah S Alam, said a Dhaka Boat Club press release.
The meeting decided to form a three-member inquiry committee and has been asked to submit the findings within 72 hours.
The EC members observed that Nasir was in violation of club rules in allowing guests inside the club premises after club hours, which is a major violation and goes against the norms of the social club.
Pori Moni, who joined the movie industry in 2015, has played the lead female role in over 20 movies. Forbes magazine last year named her as among the 100 Digital Stars of Asia.
The incident came to light after Pori Moni posted a status on her verified Facebook page on Sunday at 7:53pm, alleging attempted rape and murder.
The popular actress, whose real name is Shamsun Nahar Smriti, addressed the post to the prime minister, stating that she is seeking justice as a loyal citizen of the country.
She mentioned that she tried to contact Banani Police Station and even IGP Benazir Ahmed for help, but her efforts were in vain.
Later on Sunday night, she held a press conference and alleged that Nasir and Omi wanted to rape and murder her on June 9 midnight when they went to the Dhaka Boat Club in Birulia, Savar.
At the press conference, a teary-eyed Pori Moni described exactly what happened to her, giving details of the incident.
Sitting beside noted director Chayanika Chowdhury, she said Nasir and others ganged up on her at the club and forced her to drink alcohol by putting the neck of a bottle into her mouth, physically assaulted her and tried to rape her.
During the assault, Nasir addressed himself as a "friend" of IGP Benazir Ahmed, the president of Dhaka Boat Club.
Talking to the media, Sohel Rana, assistant inspector general (media) of the police headquarters, said, "She [Pori Moni] did not contact the IGP. It's unclear why she named the IGP."
In the case statement, Pori Moni alleged that Omi took them to the club tactfully when she along with her younger sister Boni, costume designer Jimmy and some other companions was heading towards Uttara from her Banani residence around 11:30pm.
When they reached the club around 12:20am, it was found to be closed. However, Omi had a conversation with someone over phone and made arrangements to open the entrance to the club, according to the case statement.
They entered the club and Boni went to the toilet next to the club's bar. As soon as they left the toilet, Nasir appeared there, requested them to sit inside the bar for a while and offered liquor and coffee. When they refused, Nasir turned violent and forced Pori Moni to drink liquor. He also groped her, the case statement.
At one stage, she tried repeatedly to call the national emergency service at 999, but Nasir snatched her phone.
WHAT NASIR SAID
Speaking to reporters in Uttara during his arrest, Nasir claimed he was being framed. He admitted that he was present at the club that day.
"I'm a victim… What's being said is completely false… They entered the club when I was leaving. A man was with them and all were drunk. They tried to forcibly take expensive alcohol from the bar," he said.
Nasir said he was targeted as he prevented them from taking the alcohol because they were not members of the club.
Talking to reporters at her Banani residence last night, Pori Moni said she has now found some relief and confidence after the arrests.
She said she was told not to open up to the media about the incident.
"His [Nasir's] men were conveying apologies and trying to convince me for the last four days not to speak up... I didn't go there to get alcohol. But they opened my mouth forcefully to put the neck of the liquor bottle," Pori Moni said about Nasir's claim.
Pori Moni said she will fight till she gets justice in this case.
Nasir U Mahmud's profile on his company's website shows that he has been in the construction business for the last 37 years. He is currently the chairman of Kunjo Developers.
He was the president of Uttara Club for three years, and is a former executive member of Bangladesh Association of Construction Industry (BACI), former district chairman of Lions Clubs International, a former footballer who played in the Dhaka first division and former elected general secretary of SM Hall of Dhaka University.
On December 26, 2020, he became a Jatiya Party presidium member.