Assaulting A Navy Officer: Haji Salim's son Erfan arrested
Illegal arms, walkie-talkies, handcuffs, liquor seized as his home raided; 'torture cell' found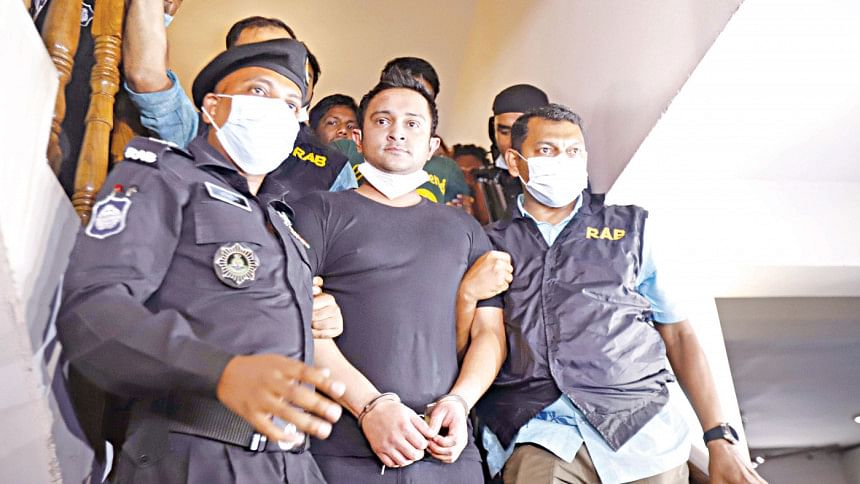 Mohammad Erfan Salim, son of Dhaka-7 lawmaker and Awami League leader Haji Md Salim, was sentenced to one year in prison yesterday for illegally possessing walkie-talkies and foreign liquor.
Rab Executive Magistrate Sarwoer Alam handed six months' imprisonment to Erfan for keeping the radio transceivers illegally and the other six months for the illegal liquor possession, said Lt Col Ashique Billah, Rab's Legal and Media wing director.
Erfan's bodyguard Zahidul Islam, 35, was given the same punishment for the same offence, he said.
It came after Rab raided Erfan's home in the capital's Chawkbazar for six hours from 12:30pm. Rab claimed that it found 38 black walkie-talkies, five Virtual Private Server (VPS) handsets, one repeater, a router, two unlicensed firearms, and seven bottles of foreign liquor from the house, said Rab officials.
Two more cases would be filed against Erfan under the narcotics and firearms acts, they said.
Earlier in the day, 37-year-old Erfan, councillor of Ward-30 under the Dhaka South City Corporation and son-in-law of an MP in Noakhali, and two others were detained in a case filed for assaulting a navy official in the capital's Dhanmondi area on Sunday night. The incident happened after Erfan's SUV hit the official's motorcycle.
Erfan and the others were later shown arrested in the case.
Lt Wasif Ahmed Khan, 26, filed the case with Dhanmondi Police Station against Erfan and four others, Officer-in-Charge Ikram Ali Miah of the police station told The Daily Star.
Wasif also brought attempt-to-murder charges against the accused, including AB Siddique Dipu, 45, protocol officer of Madina Group; Zahidul, Erfan's bodyguard; and Md Mizanur Rahman, 30, driver of Erfan's vehicle.
Dipu was absconding till last night. Mizanur was placed on a one-day remand yesterday.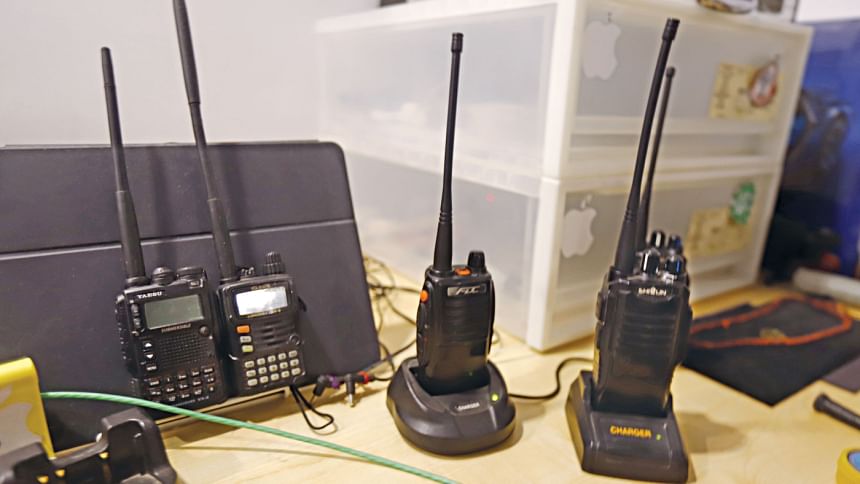 Rab officials said they recovered two unlicensed firearms -- a pistol and a pellet gun -- raiding the fourth and fifth floors of Erfan's nine-storey building -- Chan Sarder Dada Bari -- on Debidasbhat Lane in Chawkbazar yesterday.
They said the walkie-talkies they seized are usually used by members of different government agencies. Besides, the VPS, repeater and router, seized during the raid, can be used to communicate in a radius of 10km.
Talking to reporters, Rab officials said they suspected that using the firearms and security equipment, Erfan's men used to pick up the councillor's opponents after introducing themselves as law enforcers.
Rab also seized 12 cans of beer and seven bottles of foreign liquor from Erfan's room. Besides, they found 400 pieces of yaba from Zahidul's possession, said Rab officials.
Visiting the luxurious house, The Daily Star correspondents found what appeared to be a control room fitted with some equipment.
Rab officials said some of the devices were used for hiding location information.
In another raid yesterday, Rab found a torture cell at a room on the top floor of 16-storey Madina Ashik Tower, which is a few yards away from Erfan's home, said Rab's Lt Col Ashique Billah.
Rab's Executive Magistrate Sarwoer Alam said they found  bones, handcuffs, hockey sticks, knives, rope, yaba-taking materials and different types of security equipment there.
The raid was underway when this report was filed late last night.
According to the statement of the case filed by the navy official, a vehicle, with number plate Dhaka Metro-Gha 11-5736, rear-ended his motorcycle in Dhanmondi area when he and his wife were returning to their Dhaka Cantonment home from Nilkhet around 7:45pm on Sunday.
A man came out of the SUV and verbally abused them and left the spot. When the car stopped at a nearby signal, Lt Wasif knocked on the car's window and introduced himself. After that, all passengers got off the vehicle and started hurling abuse and assaulting Lt Wasif.
"We will see your navy/army, we will see your lieutenant/captain … We will kill you now," Lt Wasif quoted the assaulters as saying, adding that they punched and kicked him indiscriminately.
When his wife came to save him, they also assaulted her, the case statement said. They then left the scene abandoning the car.
The complainant said he could identify DSCC councillor Erfan and Dipu as a protocol officer of Madina Group owned by Haji Salim from his ID card.
On-duty police personnel and locals rescued Lt Wasif and detained the driver and seized the car.
Many pedestrians got the incident on video which later went viral. In the video, the injured navy officer is seen describing the incident to locals -- how he was beaten up. "I was beaten up in front of everyone indiscriminately even after I introduced myself repeatedly saying I am Lt Wasif. Thank God, I know some basics for my safety, I could survive … Otherwise they would have killed me today. They assaulted my wife too," the officer said, adding that one of his teeth was broken.
Following the incident, Lt Wasif first lodged a GD with Dhanmondi Police Station on Sunday night.
Yesterday, a case was filed against four people, including Erfan and Dipu.
After primary treatment at a private hospital, Lt Wasif was sent to Dhaka Combined Military Hospital.
Police said it was lawmaker Haji Salim's vehicle with an MP sticker. Mainly the protocol officer uses the vehicle. Haji Salim was not in the car during the incident. His son and bodyguards were in there.
Sajjadur Rahman, deputy commissioner (Ramna division) of Dhaka Metropolitan Police, said they were scrutinising CCTV footage taken from the area to know what actually happened and would take action accordingly.
Meanwhile, Home Minister Asaduzzaman Khan yesterday said none of those involved in the incident would be spared.
"If anyone commits a crime, they will be punished. No matter who they are or whether they are public representatives, everyone has to face the law," the minister told journalists at his Dhanmondi home.
The Daily Star could not contact anyone from Erfan's family for comments.
Sohel Hawlader, assistant personal secretary to Haji Salim, who usually lives in Dhanmondi, said the lawmaker was ill and that his elder son Solaiman Salim would not talk to the media.
An employee at Madina Developers at Madina Ashik Tower said Erfan studied in England and Canada and came back to Bangladesh around three years ago. He became the ward councillor in February this year.
He also said Erfan had a private room on the roof of the building and that he used to play badminton on the roof. He did not agree to say anything further.