26 die as Bulbul batters coasts
More than one lakh houses damaged by cyclone in 13 southern dists; power supply remains snapped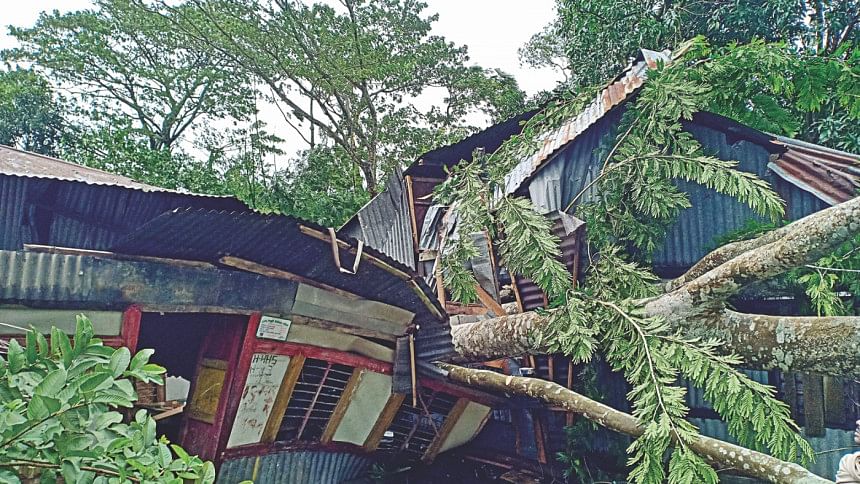 At least 26 people were killed in nine southern districts as Cyclone Bulbul ravaged through those in the past two days. 
Most of the victims were killed when trees fell on them. Some of the deaths were also attributed to drowning and collapsed homes, according to officials from the local administrations, police and health facilities.
Meanwhile, the coast guard, with the help of police and locals, yesterday recovered the bodies of nine fishermen from the Meghna river in Barishal.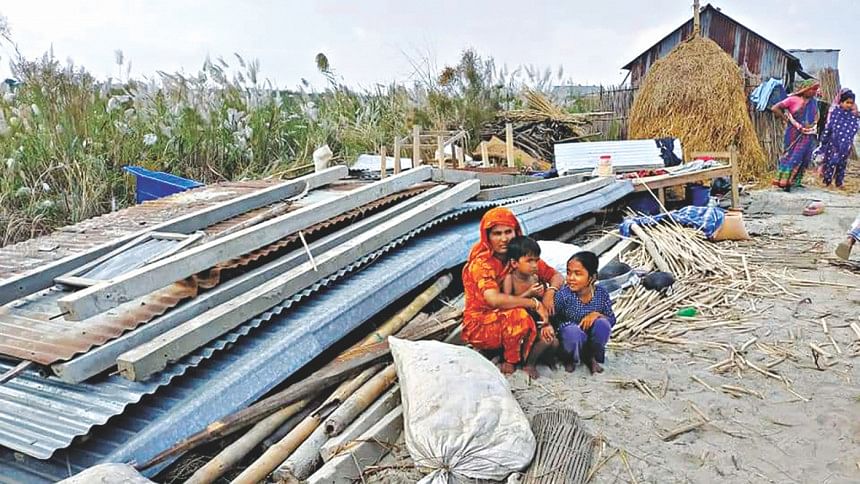 Apart from the loss of lives, Cyclone Bulbul damaged over one lakh houses, uprooted thousands of trees and flooded many fisheries in Khulna, Bagerhat, Satkhira, Patuakhali, Barishal, Barguna, Bhola, Pirojpur, Jhalakathi, Chandpur, Madaripur, Shariatpur and Gopalganj districts.
Around three lakh hectares of cropland was damaged in these coastal districts, the lower parts of which were inundated as the cyclone whipped up tidal surges four to five feet higher than usual tide. 
Md Azmat Ali, from Baniashanta village of Khulna's Dacope upazila, has to now live on an embankment as Cyclone Bulbul has completely destroyed his house.
He found his house destroyed after returning from a cyclone shelter.
"We have collected some of our belongings and kept them on the embankment. I am now making a temporary shelter to live there with my [seven-member] family," he said.
Azmat said he lost not only his house but also his ripe Aman paddy on three bighas of land.
He had lost his house and all his belongings during Cyclone Sidr in 2007 and also in Cyclone Aila in 2009.
With memories of past cyclones still fresh, some experts had feared much worse, but improved early warning systems and a large number of shelters helped the authorities lessen the cyclone's impact. 
In 2009, Bangladesh was hit by Cyclone Aila, which left over 200 people dead. Two years prior to that, Cyclone Sidr had ravaged the country, leaving a trail of nearly 4,000 bodies. 
State Minister for Disaster Management and Relief Md Enamur Rahman yesterday said the government's prompt response minimised the damage from "Bulbul". 
"As part of the immediate response, for the first time in the country's history more than 21.6 lakh people were successfully evacuated and moved to 5,587 cyclone shelters in coastal districts," he said during a briefing on the cyclone's fallout.
Bulbul was initially categorised as a "very severe cyclone", but it lost strength when it entered Bangladesh through the Sundarbans in Khulna around midnight on Saturday. The cyclone had earlier made landfall at Sagar Island in the southern tip of India's West Bengal. It crossed the Bangladesh territory around yesterday midnight, exiting through Feni towards Tripura, India.
The full scale of the destruction, however, cannot be measured yet as electricity supply and telephone connections have not resumed in the southern districts hit by the calamity. 
"Due to disruptions to power supply, we couldn't collect complete data on the damage yet. We are working on it. Hopefully, we will publish a complete report by 3:00pm tomorrow [today]," Enamur Rahman said. 
About the official death toll, he said, "Two people who died in Shariatpur were out of the disaster area. So, the actual death toll is nine."
The unofficial toll, however, is higher. 
26 DEAD, 51 MISSING
Twenty-six people died in different storm-related accidents in nine districts, while two died at shelters of natural causes during the cyclone. 
Five people died in Barishal, three in Khulna, two each in Bagerhat, Shariatpur and Gopalgang, and one each in Patuakhali, Pirojpur, Madaripur and Satkhira districts. 
The government will provide Tk 25,000 in assistance to the families of each victim.
In Khulna, three people were killed when they were crushed under falling trees on Sunday. They were identified as Promila Mandal, 52, of Dacope upazila, Alamgir Hossain, 35, of Digholia upazila, and Rahman Sheikh, 78, of Rupsha upazila.
According to the district relief office, around 47,275 houses were damaged: 37,820 partially and 9,455 completely.
In Bagerhat, two died when trees uprooted by strong winds fell on them in Fakirhat and Rampal upazilas. They are Hira Begum, wife of Masum Sheikh of Fakirhat upazila, and Samia Khatun, daughter of Babul Sheikh of Rampal upazila.
According to the district administration, 44,563 houses, 35, 529 hectares of cropland and 7,234 fish enclosures were damaged by the storm. Besides, 18.35 kilometres of dams were collapsed.
Five people were killed during the storm and two died in cyclone shelters in five coastal districts of Barishal division.
Ashalata Mazumder, 60, was killed by a falling tree in Ujirpur municipality around 2:00pm during the cyclone, Mostaine Billah, deputy commissioner (DC) of Barishal, told The Daily Star.
According to the DC, at least 12,235 houses and 278 schools, along with around 2.79 lakh hectares of Aman and 7.5 thousand hectares of vegetable fields, were damaged. Some 528 fish enclosures and 721.8kms of an embankment were also damaged in the cyclone.
In Patuakhali, Abdul Hamid, 65, was killed by a falling tree in Mirzaganj upazila, while Bellal, 35, was killed in the same way in Kalapara upazila. Sufia Khatun,60, died at one of the district's cyclone shelters due to health complications. 
In Barguna, Halima Khatun, 65, of the upazila's Banai village, died at a cyclone centre, our local correspondent reports quoting Anisur Rahman, the upazila nirbahi officer (UNO).
In Pirojpur, Nani Gopal Mandal, 55, was killed at Nazirpur.
In Gopalganj, two people died as trees fell on them during the storm in Kotalipara and Sadar upazilas of the district. They were identified as Mazu Bibi, 67, of Khatiyagor village under Sadar upazila, and Sekel Hawladar, 70, of Bandabari village under Kotalipara upazila, our Faridpur correspondent reports, quoting the UNOs of the two upazilas.
In Shariatpur, two people were killed as trees fell on them in Naria and Damudya upazilas. They are Ali Box Chaiyal, 68, of Naria upazila and Aleya Begum, 45, of Damudya upazila.
In Madaripur, Saleha Begum, 40, wife of Abdul Aziz Kha of Ghatmajhi village, suffered injuries after her house was ravaged by strong winds in the Sadar upazila. She was taken to Madaripur General Hospital in critical condition, where doctor declared her dead around 3:00pm yesterday, Saifuddin Gias, the UNO said. 
According to news reports, another person died in Satkhira, but the disaster ministry claims it was not cyclone-related, as it had happened outside the designated "disaster target zone".
The bodies of nine fishermen were recovered from the Meghna at Bahadurpur-Elisha point. Rescue operations were on when the report was filed last night.
Md Saiful Islam, superintendent of police in Barishal, told The Daily Star that a fishing trawler, with 24 fishermen on board, was returning from Chandpur on Sunday when it capsized in the river's Elisha point around noon. Fourteen managed to swim ashore.  
In Barguna and Bhola, 51 fishermen remain traceless after they had gone to sea despite the storm warning.
Meanwhile, around one thousand tourists, who were trapped on St Martin's Island since the cyclone began to form, returned to the mainland of Teknaf in Cox's Bazar yesterday under the arrangement of Bangladesh Navy, said Lt Md Hasan. 
NO ELECTRICITY  
Twenty-seven hours after the cyclone struck, the power supply had not resumed in the district towns hit worst. Officials said uprooted trees had snapped electricity connections. 
The disruption has also hampered communications as the storm knocked down many cell phone towers. 
Monohor Kumar Biswas, general manager at Patuakhali Rural Electrification Board, said at least 100 electric poles had been damaged by high intensity winds in different places, affecting over 3.50 lakh consumers.
"We are trying to resume connections and have around 800 staffers engaged in the work round the clock," he said.
Muhammad Yiamin Chowdhury, divisional commissioner, Barishal, confirmed to The Daily Star that till 4:00pm yesterday, phone and internet connections had not been properly restored.  
(Our correspondents from Barishal, Jhalakathi, Patuakhali, Bagerhat, Khulna and Faridpur contributed for the report.)