Neo JMB's military commander killed
He was trainer of Gulshan, Sholakia attackers; OC, two other cops injured in operation at Mirpur den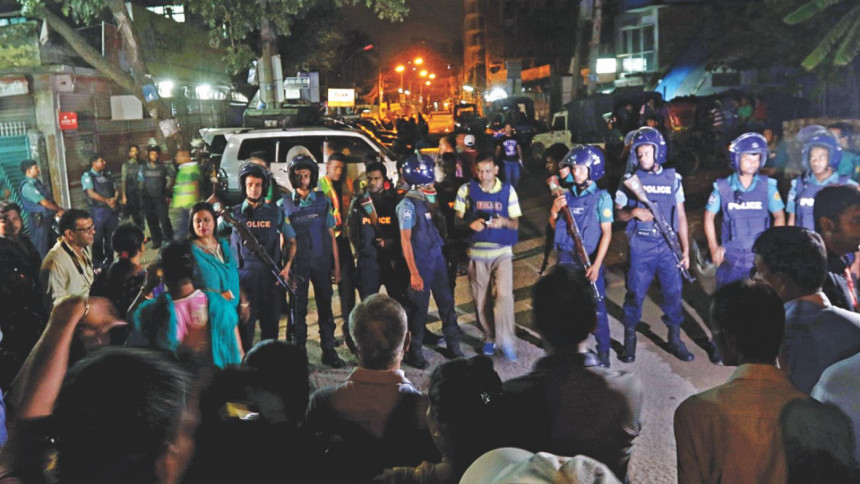 The military commander of "Neo JMB", who gave arms training to the Holey Artisan and Sholakia attackers, was killed during a raid in the capital's Mirpur last night.
Before being shot dead, Murad alias Jahangir Alam alias Omar, called by militants "Major Shaheb", attacked the policemen trying to capture him and injured three of them.
"Murad was the military commander of Neo JMB and he trained the Gulshan and Sholakia attackers," said Monirul Islam, chief of the Counter Terrorism and Transnational Crime (CTTC) unit of DMP.
Murad used to frequent the militant hideout at Paikpara in Narayanganj where "Neo JMB" coordinator Tamim Ahmed Chowdhury had been staying.
Tamim along with his associates Tousif Hossain and Fazle Rabbi were killed during a raid at the hideout on August 27.
Soon after the Narayanganj raid, police came to know about Murad's rented house -- a fifth-floor apartment of a six-storey building on Road 33 in Rupnagar of Mirpur.
On August 28, Murad along with his family left the house without taking any household items, Monirul Islam told The Daily Star.
"We asked the house owner to inform us whenever Murad comes for the household items. The house owner's family contacted the local police at night [last night] prompting the force to rush to the place to arrest him," said the CTTC chief, also an additional commissioner of Dhaka Metropolitan Police.
When police reached in front of his home, Murad already had come down and was about to leave.
"As police challenged him, he jumped on them and indiscriminately stabbed three police officials," Monirul added.
Masud Ahmed, deputy commissioner of DMP's Mirpur zone, said Murad first opened fire at police from a pistol and then knifed them.
As police retaliated by firing shots, Murad died on the spot.
Additional Inspector General of Police Mokhlesur Rahman, who visited the scene, told reporters that the incident took place between 8:30 and 8:45pm. 
Police recovered a pistol from the spot.
The injured, Officer-in-Charge Syed Shahid Alam, OC (Investigation) Md Shaheen Fakir and Sub-Inspector Mominur Rahman of Rupnagar Police Station, were immediately taken to Dhaka Medical College Hospital.
Shahid, who suffered stab wounds to his back, and Shaheen, shot in thigh, were shifted to Square Hospital.
Contacted around 1:00am today, a customer care officer of Square Hospital said the condition of the two were stable.
Mominur with minor injuries in one hand was still at DMCH.
The officers were in bullet-proof vests. They still were hurt as the militant targeted the body parts not covered by vests, Monirul said.
Aged between 40 and 45, Murad was a retired army man, the DMP official said, adding that it was yet to be confirmed which post he held. He could not say which district Murad was from.
Earlier, investigators said that Murad was known as an arrogant man and capable of carrying out attacks causing massive destruction. But there was hardly any chance that he would take the helm of "Neo JMB" after the killing of Tamim, they added.
Murad was not popular in the militant group, a JMB offshoot called by law enforcers "Neo JMB". He was ill-tempered and used to order his trainees to do push-ups 20 to 25 times for minor mistakes, said an investigator.
A police officer said Murad rented the Rupnagar apartment on July 1.
Witnesses said plainclothes officials reached the spot in a microbus.
"I heard around 15 to 20 gunshots and saw some injured people being taken away," said owner of a shop near the house.
Law enforcers have been conducting raids on militant hideouts after the terrorist attacks on Gulshan's Holey Artisan Bakery on July 1 and near the Sholakia Eidgah on July 7.
Since then, two successful drives were conducted -- one in Kalyanpur where nine militants were killed and then in Narayanganj.