Nation pays homage to martyred intellectuals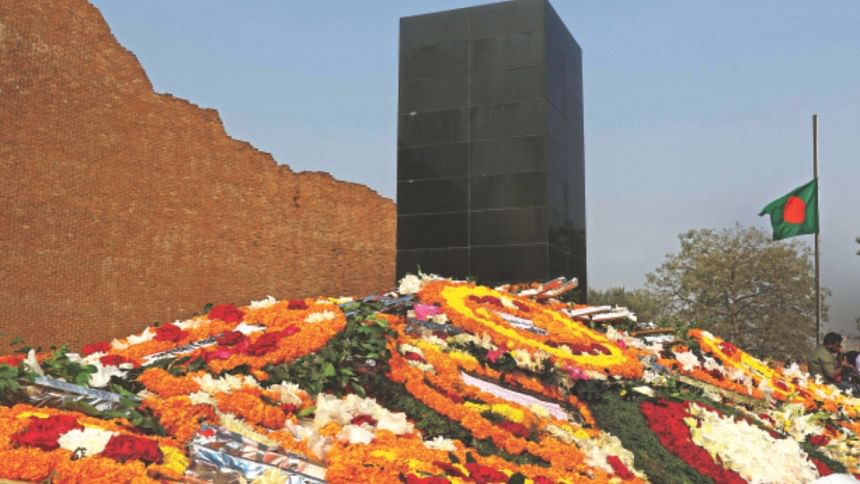 The nation observed the Martyred Intellectuals Day yesterday paying rich tributes to the intellectuals who were killed by the Pakistani occupation army and their local collaborators close to the end of the Liberation War in 1971.
Sensing an imminent defeat, they carried out the cold-blooded murders under a carefully thought out plan to cripple Bangladesh intellectually.
Renowned academics, doctors, engineers, journalists, teachers and other eminent personalities were dragged out of their homes, blindfolded, taken to unknown places and then brutally tortured to death. Most of the killings took place on December 14, 1971.
Their bodies were later dumped in Rayerbazar of Mirpur and in some other killing fields in the capital.
President Abdul Hamid and Prime Minister Sheikh Hasina paid tributes to the martyred intellectuals by placing wreaths at the Martyred Intellectuals Memorial in the city's Mirpur yesterday.
People from all walks of life also placed wreaths at the memorial.
The PM also laid a wreath at the portrait of Father of the Nation Bangabandhu Sheikh Mujibur Rahman in front of Bangabandhu Memorial Museum in Dhanmondi.
Different socio-cultural and political organisations hosted various programmes, including seminars, discussions and wreath-laying at Mirpur martyred intellectuals graveyard and the memorial at Rayerbazar.
The Awami League hoisted black flags and flew the national and party flags at half mast atop its offices across the country.
It also arranged a discussion in the city's Krishibid Institution in the afternoon, where Prime Minister and Awami League President Sheikh Hasina spoke.
Led by party Chairperson Khaleda Zia, the BNP paid homage to the martyred intellectuals at the Martyred Intellectuals Memorial in the morning. National flags were at half mast atop its offices.
The party arranged a discussion at the Jatiya Press Club on Tuesday on the occasion.