Myanmar acknowledges 'concern' over exodus
'Muslim boatpeople' deserve human rights: Suu Kyi's spokesperson; Indonesia turns away boat as Asian migrant crisis escalates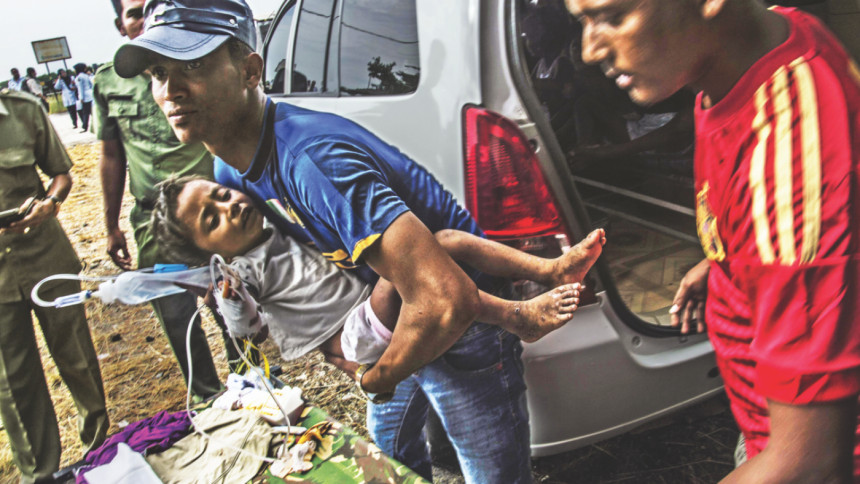 Myanmar yesterday acknowledged international "concerns" about waves of boatpeople, many of whom are fleeing from persecution, but denied it is solely to blame as thousands languish in dire straits at sea.
The comments came as fresh details emerged from migrants of brutal fighting with metal bars and knives that left at least 100 dead as food and water dwindled on their rickety vessel as it drifted in Indonesian waters.
Southeast Asia is gripped by an escalating migrant boat crisis that has seen nearly 3,000 migrants swim to shore or be rescued off Indonesia, Malaysia and Thailand over the past week.
Others have been turned back to sea, sparking international outrage and fears that time is running out to rescue thousands still believed to be trapped with scarce supplies on the unwanted boats.
The Indonesian navy prevented a suspected migrant boat from entering the country's waters at the weekend after the arrival of hundreds of Rohingya and Bangladeshis and has stepped up patrols in the area, the military said yesterday.
The three nations have sparked outrage by turning away some overloaded vessels, and thousands of migrants are still believed to be stranded at sea after a Thai crackdown disrupted long-established people-smuggling and -trafficking routes.
Also yesterday, a spokesman for Aung San Suu Kyi's party said Muslim boatpeople fleeing dire conditions in Myanmar are entitled to "human rights".
Suu Kyi has faced criticism for not speaking strongly on the issue, as surging Buddhist nationalism has deepened the desperation of a group largely viewed as illegal immigrants from Bangladesh.
But her party spokesman took the highly unusual step Monday of urging Myanmar to give stateless Muslims in the country a chance to get citizenship.
"If they are not accepted (as citizens), they cannot just be sent onto rivers. Can't be pushed out to sea. They are humans. I just see them as humans who are entitled to human rights," Nyan Win told reporters on the sidelines of a meeting between political parties and President Thein Sein in Yangon.
Myanmar's estimated 1.3 million Rohingya are not accepted as an ethnic group and most are denied citizenship. They have long been subjected to daily prejudice and a raft of severe restrictions such as controls on movement and family size.
Deadly communal violence in western Rakhine state between Muslims and Buddhists in 2012 saw their situation deteriorate dramatically, displacing tens of thousands who remain trapped in miserable camps.
The violence was the catalyst for a huge exodus of migrants across the Bay of Bengal, with thousands taking to makeshift boats heading for Thailand, Malaysia and beyond.
Myanmar has yet to confirm whether it will attend a regional summit called by Thailand for May 29. iT does not recognise the estimated 1.3 million Rohingya as an official minority, instead viewing them as mostly illegal immigrants from Bangladesh.
DEADLY BRAWLS
Grim tales have emerged of deadly fights between migrants on board boats washing into Indonesian waters in recent days.
Some described a vicious brawl breaking out as desperation exploded into bloodshed on their sinking boat, which was discovered off Aceh, on the Indonesian island of Sumatra on Friday.
"Suddenly the Bangladeshis came out of the deck, and they attacked all of us who were on the top of the boat," said Rohingya migrant Hasina Begun.
"Those who wanted to save their lives, had to jump in the sea, but my brother could not. When they found him, they beat him and then they slaughtered him. After that they threw him into the sea," the 22-year-old told AFP.
Bangladeshi migrants, who are now being kept separately from the Rohingya in an Indonesian shelter, claim that they were kept below deck by Myanmar people smugglers, who denied them food and water.
Those interviewed put the number of dead between 100-200 from a boat carrying around 1,000 but precise figures are difficult to obtain.
INDONESIA TURNS AWAY BOAT
On Sunday, the Indonesian navy stopped a boat from entering its waters after the vessel was spotted heading across the Malacca Strait from the direction of Malaysia, Indonesian armed forces spokesman Fuad Basya told AFP.
After radio communication with the boat, it turned back from Indonesia, he said, adding it was not physically pushed back. Basya said it was believed the boat was carrying more migrants, although he was not sure how many.
"It was heading to Indonesian waters from Malaysia and was denied entry," Basya said. "It was intercepted, and we stopped it from passing."
A week ago the navy stopped a boat carrying hundreds of migrants from entering Indonesia, and the military insists it will only help vessels in distress.
Basya said four warships and one plane were now patrolling off Aceh's coast to stop migrant boats from entering, up from one warship and a plane around a week ago.
"The boats are forbidden from entering Indonesia," he said.