More than farming
Physically-challenged man finds relief and solvency in mushrooms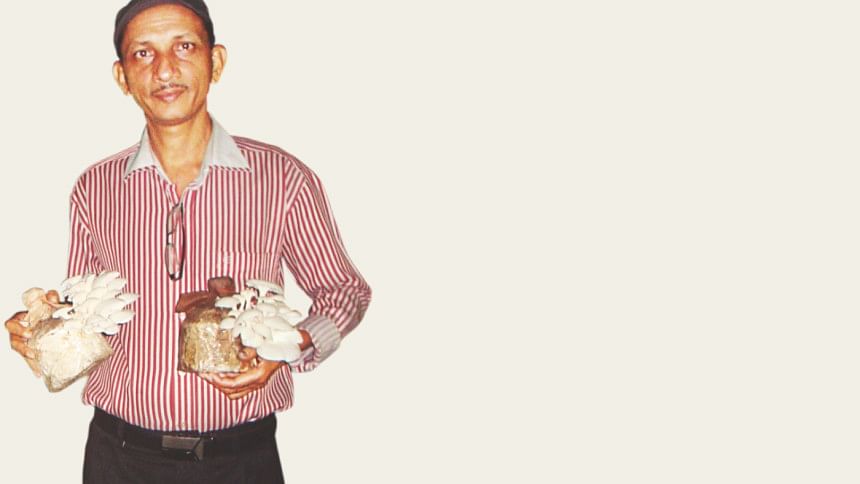 Despite a tendency to shun sunlight, there's nothing humble about mushrooms. Fat and cholesterol free, they are a good source of nutrients including selenium, potassium, riboflavin, niacin, vitamin D and more. To any dinner plate, mushrooms must be a welcome addition. But for physically-impaired Mamunur Rashid Joarder, 45, from Mandartala village in Jhenidah's Harinakundo upazila, mushrooms are far more.
Mushrooms are his livelihood. They bring him solvency and means to afford the ongoing therapy he needs.
Mamun suffers from myelomalacia, a disorder involving a softening of the spinal cord. It usually arises from a spinal injury though what caused it in his case is uncertain.
"When I was in class seven," he recalls, "I felt acute pain, like an electric shock, mainly in my neck, and during the bouts of pain I could not speak. Later my muscles grew weak."
Weakened muscles, along with loss of motor function in the extremities, sudden jerking of limbs, depression, some paralysis and even death are symptoms of myelomalacia. As the nerve damage behind the disorder cannot be reversed there is no cure, but surgery and therapy can help.
Mamun managed to pass his Secondary School Certificate examinations in 1986 but was unable to study further. In 1992, he sought treatment in Malaysia where he stayed for eight years. While receiving treatment he worked for a company that sold mushroom products, the first time he saw them.
"My Malaysian doctor, Dr Azmi said I may have been injured while still inside my mother's womb or perhaps while playing during childhood," Mamun explains.
Thankfully, the treatment that cost him about Tk 60 lakh brought some relief to his neck pain and weakened muscles.
Returning home, Mamun has been receiving physiotherapy at the Centre for Rehabilitation of the Paralysed in Savar. Each admission costs him Tk 10,000.
But it wasn't medical bills that led him to consider mushroom farming. Dr Azmi had advised him to include mushrooms in his diet, Mamun says.
"I sought health from mushrooms; and then I wanted to save others from disease by making mushrooms available. The benefits of mushrooms to human health are enormous. They are good for treatment and prevention."
Mushrooms are like a medicine for all diseases, says Jhenidah's Deputy Director of the agriculture extension department Shah Md Akramul Haque. Farming mushrooms is a profitable venture too.
Thus in 2002, Mamun began cultivating mushrooms, starting his own farm with financial support two years later.
"My family members always discouraged me. They never helped," Mamun regrets.
Yet he was able to complete initial training in mushroom farming at a youth development centre in Jhenidah. He received laboratory, industrial and post-harvest training later in Savar.
Mamun's farm produces East Asian lingzhi and Japanese shiitake mushrooms, as well as common mushrooms, which are native to the grasslands of Europe and North America. Each mushroom passes through tissue, mother and spawn culture stages in order to be ready to sprout.
"When I work hard I sweat a lot," says Mamun. "My left side is more paralysed than my right side, but still I manage."
These days Mamun sells around 300 kilograms of mushrooms per month, for up to Tk 70,000, leaving him a profit of around Tk 30,000.
"I am so grateful for our solvency," says Mamun's wife Rozina Khatun. She helps her husband by taking responsibility for the laboratory work. With two sons studying in class-II and class-VIII, she says the family is a happy one.
 In the district Mamun is a shining example of a successful mushroom grower, says Bilal Hossain, Harinakundo upazila's youth development officer.
"He is the pride of our upazila. We can learn from his self-confidence."
"Mamun has contributed a lot to mushroom cultivation in Bangladesh," says the local upazila nirbahi officer, Monira Parvin.
"Right across the country people should be proud of his success. We should help him in any way we can."
In recognition of his achievements, Mamun received a national award from Prime Minister Sheikh Hasina last month. But he is not yet satisfied; he wants to do more.
"I'd like to produce mushrooms for export," he says.
"A mushroom industry could help alleviate unemployment in this area. A good number of people could have jobs in mushroom processing."
Mamun is held back only by a lack of capital. He hopes for favourable loan facilities or perhaps government assistance to make his vision a reality.