Kidnap abroad, ransom here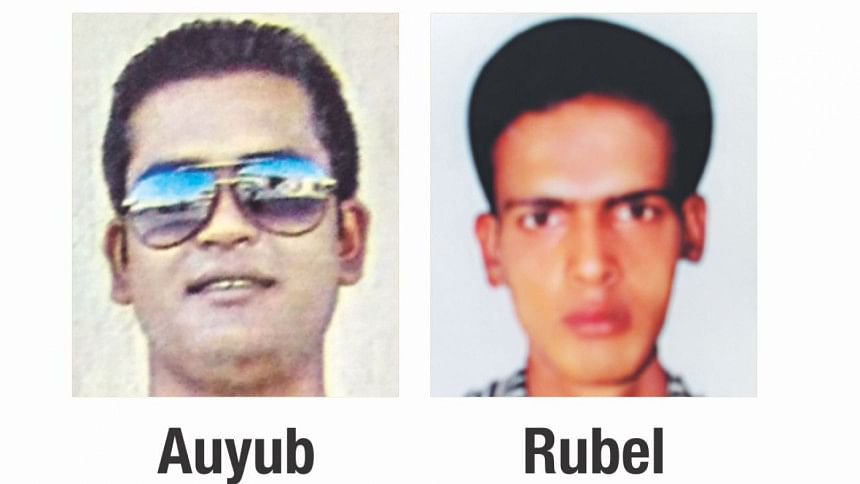 They have been held hostage in Libya and tortured brutally by fellow Bangladeshis. Video clips of their sufferings have then been sent to their relatives by members of the network here asking for ransom. 
The victims -- Ayub Ali, 25, and Rubel, 28, -- from Naogaon are still in captivity in Libya.
Meanwhile, the Police Bureau of Investigation arrested six members of the gang, who had been operating from here, in Kishoreganj and Narsingdi in the last three days. 
Ayub went to Libya in 2012 and was working there at a petrol pump while Rubel was working as a mason since 2013.
They communicated with their families regularly and sent money home before their abduction on July 21. Their passports, mobile phones and money were immediately seized.
A gang led by one Bakir Mia was behind the kidnapping. They abduct Bangladeshi nationals working there and torture them in unknown locations, said Abul Kalam Azad, special superintendent of the PBI, at a press briefing at its Dhaka Metro Office in Agargaon yesterday.
Members of the criminal network here received money through mobile transactions from the victims' families on several occasions.
"If the families failed to send the ransom, they threatened to murder the victims and dumped the bodies [somewhere in Libya]," the police official said, adding that nearly 100 more such victims were still held hostage at different places in Libya.
As Ayub's father Taslim Pramanik and Rubel's brother Rabbani were telling the stories of the torture of their loved ones seen in video footage by abductors with faces covered, the environment at the press conference room turned heavy.  They at one stage broke down in tears.
"They suspended my son from a ceiling fan, beat him mercilessly with a stick and asked for money through video in IMO messaging app. How could I bear this as a father," Taslim said.
Taslim already gave Tk 5 lakh in several transactions.
"I had to sell my last piece of land to arrange the money. Lately, I had to beg to arrange Tk 20,000 more.
"They even shouted at me and told me to sell my kidney to arrange the money," Ayub's father said. 
Rubel's brother Rabbani said his family had already paid Tk 5.20 lakh.
But the culprits have not released anyone of the hostages. Instead, they are demanding more. 
Soon after the press briefing ended, Taslim talked to the abductors in Libya over the phone when they demanded Tk 5 lakh more for Ayub's release. The 52-year-old passed out at that. 
Among the arrestees, three were agents of bKash, a mobile money company. 
The victim's relatives had to send money to the gang's kingpin Bakir's wife Naznin Begum and his local associates through bKash, which was later distributed through at least 20 channels inside the country.
Tipped off, a team of the PBI conducted a raid in Bhairab of Kishoreganj on Thursday, and arrested bKash agent Kamal. Later, they arrested Naznin at her father's home in Bhairab. She had withdrawn Tk 20,000 that Ayub's father sent.
"Naznin withdrew Tk 10 lakh in the last week of July as instructed by her husband Bakir," PBI official Azad said.
On Friday, police conducted raids in Raipura of Narsingdi, and arrested Abu Kashem, and Mamun Mia, both are bKash agents, and ransom seekers Baby Akhter and Nurul Haque who had withdrawn Tk 1.20 lakh and Tk 1.10 lakh.
Baby's husband Zakir Hossain, and Nurul's younger brother Kabir Hossain alias Humayun Kabir, both are expats in Libya, asked them to withdraw the money. Sub-inspector Monirul Islam, of PBI, on Saturday filed a case with Agargaon Police Station accusing them of their links to the kidnapping network and demanding ransom. 
About the bKash agents, Azad said police had primarily found their involvement in unusual transactions.
However, Shamsuddin Haider Dalim, head of corporate communications and public relation of bKash, told The Daily Star that the company had zero tolerance to such fraudulence and that the arrested agents were not its employees.
The PBI, meanwhile, has requested the authorities concerned in Libya to initiate a process to rescue the victims and apprehend the other culprits, its Special Superintendent Azad said at the press conference.