Mayhem for money
BCL remains unruly as it drifts away from its glorious past, politics of ideology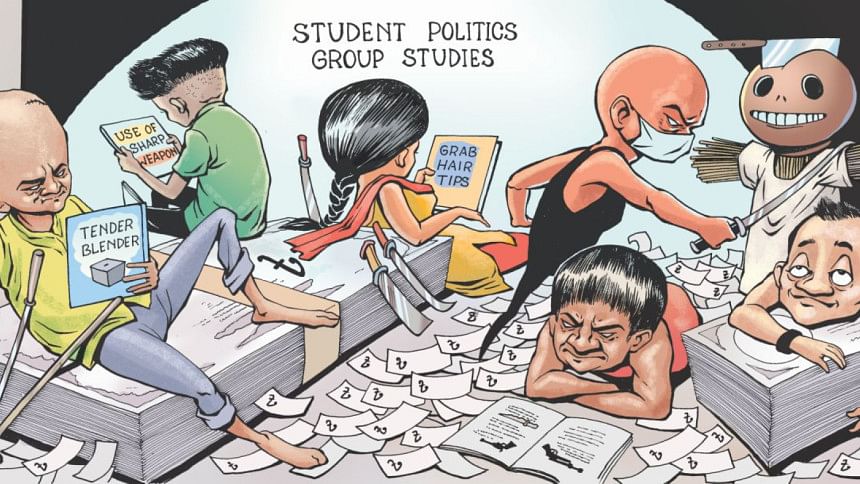 If you google Bangladesh Chhatra League, you will find numerous awful images of incidents involving the pro-Awami League student body. Google can aggregate those pictures as they were published in various sites, including that of news outlets.  
Such incidents have resulted in, according to media reports, over 125 deaths in the last eight years with the latest casualty being a BCL activist in Sylhet yesterday.
The victims include 60 BCL leaders and activists killed in internal feuds and 11 BCL men who died in clashes with rival organisations. The rest 54 are children and common people.
READ MORE: BCL activist shot dead in classroom
The BCL men started to draw widespread condemnation for their unruly behaviour immediately after the AL returned to power in January 2009. Annoyed, Prime Minister Sheikh Hasina resigned from the post of BCL's organisational leader in April that year.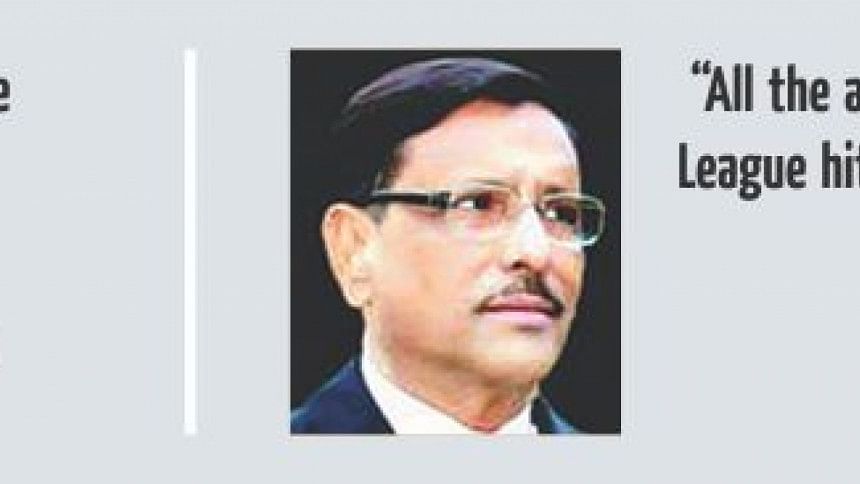 As they did not refrain from indulging in unlawful activities, her office next year issued a note of caution ordering the home ministry to take necessary actions against tender violence and other misdeeds by any organisation even if it is backed by the ruling party.
Numerous incidents suggest that making money and establishing dominance over educational campuses and city areas have been the root causes of almost all the violence. 
To keep them away from wrongdoings, Awami League General Secretary Obaidul Quader even offered them jobs and money if they need. But the offer proved to be inadequate.
ALSO READ: Rival BCL groups clash over tender at IU
In the past, BCL men were warned but very few of them were punished. Therefore, warning alone no longer work, say political analysts.  
MONEY MATTERS  
Mostly the wrongdoings of BCL and Bangladesh Jatiyatabadi Chhatra Dal (JCD) -- student fronts of the AL and BNP respectively -- gave student politics a bad name after the restoration of democracy in 1991.
Since the fall of autocratic Ershad regime, Awami League and the BNP in turn has been ruling the country, except for brief periods when caretaker administrations held office.   
It is money, not any ideology, which now matters. Desperation for making money in whatever ways possible eventually has changed the lifestyle of leaders of the two major student bodies.
Arun Dey, who has been running the historic Madhur Canteen (Madhu's canteen) at Dhaka University since 1975, has noticed changes in the lifestyle of student leaders over the last several decades.
In the past, they used to come to the canteen, a hub of student politics, by rickshaws or on foot. Sometimes, they did not even have the money to pay rickshaw fares.
"But now, they are seen alighting from cars," he told The Daily Star recently.
In the past, vice-presidents and general secretaries of Dhaka University Central Students' Union (Ducsu) and chiefs of student organisations used to reside in dormitories.
But that's not today's picture. They either have their own luxury apartments or live in similar rented houses, he observed.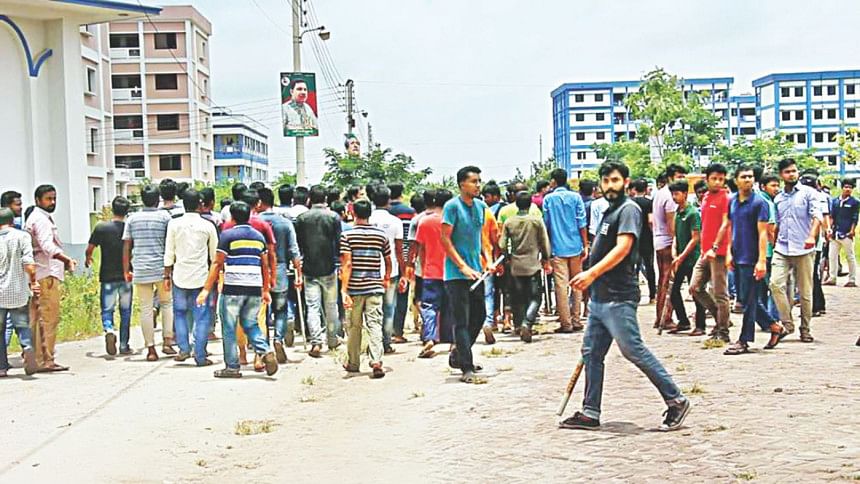 Things started to change during the Ershad regime when student leaders were given money, said Arun, son of Madhusudan Dey, popularly known as Modhu Da, who ran the canteen form the late '40s. Named after him, the canteen has been associated with many national movements. Madhu Da was killed on March 25, 1971 by the Pakistan army.
"Massive changes started to take place as Khaleda Zia took office [in 1991]. Now there is no idealism. The future is bleak," Arun said.  
When the BNP was in power, JCD dominated the scene and resorted to violence. And the BCL has been doing the same in the last eight years.
A section of leaders from both the organisations have allegedly made a fortune through unlawful means.
Now questions are being raised even within the organisations about the source of their high income. Some central BCL leaders themselves have inquired into the income source of the student body's president and secretary, pointing finger at their lavish lifestyle.
The BCL president pays Tk 55,000 per month as house rent, alleged other BCL leaders at a recent meeting.
One of the joint general secretaries of the BCL accused the president and general secretary of extorting Tk 7 lakh from the construction work of Sheikh Russel Tower at Dhaka University. The money was not shared with others. 
Both the president and general secretary denied the allegation.
The meeting, however, reflects the cause of internal feud of BCL. 
Asked about the reasons behind BCL infightings, AL Joint General Secretary Abdur Rahman, who was the general secretary of BCL from 1986 to 1989, gave a simple answer.
"When politics of power and money replaces ideology-based politics, infighting and clash are unavoidable."
In their time, he said, there were no internal feuds in the BCL. "But nowadays, we see internal feuds of Chhatra League everywhere."
Nure Alam Siddiqui, BCL president from 1969 to 1973, said ideology is absent in student politics now.  "All are busy making money. They get locked into internal clashes for money," he said.
President Abdul Hamid has recently spoken about how narrow interests have changed values of student politics.
During the 60s, he recalled, students used to join politics only to serve the country and fight for people's rights. "But now student leaders are interested more in themselves..." he said.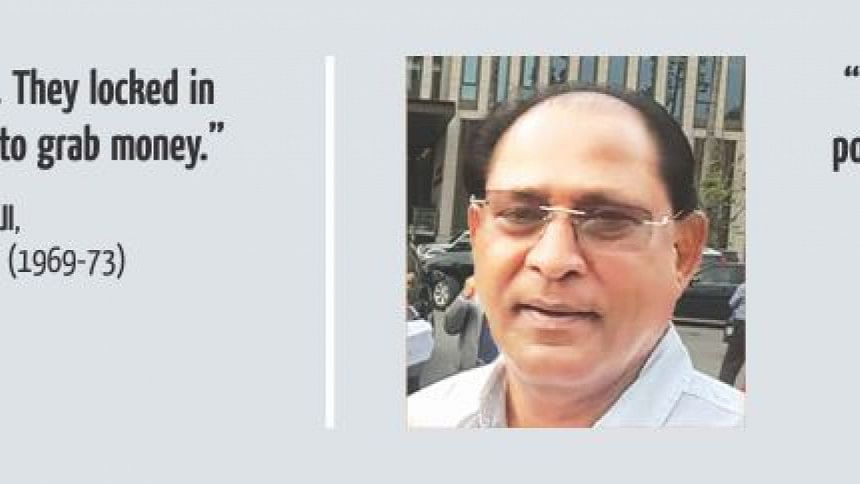 PAST GLORY OVERSHADOWED 
The spate of unlawful activities by BCL men since 2009 has been overshadowing its glorious past and achievements.
They have got busy with violent clashes, extortion, tender manipulation, beating other students and other criminal activities.
They maim and chase out of dorms and campuses its rival activists. Even teachers come under their attacks.
Founded in January 1948, the organisation played a significant role in the country's Liberation War and other historical events, including the Language Movement in 1952, six-point movement in 1966, uprising of 1969, AL's win in the 1970 elections and the street agitation against Ershad.
REMAINING UNTOUCHED
The record shows that every year since 2009, BCL leaders and activists got killed in factional clashes in and outside the campuses. 
In the face of criticism, the BCL expelled some of its leaders on charges of violence and wrongdoings.
For example, after the Magura incident in which a pregnant mother received bullet injuries, some BCL men were expelled from the organisation. 
But in numerous cases, BCL men engaged in violence and other wrongdoings were not brought to book. Though on many occasions they clashed with police, law enforcers took little action later on.
Contacted yesterday, Saifur Rahman Sohag, president of BCL, said they only can expel a leader or member of his organisation for A misdeed.
"However, it becomes easy for the administration to take action against a student leader or activist for an alleged offence after the expulsion," he added.
But many of them who were expelled from the BCL did not face any legal action.
On condition of anonymity, a senior police officer said they take action against rowdy BCL men after an incident only on receiving directives from the government or the ruling party high commands.
Sohely Ferdous, assistant inspector general (media) at the police headquarters, however, claimed police always perform duties as per law without any bias.
"Bangladesh police will not take responsibility for any official who did something in violation of the existing law," she told The Daily Star on Saturday.
She said if any specific complaint is found against any such official, necessary action will be taken after probe.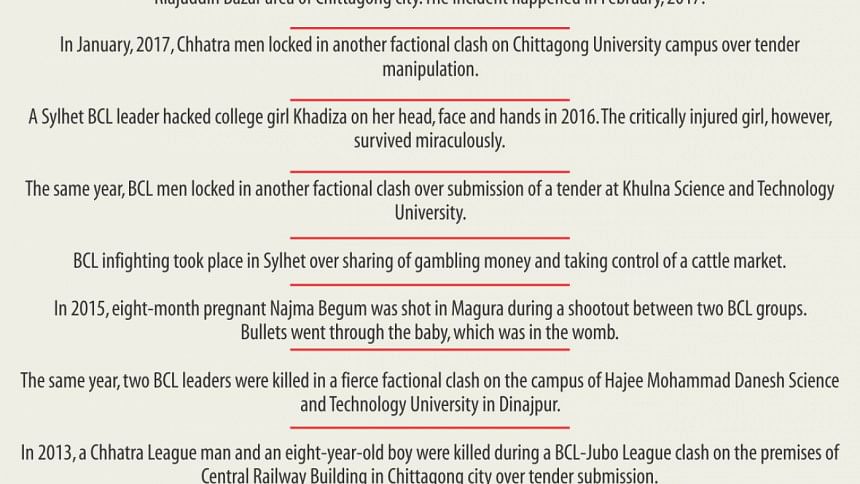 CONVICTS REMAIN FUGITIVE 
More than 30 BCL men were convicted in two sensational cases in the last eight years, but most of them still remain fugitive. 
While delivering verdict on JU student Zubair murder case in February 2015, a speedy trial tribunal said the judgment was exemplary, asserting that it was the first time when the capital punishment was given to anyone over any murder committed on the campus of a public university.
The tribunal awarded capital punishment to four BCL men and life term to six others. But most of the convicts are still absconding.
For the brutal murder of Biswajit in Old Dhaka in 2012, eight BCL men were sentenced to death and 13 others to life imprisonment by a Dhaka court the next year.
At the time of the verdict, two killers condemned to death and 11 who got life term were fugitives.
LAW REFORMS INEFFECTIVE
Campus violence and wrongdoings by leaders and activists of student organisations had prompted the Election Commission led by ATM Shamsul Huda to bring electoral reforms a decade ago for delinking student bodies from the political parties.
In 2008, a new legal provision was made for political parties registered with the EC. It said no registered political party can keep student body as its affiliated organisation.
The aim of the reform, which remains on paper only, was to keep away student organisations from the partisan politics. But, the move failed to bring much change as AL and BNP declined to cut the ties with their student wings.