Come forward in a big way
Foreign diplomats urge int'l community while meeting refugees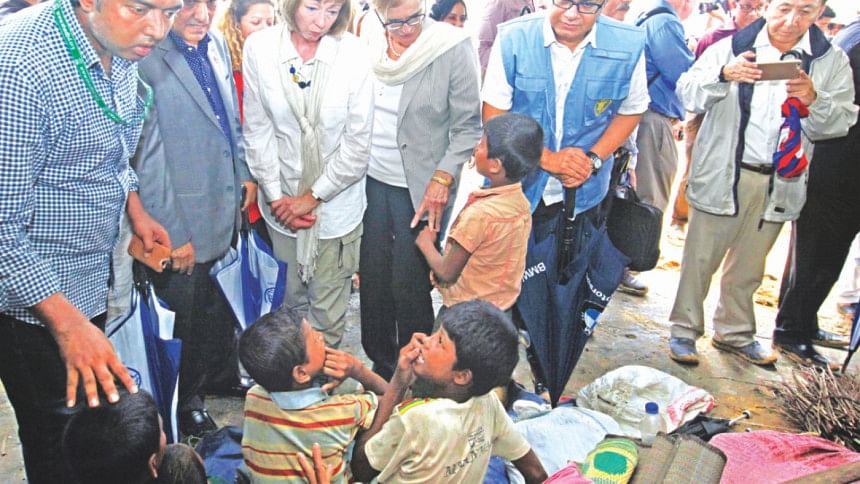 A group of foreign diplomats yesterday acknowledged that the world community has to come forward in a big way in aid of the Myanmar refugees in Bangladesh.
They were visiting the Kutupalong and Balukhali Rohingya camps in Ukhia upazila. A total of 63 diplomats, including 30 ambassadors and high commissioners, stationed in Dhaka, flew to Cox's Bazar around noon to see the condition of the refugees.
The Rohingyas fled to Bangladesh in the face of persecution by Myanmar security forces since August 25.
The envoys said it was a disaster of unimaginable proportions. The Rohingyas lost everything and left behind all their belongings while fleeing from the Rakhine State. Those who fled from persecution need urgent help and continued assistance, they added.
From near the border, the diplomats could see smoke billowing from the other side of the border (Maungdaw). They heard from refugees that villages and townships had been torched.
They also visited the entry points of refugees along Cox's Bazar-Ukhia-Teknaf road, including Ghumdhum area.
Foreign Minister AH Mahmood Ali, State Minister for Foreign Affairs M Shahriar Alam, Foreign Secretary Shahidul Haque and senior foreign ministry officials accompanied the diplomats.
Talking to reporters, Shahriar Alam said, "Although the Rohingya crisis is Myanmar's own problem, Bangladesh is being affected by it. Bangladesh is facing a fresh influx of Rohingyas amid persecution by the Myanmar security forces. The problem was created by the Myanmar government and they'll have to address it."
He called upon the United Nations and other international organisations to mount pressure on Myanmar to take back Rohingyas refugees from Bangladesh.
Some Rohingyas told diplomats that villages and townships were being set on fire in the bordering areas within Myanmar. The diplomats saw that there was a sense of fear and insecurity in the refugees. They tried to provide the Rohingyas with a sense of security.
All the envoys lauded Bangladesh for providing aid and assistance to the refugees. The generosity of Bangladesh to provide shelter to a huge number of Rohingyas was widely acclaimed.