Large influx again
30,000 more Rohingyas arrive in never-ending flow; 12 drown as boat sinks in Naf; dozens missing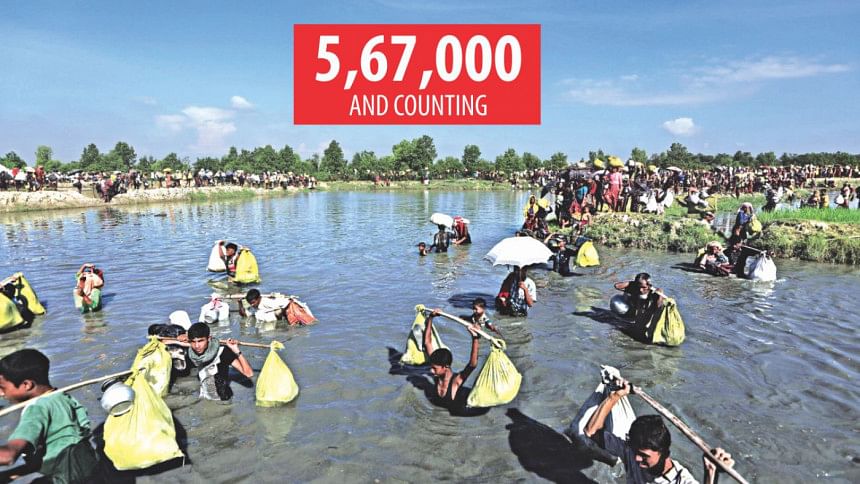 At least 12 people drowned and dozens remained missing after a boat carrying Rohingyas sank in the Naf River yesterday, as more than 30,000 Myanmarese nationals joined half a million others who crossed over into Bangladesh since late August.
The dead include seven women and four children aged between one and four. Fifteen boat people have been rescued.
Teknaf Coast Guard Commander Zafar Imam Sajeeb said the boat was packed with 50 to 60 Rohingyas from Dhaonkhali of Rakhine State in Myanmar.
It capsized near Shah Porir Dwip of Teknaf, Cox's Bazar, in the morning. The 12 bodies were pulled by coastguards. 
Officer-in-Charge of Teknaf Police Station Md Mainuddin Khan said the dead have been buried with the help of local union parishad. Efforts are on to find out the missing.
A border guard told AFP that the boat was just 200 yards from the Bangladesh coast when it sank in rough waters.
Fazlul Haq, a local official, said the boat was owned by a Bangladeshi villager who had made large sums of money ferrying Rohingya into the country.
He said the small fishing trawlers were highly vulnerable to accidents as they approached the shore, where they are often buffeted by large waves.
Earlier on October 8, another Rohingya boat sank at Golar Char point of Shah Porir Dwip. At least 37 bodies of victims from that incident have been recovered so far. 
Since August 29, as many as 26 boats filled with Rohingyas have sunk in the Bay and the Naf, leaving at least 89 children, 63 women and 30 men dead. Besides, the body of one Bangladeshi boatman was also found.
Meanwhile, an estimated 30 thousand more Rohingyas entered Bangladesh through Anzumanpara of Palongkhali union in Ukhia upazila. About a thousand others entered through Jaliapara, Dakkhinpara of Shah Porir Dwip points in Teknaf, reports The Daily Star correspondent from Cox's Bazar.
This adds to 5,37,000 Rohingyas who, according to the UN, had arrived in Bangladesh over the last seven weeks. 
Contacted, Major Ashikur Rahim, operation officer of BGB 34 Battalion in Cox's Bazar, told newsmen yesterday morning that nearly 15 thousand Rohingyas crossed Bangladesh-Myanmar border since Sunday night.  But he could not give the exact figure.
He thinks the refugees staying in different camps are asking other Rohingya people in Myanmar to come to Bangladesh.
Major Iqbal Ahmed, acting commander of 34 Battalion, told The Daily Star that 10 to 12 thousand Rohingyas arrived through Anzumanpara yesterday. Border guards provided them humanitarian aid before sending them to Balukhali camp.
Abdul Gafur Chowdhury, chairman of Palongkhali Union Parishad, said the number of those who entered through Palongkhali border point from Sunday late night till yesterday morning would be more than 30,000. 
Nur Hossain, chairman of Sabgrang Union Parishad under Teknaf,  said more than one thousand Rohingyas came to Shah Porir Dwip from crossing the Naf and took shelter at Hariakhali temporary shelter. They will be sent to Balukhali.
NEVER-ENDING FLOW
Wading through waist-deep water with children strapped to their sides, the refugees told Reuters they had walked through bushes and forded monsoon-swollen streams for days.
A seemingly never-ending flow entered Bangladesh near the village of Palongkhali. Many were injured, with the elderly carried on makeshift stretchers, while women balanced household items, such as pots, rice sacks and clothing, on their heads.
"We couldn't step out of the house for the last month because the military were looting people," said Mohammad Shoaib, 29, who wore a yellow vest and balanced jute bags of food and aluminium pots on a bamboo pole. "They started firing on the village. So we escaped into another.
"Day by day, things kept getting worse, so we started moving towards Bangladesh. Before we left, I went back near my village to see my house, and the entire village was burnt down," Shoaib added.
The unprecedented influx began after insurgent attacks on security posts in Rakhine State on August 25 sparked a ferocious military response, with the fleeing people accusing security forces of arson, killings and rape.
FOOD, AID RESTRICTED
Refugees who survived the perilous journey said they were driven out by hunger because food markets in Myanmar's western Rakhine have been shut and aid deliveries restricted. They also reported attacks by the military and Rakhine Buddhist mobs.
The influx will worsen the humanitarian emergency unfolding in Cox's Bazar, where aid workers are battling to provide refugees with food, clean water and shelter.
Yesterday, the Red Cross opened a field hospital as big as two football fields, with 60 beds, three wards, an operating theatre, a delivery suite with maternity ward and a psychosocial support unit.
Hundreds of thousands of Rohingya had already been in Bangladesh after fleeing previous spasms of violence in Myanmar, where they have long been denied citizenship and faced curbs on their movements and access to basic services.
Despite Myanmar's assurances that aid was on its way to the north of violence-torn Rakhine, thousands more starving people were desperate to leave.
"We fled from our home because we had nothing to eat in my village," said Jarhni Ahlong, a 28-year-old Rohingya man from the southern region of Buthidaung, who had been stranded on the Myanmar side of the Naf for a week, waiting to cross.
From the thousands gathered there awaiting an opportunity to escape, about 400 paid roughly $50 each to flee on nine or 10 boats yesterday morning, he added.
"I think if we go to Bangladesh we can get food," he said.