Violence, food crisis set off fresh exodus
14 dead as Rohingya boat sinks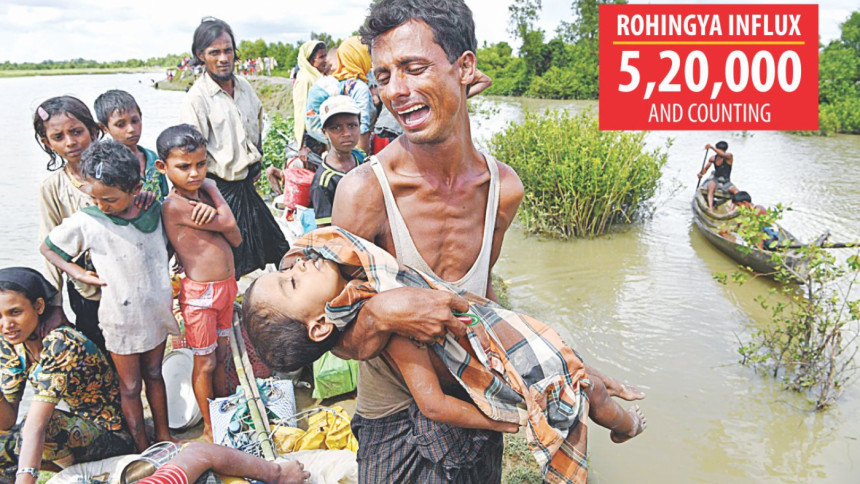 An estimated 12,000 Rohingyas crossed into Bangladesh yesterday as a severe food crisis and violence in Myanmar have triggered a fresh exodus.
Besides setting fire to Rohingya homes in Rakhine State, the Myanmar army and local Buddhists are burning down shops, markets and even crop fields, claimed the newly arrived refugees.
As misfortune would not leave the persecuted minority group even on the way while fleeing, at least 14 of them drowned after their boat capsized in the Naf River on Sunday night.
Teknaf Police Station Officer-in-Charge Md Mainuddin Khan told The Daily Star that the bodies were of 11 children, a 70-year-old man, a 60-year-old woman and a girl of 20.
The boat, which sank near Golachar point of Shah Porir Dwip, was reportedly carrying 60 to 100 people. Border guards pulled 13 survivors, but the fate of the others remains unknown.
A total of 143 Rohingyas, fleeing to Bangladesh from Rakhine, died in several incidents of boat sinking so far, OC Mainuddin told this newspaper.
According to UN agencies, 5,20,000 of the forcibly displaced people crossed over into Bangladesh since August 25; nearly 40,000 of them arrived in the last 10 days, read a foreign ministry press release yesterday.
Refugees came through two points on the day -- at least 2,000 through Shah Porir Dwip in Teknaf and the rest through Anjuman Para of Palongkhali union in Ukhia, according to officials and locals.
"Over 10,000 Rohingyas entered today," Palongkhali Union Parishad Chairman Abdul Gafur Chowdhury told these correspondents.
Thousands of Rohingyas, mostly women and children, who got into the area in early morning, were kept on an embankment till 2:00pm.
They were given relief materials and primary treatment by Bangladesh officials before being sent to Balukhali, where most of the refugees arriving since late August are staying in makeshift camps.
Bangladesh was already hosting 3,07,500 refugees before an army crackdown, in response to Rohingya insurgent attacks on August 25, sent people streaming towards the border.  
Many of the Rohingyas coming in the new surge of refugees were contacted by their relatives who had got through earlier and were told that Bangladesh government has arranged shelter and food for refugees.
Those sheltered here are often found carrying food for the new arrivals or talking over phone with near and dear ones waiting on the other side of the border.
Abul Kasim, 30, who came here yesterday, was contacted by his brother Mohammad Selim, who crossed over from Rakhine about 12 days ago.
"The army and Mog [Rakhine Buddhists] beat us up indiscriminately. They snatched away all our money and then set fire to our houses," he said.
"Then they ordered us to leave the country and not to look back. We started walking, and on the way to Cox's Bazar, collected food from abandoned houses."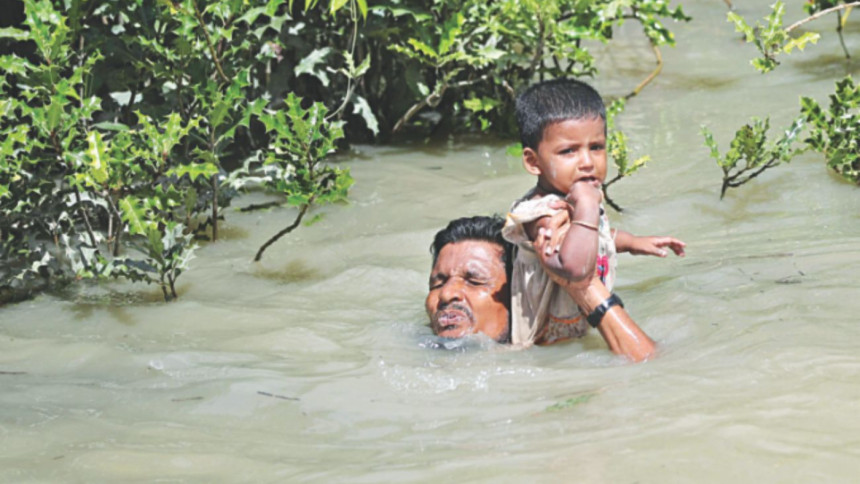 Ramida Begum, 16, along with her parents and siblings, came through Anjuman Para point from Buchidong in Myanmar.  She had to walk for six days to reach the border.
"We were hiding for seven days dodging the army. When the army left, we returned to our village and found not a single house was untouched. All were burnt. We did not find anything to eat," she said.
Seventy-year-old Abdul Hakim had to walk for six days to come to Teknaf from Buchidong. He is one of those who entered through Anjuman Para point.
He said food crisis is acute in Myanmar as the military forced them to remain confined to house while local Buddhists would not sell anything to them.
Noor Jayeda, a 23-year-old woman who is 32-week pregnant, crossed the border along with her three children on Sunday midnight and arrived at Shah Porir Dwip yesterday morning.
Hailing from Sikdar Para of Maungdaw, Jayeda said Myanmar army after killing her husband asked them to leave their houses.
"I had to walk for three days. There is a severe food crisis [in Rakhine State] while the army and Mog people are setting fire to houses. The army is also burning down shops and bazaars. They are destroying even rice warehouses," she told The Daily Star.
Imran Hossain, 33, along with his wife and four children arrived in Teknaf yesterday morning crossing the Naf River.
A day labourer from Gudampara area of Buchidong, he left his house around 11 days before. He stayed with his family members in hilly areas for two days and reached the border after walking another two days.
"There was no food with us. We took salty water and leaves from bushes," he said, adding that 10,000 more people are on the way to Bangladesh.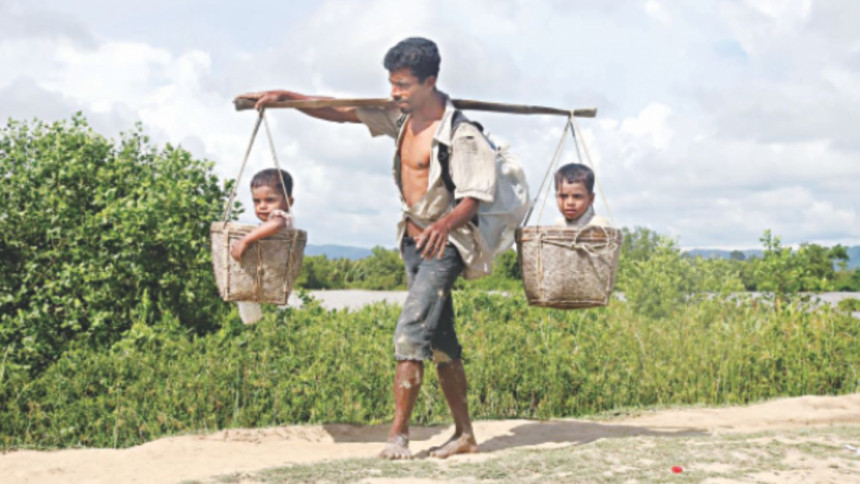 While the Myanmar military has engaged in a campaign of violence, there is mounting evidence that Rohingya women, men and children are now also fleeing the very real threat of starvation, says Amnesty International.
The reports of food shortages will add to the urgency of calls by aid agencies and the international community for unfettered humanitarian access to the conflict zone, writes Reuters.
There may be up to 1,00,000 people in northern Rakhine waiting to cross into Bangladesh, the International Organisation for Migration said on Friday.
DANGEROUS JOURNEY
Survivors say it was a Myanmarese trawler. 
Alif, a Rohingya refugee who has long lived in Bangladesh, lost nine relatives in the disaster including his mother and father.
"Yesterday, I spoke to my parents on the phone and they told me they would arrive in Shah Porir Dwip tomorrow," he told AFP as he used his bare hands to bury their bodies.
Shortly afterwards, he collapsed screaming in the middle of the cemetery.
Survivor Sayed Hossain wept as he watched the body of his two-year-old son being taken away to the local cemetery for burial, writes the news agency.
"We set off at around 6:00pm. We did not have any choice but to leave our village," he said, telling how the overloaded boat overturned when it hit a shoal and sank in rough water.
"They [security forces] have restricted our movements. Many are starving as we could not even go to shop or market to buy food," said the 30-year-old Rohingya farmhand, who lived in a village east of Myanmar's Buthidaung.
Hossain's mother, his pregnant wife and two children were all still missing.
The IOM said some children on board had lost their entire families in the disaster and were now alone in a strange country.
Jashim Uddin, a teacher at a local madrasa, said he received a call from the coastguards at 5:00am to tell him that bodies had been found on the beach.
As tracking their relatives down is impossible, the victims are routinely taken to the madrasa to perform their last rites.
Late last month more than 60 refugees are feared to have died when the boat carrying them from Myanmar capsized in rough weather in the Bay of Bengal.
Villagers at Shah Porir Dwip, where the boats mostly land, told AFP the Rohingyas were increasingly travelling at night to avoid strict border patrols in Bangladesh, making the journey even more dangerous.