More family members can donate organs
Says draft law on transplant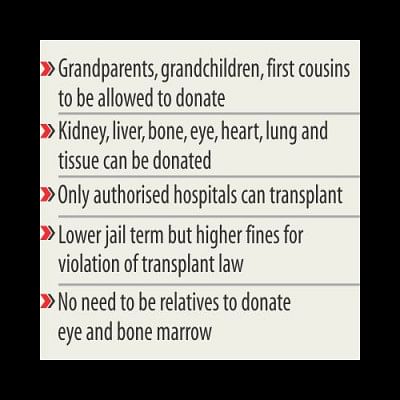 The cabinet yesterday approved a draft law expanding the list of relatives who could donate organs to a person.
The draft also mentions stricter rules to check organ trafficking and trade.
Once the law is enforced, grandparents, grandchildren, and first cousins would be able to donate organs. The existing law allows only parents, spouses, children, siblings and blood-related aunts and uncles to donate.
READ MORE: Editorial-law counterproductive, amend it
As per the "Transplantation of Human Organs Act-2017", organ removal for transplant and transplant cannot be done without the government's consent in any hospital, Additional Cabinet Secretary Ashraf Shameem told reporters after the weekly cabinet meeting at the Secretariat.
However, public hospitals with specialised units could transplant without government approval, he said.
The transplantable organs include kidney, liver, bone, eye, heart, lung and tissue. The organs must be taken from bodies with a beating heart, the additional cabinet secretary said.
READ MORE: Legislative flaws facilitate organ trafficking
In the case of eye and bone marrow transplant, the donors need not be blood relatives, he said.
As per the existing law, enacted in 1999, one could face between seven years and minimum three years rigorous imprisonment or Tk 3 lakh fine or both for violation of the law. The proposed law suggested maximum jail term of three years and Tk 10 lakh fine or both.
Shameem said the law aims to check trafficking of organs and their illegal trade as well as improve healthcare services.
As per the proposed law, there would be a medical board in every hospital for deciding on transplant matters and a national cadaveric committee to oversee organ transplants, he said.
Besides, there would also be a four-member hospital certification board, to be headed by a director of the health directorate. No organ transplant would be allowed in any hospital without the board's certification, he continued.
READ MORE: Poverty, illegal migration lead to human trafficking
Shameem said the private hospitals would have to apply for certification from the board within 60 days of the enactment of the law.
He said under the proposed law, if anybody provides false information about the relationships between an organ donor and the recipient or encourages, provokes or threatens anybody to provide such information, the person could face up to two years imprisonment or Tk 5 lakh fine or both.
Shameem said if any doctor was convicted under the law, his or her registration from the Bangladesh Medical and Dental Council would be scrapped and if any hospital or clinic violated the law, their organ transplant permit would be revoked and they would be fined.
Prof Zulfiqar Rahman Khan, chairman of surgery department of Bangabandhu Sheikh Mujib Medical University (BSMMU) hailed the law saying it would bring discipline in organ transplants.
With the enforcement of the law, doctors would not be blamed anymore for illegal transplant of organs and it would bring transparency to the process.
Prof Zulfiqar, the president of BSMMU Teachers Association, lauded the extended list of family members who could donate organs.