Journey together just begins
Reiterates Modi, heads home after his tour of hopes to Dhaka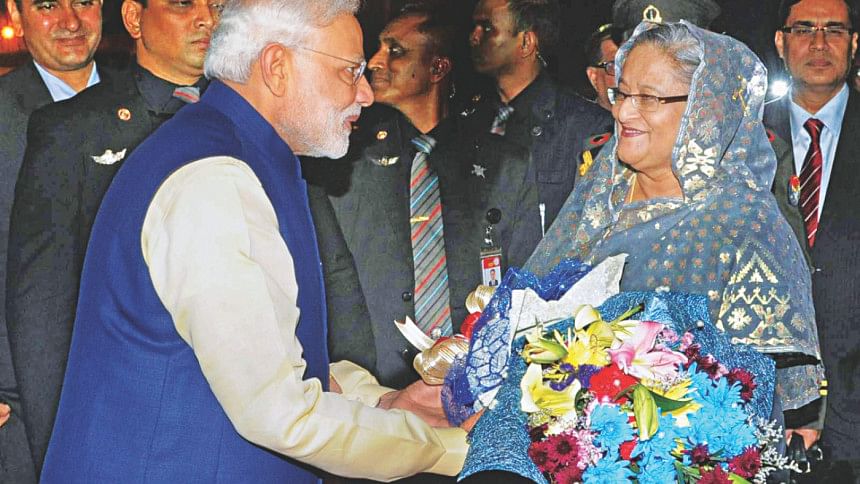 Indian Prime Minister Narendra Modi yesterday said his country would always stand by Bangladesh and move ahead taking Bangladesh along.
"I feel that the real journey, the yatra, has just begun," he said in a public address at Bangabandhu International Convention Centre, wrapping up his 34-hour maiden visit to Bangladesh.
Vowing to maintain close ties with Bangladesh, Modi said, "People thought we were paas-paas [close to each other], now the world must acknowledge that we are not just paas-paas but also saath-saath [together]."
Touching upon the water-sharing issue, he said, "I have come to take Bangladesh along, but I must also take the states along. I have come to Bangladesh, and discussions have taken place on Teesta."
Water cannot be used for "political reasons" since it is a "human issue", he said.
"A path will emerge. The efforts must continue. There should be no faltering in faith. The results will be there."
The Indian PM left for New Delhi by a special flight of the Indian Air Force at 8:54pm after attending the programme organised jointly by Dhaka University and the Indian High Commission.
India and Bangladesh have issued a 65-point Joint Declaration on Modi's visit, aiming to harness the full potential of partnership in various sectors.
On his twitter page, Indian External Affairs Ministry Spokesperson Vikas Swarup posted that the joint declaration -- Notun Projonmo - Nayi Disha -- "seeks to herald a new era in bilateral relations".
Noting that the two countries have entered a "new phase" in their relations, the Indian premier and his Bangladeshi counterpart Sheikh Hasina have agreed to widen bilateral cooperation in new areas of energy, including civil nuclear power, and cross-border transport connectivity.
The two sides agreed to reach an interim accord on sharing of waters of the Teesta and five other common rivers. 
Hasina asked Modi for immediate settlement of the Interim Agreement on Teesta water-sharing as agreed upon by both the governments in September 2011.
In response, Modi conveyed her that deliberations are underway involving all stakeholders with regard to conclusion of the interim agreements on sharing of the Teesta and Feni waters as soon as possible.
The Indian PM assured Hasina that India would not take any unilateral decision on the Himalayan component of its river interlinking project which might affect Bangladesh.
Hasina accepted Modi's invitation to visit India, and the two sides agreed that the visit would take place at a mutually convenient date.
Modi noted that the Tipaimukh hydro power project in the Indian state of Manipur was unlikely to be taken forward in its present form, and there would be no unilateral decision which may adversely impact Bangladesh.
The two premiers mentioned that discussions on sharing of waters of the Manu, Muhuri, Khowai, Gumti, Dharla and Dudhkumar rivers were going on at technical levels under the Joint Rivers Commission. The officials concerned have been asked to take quick steps to conclude the sharing arrangements at the earliest.
The two leaders also reiterated their commitments to address the issue of water resources management of common rivers.
Appreciating Hasina's efforts to improve power situation in Bangladesh, Modi said India could be a major partner in achieving Bangladesh's goal of generating 24,000MW electricity by 2021.
He said many Indian companies have the capacity to cooperate with Bangladesh in this endeavour.
The Indian premier requested Hasina to facilitate the entry of Indian companies to power generation, transmission and distribution sectors in Bangladesh.
Both sides welcomed the consensus on power evacuation from India's northeastern (Rangia/Rowta) region to Muzaffarnagar through Bangladesh by constructing a multi-terminal bi-pole DC gridline with suitable power tapping points at Bangladesh's Barapukuria. 
Modi agreed in principle to consider Dhaka's request to provide power from this line to Bangladesh, keeping in view the grid security of both countries.
To enhance power grid connectivity as envisaged in the Framework Agreement, the Indian PM also agreed in principle to consider Dhaka's proposal to allow import from India additional power in phases through construction of an additional grid interconnection in western part of Bangladesh.
Both sides were satisfied at the pace of work of 1,320MW coal-fired power plant at Rampal in Bagerhat.
They were optimistic that the plant to be built by the Bangladesh-India Friendship Power Company would be operational by the target date and meet environmental and energy efficiency standards.
Noting Bangladesh's interest in importing power from Bhutan and Nepal, India agreed to favourably consider such import subject to grid security, transmission, interconnection and applicable laws of the two countries.
Hasina sought India's cooperation in jointly developing a barrage on the Padma river in Bangladesh. In response, Modi said he would have the matter examined by the agencies concerned in India, according to the statement.
The two PMs promised to work together on security issues, pledging "zero tolerance" for any form of terrorism and extremism.
They emphasised the importance of seamless multi-modal connectivity to ensure regional economic development and people-to-people contact.
They agreed to start negotiations on a Multi Modal Transport Agreement between the two countries and to constitute a joint task force for this.
MODI FLIES HOME
The Indian PM went straight to Hazrat Shahjalal International Airport after delivering the speech at Bangabandhu International Convention Centre.
He was given a hearty send-off. Hasina saw off her Indian counterpart at the VVIP Tarmac. She presented Modi a bouquet before he boarded the special flight "Rajdoot" of the Indian Air Force.
Prior to his departure, the Indian PM expressed his wish to visit Bangladesh again.
"Abar Asibo Firey Dhanshiritir Tire [I will be back on the banks of Dhanshiri]," he quoted the first line of a famous poem by Jibanananda Das in his public speech.
"Thank you Bangladesh. The visit will remain forever etched in my memory. Outcomes of the visit will lead to a stronger partnership," Modi tweeted before departing Dhaka for New Delhi.
In a post on his twitter page, Indian External Affairs Ministry Spokesperson Vikas Swarup thanked the people of Bangladesh as well as the government. "Dhonnobad Bangladesh. History has been created. Now onwards to the future!" he wrote.
On the concluding day of his visit yesterday, Modi met a number of Bangladeshi leaders.
Of the meetings, the one with BNP Chairperson Khaleda Zia was more closely watched.
Earlier, Modi had offered prayers at Dhakeshwari Temple and visited Ramakrishna Mission. He also went to the Indian High Commission, and inaugurated seven projects undertaken with grant-in-aid.
Later, on behalf of former Indian PM Atal Bihari Vajpayee, he received the Award of Liberation War Honour from President Abdul Hamid at the Bangabhaban.