Jerusalem as Israeli Capital: Trump move stuns world
UN chief, pope, Abbas condemn; Hamas says it would 'open the gates of hell'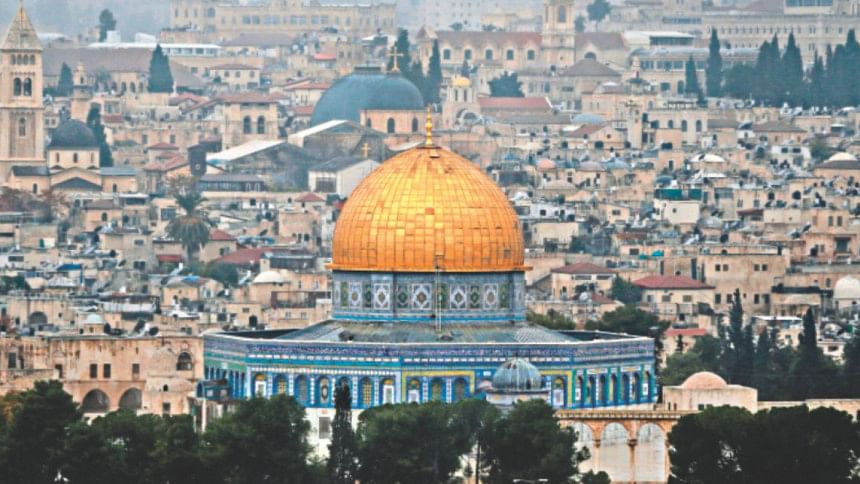 President Donald Trump abruptly reversed decades of US policy yesterday and recognised Jerusalem as the capital of Israel, generating outrage from Palestinians and defying warnings of unrest in the Middle East.
The move stunned the world and drew condemnation from around the globe, including the UN, the pope as well as US allies, but praise from Israel. 
In a speech in the White House, Trump said that his administration would begin a process of moving the US embassy in Tel Aviv to Jerusalem, a step expected to take years and one that his predecessors avoided so as not to inflame tensions, reports Reuters.
The status of Jerusalem -- home to sites holy to the Muslim, Jewish and Christian religions -- is one of the thorniest obstacles to reaching a peace deal between Israel and the Palestinians.
The international community does not recognise Israeli sovereignty over the entire city, believing its status should be resolved in negotiations.
"I have determined that it is time to officially recognise Jerusalem as the capital of Israel," Trump said. "While previous presidents have made this a major campaign promise, they failed to deliver. Today, I am delivering."
Trump's decision jeopardises the United States' historical role as a mediator in the Israeli-Palestinian conflict and frays relations with Arab allies that Washington relies on to help it oppose Iran and fight Sunni Islamist militants.
Israel considers the city its eternal and indivisible capital and wants all embassies based there. Palestinians want the capital of an independent Palestinian state to be in the city's eastern sector, which Israel captured in a 1967 war and annexed in a move never recognised internationally.
Israeli Prime Minister Benjamin Netanyahu hailed Trump's announcement as a "historic landmark" and urged other countries also to move their embassies in Israel to Jerusalem.
Netanyahu said any peace deal with Palestinians must include Jerusalem as Israel's capital. This would be a non-starter for Palestinians if it means the entire city would be under Israeli control.
WORLD REACTION
Palestinian President Mahmoud Abbas said Trump's decision was tantamount to the United States abdicating its peace mediator role.
"These deplorable and unacceptable measures deliberately undermine all peace efforts," Abbas said in a speech after Trump's announcement.
He said Trump's move amounted to "an announcement of US withdrawal from playing the role it has been playing in the past decade in sponsoring the peace process."
Hamas said Trump's decision would "open the gates of hell" on US interests in the region.
"This decision will open the gates of hell on US interests in the region," Ismail Radwan, an official with the Palestinian Islamist movement that runs the Gaza Strip, told journalists after Trump's announcement.
He called on Arab and Islamic states to "cut off economic and political ties with the US embassy and expel American ambassadors to cripple" this decision.
Palestinians say Trump's move will mean the "kiss of death" to the two-state solution, which envisions a Palestinian state in territory - the Gaza Strip, the West Bank and East Jerusalem - that Israel took in 1967.
No other country has its embassy in Jerusalem. Two small Latin American states, El Salvador and Costa Rica, previously had embassies in Jerusalem before shifting them to Tel Aviv in 2006, saying they wanted to abide with international norms.
UN Secretary-General Antonio Guterres implicitly criticised Trump's decision, warning that the city's status must be resolved through direct Israeli-Palestinian negotiations.
"From day one as secretary-general of the United-Nations, I have consistently spoken out against any unilateral measures that would jeopardise the prospect of peace for Israelis and Palestinians," Guterres said, immediately after the US leader's announcement.
"Jerusalem is a final status issue that must be resolved through direct negotiations between the two parties on the basis of the relevant Security Council and General Assembly resolutions, taking into account the legitimate concerns of both the Palestinian and the Israeli sides," Guterres said.
The European Union's chief diplomat voiced "serious concern" at Trump's decision.
"The aspirations of both parties must be fulfilled and a way must be found through negotiations to resolve the status of Jerusalem as the future capital of both states," said Federica Mogherini, referring to Israelis and Palestinians.
She added that the EU's concern was based on Trump's announcement "and the repercussions this may have on the prospect of peace".
British Prime Minister Theresa May said her government disagreed with Trump's decision, saying it was "unhelpful" for peace efforts.
"We disagree with the US decision to move its embassy to Jerusalem and recognise Jerusalem as the Israeli capital," she said in a statement. "We believe it is unhelpful in terms of prospects for peace in the region".
French President Emmanuel Macron branded the move as "regrettable", calling for efforts to "avoid violence at all costs".
Addressing a press conference during a state visit to Algeria, Macron affirmed "the attachment of France and Europe to the two-state solution, Israel and Palestine living side by side in peace and security within internationally recognised borders, with Jerusalem as the capital of the two states."
Iran strongly condemned Trump's decision, saying it threatened a "new intifada", or uprising.
"The provocative and unwise decision by the US... will provoke Muslims and inflame a new intifada and an escalation of radical, angry and violent behaviour," said the Iranian foreign ministry in a statement on its website.
Jordan and Turkey also slammed Trump for his decision.
"We condemn the irresponsible statement of the US administration... the decision is against international law and relevant UN resolutions," Turkish Foreign Minister Mevlut Cavusoglu wrote on Twitter.
Pope Francis called for Jerusalem's status quo to be respected, saying new tension would further inflame world conflicts. China and Russia expressed concern the plans could aggravate Middle East hostilities.
Several hundred protesters gathered outside the US consulate in Istanbul over Trump's decision.
But US lawmakers across the political spectrum reacted positively to the announcement , although some warned the move would enflame tensions and stall peace efforts.
Several Democrats and Trump's Republicans hailed the move as long overdue.
"Jerusalem has been, and always will be, the eternal, undivided capital of the State of Israel," House Speaker Paul Ryan said in a statement.
"Today's announcement is a recognition of reality that in no way inhibits efforts to reach a lasting peace between Israelis and Palestinians."
The State Department will immediately act on Trump's order to prepare to relocate the American embassy in Israel from Tel Aviv to Jerusalem, Secretary of State Rex Tillerson said.
Trump decision has sparked warnings that it could unleash more violence in the Middle East and Tillerson said his department had taken measures to protect American nationals in the region.
"The safety of Americans is the State Department's highest priority, and in concert with other federal agencies, we've implemented robust security plans to protect the safety of Americans in affected regions," said Tillerson, who is on a visit to Germany.
Trump acted under a 1995 law that requires the United States to move its embassy to Jerusalem. His predecessors, Bill Clinton, George W. Bush and Barack Obama, had consistently put off that decision to avoid inflaming tensions in the Middle East.
Trump ordered a delay to any embassy move from Tel Aviv since the United States does not have an embassy in Jerusalem to move into. A senior administration official said it could take three to four years to build one.