Interest rates rattle people
Govt, BB benefits fail to jack up banks; surging rates push home and industrial loan-takers in deep trouble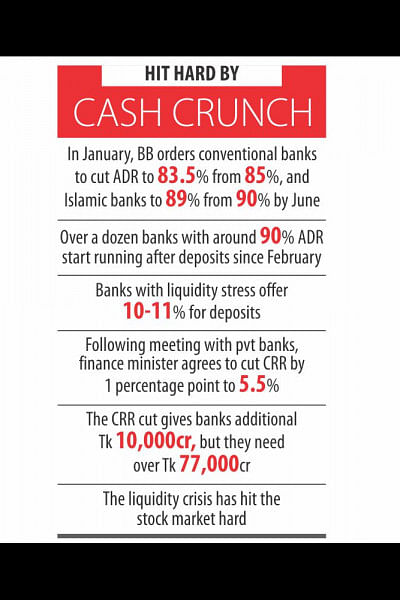 Kaniz Fatima Binte Alam, a doctor, took Tk 48.50 lakh home loan at 8.5 percent interest in October last year from a lender with expertise in financing homes.
Within six months, Fatima was astonished to get the lender's notification that the interest rate has been revised to 12.5 percent, nearly 50 percent hike, effective from March this year.
Fatima's monthly installment was Tk 42,090 but from March it became Tk 55,300, an increase by Tk 13,210.
"Now it has become very difficult for me to repay the loan," she said.
The unusual rise in interest rates on bank loans has affected the real estate business badly over the last several months, according to Real Estate and Housing Association of Bangladesh (REHAB).
Stakeholders blame high cost of deposits and liquidity crisis at banks.
"Customers are reluctant to buy flats taking high-cost loans, which are dragging the industry into further slump," said Alamgir Shamsul Alamin, president of REHAB.
It is not only home loans Interest rates have been increased for all loan products, be it industrial, SMEs or trade financing, jacking up their cost of doing business.
The increase is by two to four percentage points, according to data of a number of banks.
Interest rate for industrial loans has gone up as high as 16 percent, which was 12 percent a year ago. No bank is offering SME loans under 15 percent interest.
Even at that high rates, many banks cannot lend because of liquidity crisis.
"A relatively good client engaged in trading sought Tk 100 crore loans offering 16.5 percent interest last month. But we could not give the loan," said a branch manager of a leading private commercial bank.
Another entrepreneur, who makes paper cups, has been trying to get Tk 11 crore loan for setting up a new factory. The entrepreneur got half the amount, that too after eight months.
"I am in serious trouble as the loan I have got is not enough to set up the factory. Now I am trying to persuade another bank to take over the loan," said the entrepreneur.
Bankers see no respite from the situation unless the cost of deposits is brought down. It is also evident in the financial market as a number of measures taken by the Bangladesh Bank and the government have failed to bring down the interest rates.
The central bank in the middle of last month cut the CRR (cash reserve ratio) by one percentage point to 5.5 percent to give liquidity boost to the banks. The finance ministry also made it mandatory for all government agencies to park 50 percent of its deposits in private banks from the previous 25 percent.
"These measures hardly had any impact on the interest rate as the supply was very insignificant compared to the [loan] demand," said a chief executive officer of another private bank.
The CEO said the CRR cut created only around Tk 10,000 crore fresh liquidity for the banks against a demand of over Tk 77,000 crore, if the banks facing higher advance (loan)-deposit ratio (ADR) want to bring it down to the ceiling of 83.5 percent set by the central bank.
"Lending rates will not go down unless the deposit rates get down," said Shafiqul Alam, managing director of Jamuna Bank. He also said interest rates on government's savings tools need to be reduced to make it market friendly. Presently, investments on savings tools offer 11.5 percent interest.
Even some much sought after large business groups, which had been getting loans at seven to eight percent interest rates a year ago when the market rates were over 10 percent, now have to pay 11-12 percent in interests, according to Abdul Halim Chowdhury, managing director of Pubali Bank. 
QM Shariful Ala, managing director of Delta-Brac Housing (DBH), a leading home financier, said liquidity crisis cranked up the deposit interest rate to over 10 percent from six percent.
He predicted that the demand for home loans would go down by 20 to 30 percent this year because of the high interest rates. 
DBH had been lending at 8.5 to nine percent interest rates over last two years but it has surged to 12.5 percent since February, he said. 
IDLC Finance, another leading non-bank lender, has increased its interest rate to 13.5 percent in February, up from 9.5 percent.
"We are collecting term deposits at 10.5 percent now from seven percent last year," said Arif Khan, managing director of IDLC.
Even though authorities concerned are pressing lenders to bring down the interest rate to single digits, it is not possible for them because of high cost of deposits, he said, blaming high-interest saving instruments.
Like bankers, he does not see any possibility of lending interest rates going down in the near future.
"Bad loans are another factor that makes new loans expensive," Arif said.