'Indian Yaba' getting in
In the wake of anti-narco crackdown, gangs use new border points for smuggling in cheaper pills
He is known as a rakhal (cowboy) as he brings in cattle smuggled from across the border. But what the 36-year-old says about his additional source of earning is no less startling. The inhabitant of Shibganj upazila in bordering Chapainawabganj district is a carrier of mad drug.
He is among a dozen people from his small village of Bishrosia, adjacent to Fatehpur border point, who are involved in yaba smuggling from India.
The south-western district is one of the new routes yaba syndicates explored following anti-drug crackdowns that seemingly put a dent in trafficking through the old entrances.
The price of the crazy tablets these so-called cowboys of Fatehpur are bringing in is cheaper than that in Teknaf, the southernmost point in the mainland and main gateway for smuggling yaba from Myanmar.
"Two types of pills are available here. The small grey pill is sold at Tk 40 to 45 each and the big pink pill at Tk 80 to 85," said the cowboy, who also works in his agricultural land.
As of December 3, a small pink pill was sold at Tk 80 to 100 in Teknaf.
"I have been bringing in cattle for long. Now additionally I carry a small bag of yaba pills. It helps me make some extra bucks," he said, on condition that his name has to be withheld.
The Daily Star got this picture of yaba smuggling after a two-week investigation last month in Fatehpur.
This correspondent talked to people involved with the tricky nexus, local sources and law enforcers to get details of this illegal trade.
COWBOY THE CARRIERS
Yaba smuggling through Fatehpur under Panka union gained pace over the last one or two years.
At least a dozen such cowboys, who reside near the zero point, carry yaba pills into the country. They start for the border in the middle of the night and come back before sunup, at times with Indian cattle, said three of them.
Sometimes they go in a group of two or three and sometimes alone. They always carry a small bag in which they keep a towel, lungi and some dry food as they need to cross a canal to get to the border, they said.
On return, they keep the cattle in a cowshed and hand over the pills to the dealers.
"The suppliers throw the pills from the other side of the border fence putting those inside small polybags wrapped in clothes," said one of  them.
The cowboys get the consignment almost daily, but the suppliers avoid September and October when there is no crop harvest along the borderline. "It is because the crops can be used to hide the bags," explained the man.
They get Tk 10,000 per consignment. In each consignment, they carry in around 5,000 to 6,000 pills.
"Earlier, we used to bring in phensedyl," said one of them.
The carriers claimed they were told that these pills are produced in some houses in Malda of India.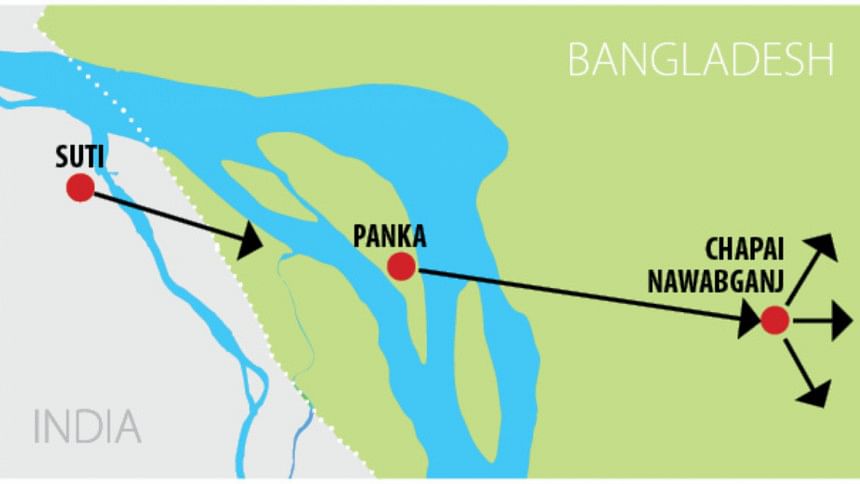 The Daily Star managed to talk a group of five narcotics traders in the border area. They also said they are getting the pills at cheaper rates as their counterparts in India "manage to manufacture yaba" there.
"Sometimes, we get 1,000 pieces of yaba at Tk 25,000. But the quality of those pills is not good," said one of them.
He claimed that police held them sometimes but released them in exchange for money, an allegation the district police denied outright.
According to the drug dealers, Chapainawabganj, Sylhet, Cumilla, Jamalpur and Mymensingh are the points through which the Indian pills enter Bangladesh.
The Daily Star obtained a copy of an intelligence report that reads around 18 Bangladeshi and five Indian nationals are involved in the yaba smuggling at Fatehpur border.
However, none of the listed dealers were available for comments. This correspondent visited their addresses as mentioned in the report, but the family members said they were out of homes.
Some locals said these people have long been involved in drug trading.
The report also contains details of the five Indian nationals involved in the smuggling. All of them are from Suti area of Murshidabad district in India.
INDIAN YABA?
On October 7, Border Guard Bangladesh's 60 Battalion claimed to have recovered 5,900 pieces of Indian yaba tablets and detained an Indian smuggler in Jamtola area of Cumilla district.
The detainee was identified as Rezaul Hossain alias Liton, 19, of Jomirtila of Sipahijala district in India. A case was filed with Burichang Police Station of Cumilla in this connection, according to a BGB press release.
During interrogation, Rezaul told law enforcers that he was tasked with delivering the pills to a Bangladeshi and he was paid Tk 10,000 for this.
On September 17, BGB 35 Battalion arrested a woman named Mazeda Begum, 35, with 1,897 pieces of "Indian yaba tablets", reads another release of BGB.
Asked about this, Lt Col Iqbal Hossain, commanding officer of BGB 60 Battalion, told The Daily Star on December 3 that they called it "Indian yaba" as it came from India with an Indian national.
He said they know smugglers changed routes but they have no specific information whether those pills were produced in India.
However, a high official of BGB, requesting anonymity, told The Daily Star on December 3 that they learnt some smugglers are producing the pills in India, especially in some areas of Agartala.
"We are yet to get the specific location or details about it," he added.
Contacted, AFM Masum Rabbani, director (operation) of the Department of Narcotics Control, said they have no specific information that Indian smugglers are producing yaba pills.
"If you can provide us with evidence, it would definitely help us," he added.
Expressing similar views, Lt Col Md Mohiuddin Ahmed, director (operation) at the BGB headquarters, said on December 5 that a huge number of yaba is now entering Bangladesh through Jamalpur, Mymensingh, Sylhet and Cumilla borders.
"We have information that these pills are mainly coming from Myanmar through different Indian states like Tripura and Mizoram," he said.
He also doesn't have specific information on yaba production in India.
"But we would raise the issue at the director general-level conference of BGB and BSF," Mohiuddin said.
CATTLE SMUGGLING LINKED
The majority of narcotics enter Bangladesh with the so-called cowboys involved in the cattle smuggling, said ATM Mojahidul Islam, the police superintendent of Chapainawabganj.
"If we can stop cattle smuggling, we would be able to prevent drug trafficking," he said on December 2.
The official also said, "Since we cannot investigate across the border, we do not get the actual picture."
The Chapainawabganj district police arrested 1,138 people last year for drug smuggling.
Sohel Rana, assistant inspector general at the Police Headquarters, said they have succeeded in wiping out the sources of narcotics in the country. And they are also keeping an eye on the smuggling activities and sources of drugs across the           border.
There are other agencies for guarding the border and police closely work with them in combating narcotics, he added.