Hurting religious sentiments won't be tolerated: PM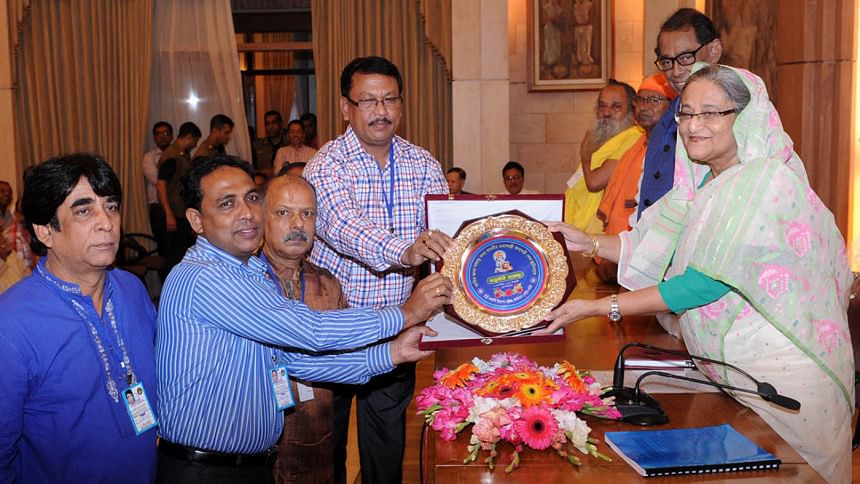 Prime Minister Sheikh Hasina yesterday said her government will not allow anybody to hurt the religious sentiment of others.
"People will practice their respective religion. If anybody doesn't want to practice his religion, it's up to him. But he has no right to hurt others' religious sentiment," she said.
The PM was speaking to the Hindu community leaders when they met her at Gono Bhaban on the eve of Janmashtami.
Hasina said everybody will show respect for his own religion. "Like that, he will honour others' religions… we want to see this in Bangladesh."
She called upon the Hindus not to feel themselves inferior to others as religious minorities. "You've made great contributions to the nation's every movement and struggle.
So, we want you to live in this country with your own rights and rights in your motherland."
The premier said people of all faiths in the country have been enjoying their religious rights equally and peacefully as her government believes in communal harmony.
The people of all religions under the leadership of Father of the Nation Bangabandhu Sheikh Mujibur Rahman had liberated the country, she added.
"Bangabandhu had dreamt of establishing Bangladesh with a non-communal spirit. He ensured equal rights for all faiths by presenting the constitution after independence."
Secularism, said the PM, doesn't mean faithlessness. Rather, it means freedom of practicing religions for all faiths.
Expressing gratitude to people for voting the Awami League to power with a two-thirds majority, she said her government has been able to restore the spirit of Liberation War by amending the constitution.
The premier greeted the members of the Hindu community across the country on the occasion of Janmashtami.
Leaders of Janmashtami Udjapan Parishad, Bangladesh Puja Udjapan Parishad and Mohanagar Sarbajanin Puja Committee greeted the PM by presenting her with floral bouquets and a crest.