Packaged Milk of 14 Brands: No production, sale for 5 weeks
HC orders; asks authorities also to guard against purchase, consumption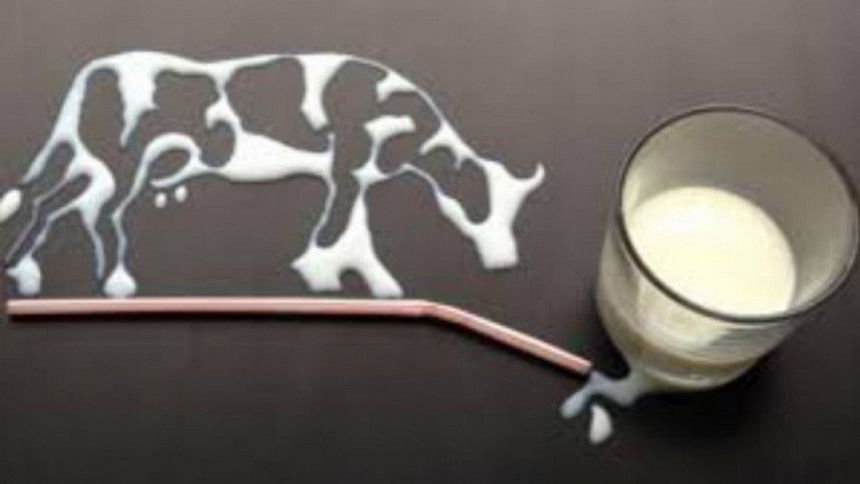 The High Court yesterday ordered the authorities to stop production, distribution and sale of pasteurised milk of 14 companies for the next five weeks.
It also directed the authorities to guard against purchase and consumption of pasteurised milk of these companies, including some top brands such as Aarong, Igloo, Milk Vita (state-run) and Pran.
The HC gave the order after examining three separate laboratory test reports, which found that the milk of these companies contains antibiotics -- Oxytetracycline, Tetracycline and Ciprofloxacin -- as well as lead, a harmful heavy metal.
The level of the contamination could not be immediately known.
The 14 companies are Aftab Milk and Milk Producer Ltd (Aftab), Akij Food and Bev-erage Ltd (Farm Fresh Milk), American Dairy Limited (MOO), Bangladesh Milk Pro-ducers' Cooperative Limited (Milk Vita), Baro Awlia Dairy Milk and Foods Ltd (Dairy Fresh), BRAC Dairy and Food Project (Aarong Dairy), Danish Dairy Farm Ltd (Ay-ran) Ichhamoti Dairy and Food Products (PURA), Igloo Dairy Limited (Igloo), Pran Dairy Ltd (Pran Milk), Uttar Bango Dairy (Ultra), Purbo Bangla Dairy Food Industries (Arwa) and Tania Dairy and Food Products (Safe).
The BSTI tested their pasteurised milk at the laboratories of the Institute of Public Health (IPH), Bangladesh Council for Scientific and Industrial Research (BCSIR) and Bangladesh Atomic Energy Commission (BAEC) in line with the July 14 order by the HC.
BSTI lawyer Sarkar MR Hassan submitted the reports yesterday.
The BSTI must now submit a report to the court on August 25 after complying with the order. The report must include the steps the quality control authority has taken to improve efficiency, said the HC bench of Justice Syed Refaat Ahmed and Justice Md Iqbal Kabir Lytton.
The court also asked the respondents to explain in two weeks why the presence of antibiotics and lead in pasteurised milk as well as their production and distribution should not be declared illegal.
The respondents are secretaries to the ministries of food, health and fisheries and livestock, director generals of the directorate of health services, BSTI and Bangla-desh Food Safety Authority (BFSA), executive director of the International Centre for Diarrhoeal Diseases Research, Bangladesh (icddr,b), the inspector general of police and the 14 milk producing companies.
Interpreting the test reports, the HC said presence of antibiotics and lead in pasteur-ised milk was a matter of public health concern and a threat to the future genera-tion.
The respondents are duty-bound to ensure safe food for citizens in line with articles 15, 18, 31 and 32 of the constitution, but they did not discharge their constitutional duties, it added.
The court also expressed astonishment as the respondents did not take any effec-tive steps against adulteration and contamination of pasteurised milk even 14 months after the HC issued a suo moto rule in May last year regarding the matter.
BSTI's lawyer Sarkar MR Hassan told the court that the BSTI had no legal authority to test presence of antibiotics and lead in food.
The BSTI is trying to fix that problem by amending the relevant rules, he said.
FARMERS FEEL THE PINCH
Representatives of dairy farmers and some processors said the HC rule would hurt dairy farmers, who depend largely on selling their produce to milk companies.
Milk processing companies collect more than 8 lakh litres of milk daily from nearly 200,000 farmers in dairy farming zones in the north.
Domestic milk production is growing gradually on the back of increased farming.
The overall production rose by 6 percent year-on-year to 99 lakh tonnes in fiscal 2018-19 from 94 lakh tonnes a year ago, according to the livestock department.
In addition, more than 125,000 tonnes of milk powder are imported annually to meet household and industrial demand, according to Bangladesh Bureau of Statistics (BBS) data.
"We have just fallen into a big trouble. Processors will not incur losses. They will stop collecting milk. Farmers will be the ultimate losers," said Imran Hossain, presi-dent of Bangladesh Dairy Farmers Association.
Following media reports on the HC rule, Milk Vita and Pran have decided to stop collecting milk.
"We have already communicated to all that we will not collect milk as we cannot do so until the High Court order is stayed or vacated," said Delwar Hossain, managing director of Bangladesh Milk Producer's Cooperative Union Ltd, known as Milk Vita.
The state-sponsored cooperatives collects milk from 100,000 farmers.
Delwar said they would file an appeal for vacating the HC order.
Kamruzzaman Kamal, director (marketing) of Pran-RFL Group, said it would comply with the court order. "We have already taken necessary steps in line with the High Court order."
He claimed they had had their milk tested at various local and foreign labs and they found no harmful substance.
Even if there are, they may come from other sources, he said.