Hasina meets Pope Francis in Vatican City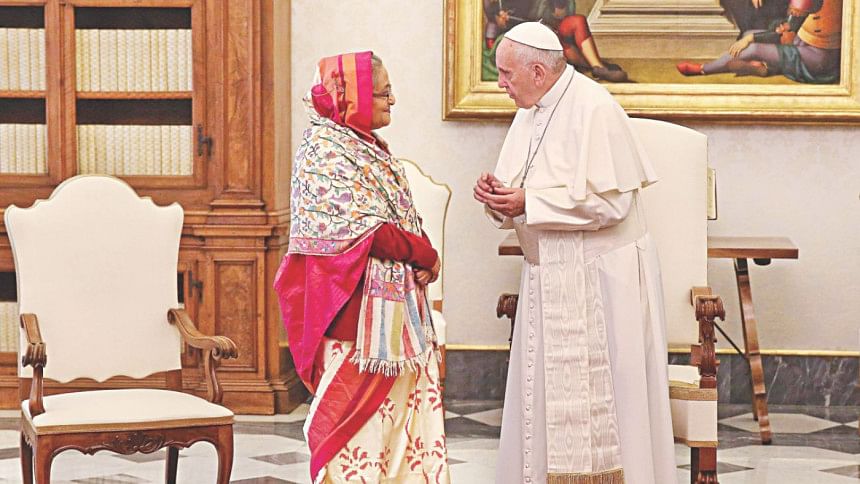 Prime Minister Sheikh Hasina yesterday had a meeting with Pope Francis, spiritual leader of the world's Catholics, at the Holy See in Vatican City.
"The prime minister visited Vatican City in the morning [local time] at the invitation of the Pope and had an audience with him in Vatican City near the Italian capital of Rome," PM's Press Secretary Ihsanul Karim said.
On her arrival in the Vatican City at 10:00am, she was given a guard of honour.
The premier held the meeting with the Pope at his office. She later introduced her entourage to the Pope.
She also presented a painting on natural beauty of Bangladesh to the Pope who gave a crest to the PM. The Pope also presented souvenirs to the prime minister's entourage.
The PM's meeting with the Pope came over two months after the spiritual leader visited Dhaka from November 31 to December 2.
The premier also had a meeting with Cardinal Pietro Parolin, secretary of state of Vatican City.
She visited Sistine Chapel and Saint Peter's Basilica. The Sistine Chapel is a chapel in the Apostolic Palace, the official residence of the Pope, from where he carries out the religious and functionary papal activities.
St Peter's Basilica is an Italian Renaissance church in Vatican City, the papal enclave within the city of Rome.
Hasina arrived in Rome on Sunday evening on a four-day official visit to Italy and Vatican City to attend the 41st session of the governing council of International Fund for Agricultural Development (IFAD).
ON ROHINGYA CRISIS
Also yesterday, Hasina renewed her call to the international community, including the Holy See, for continuing their pressure on Myanmar to take back their nationals from Bangladesh as she met Vatican's Secretary of State Cardinal Pietro Parolin.
Foreign Secretary Shahidul Huq and Ambassador to the Vatican City Shamim Ahsan briefed reporters after the meeting.
Shamim Ahsan said the prime minister informed the secretary of state that Bangladesh and Myanmar signed an agreement to send back over one million Rohingyas from Bangladesh to their homeland.
"The problem has been created on the other side of the border and the solution of this problem also lies there. That's why the bigger responsibility of implementing the agreement lies on Myanmar shoulder, but we haven't got that kind of response from Myanmar yet," she said.
Hasina said the process of repatriation of the Rohingyas has to be started.
"The situation which will encourage the Rohingyas to go back to their homeland has to be created by Myanmar. Myanmar has to take that responsibility," the PM was quoted as telling Parolin.
Hasina also mentioned that the Annan Commission's recommendations are yet to be implemented by Myanmar. She urged the Holy See and the international community to keep up their pressure on the Myanmar government to implement the commission's report.