Hard work to success
Young entrepreneur leads revival of country's oldest garment factory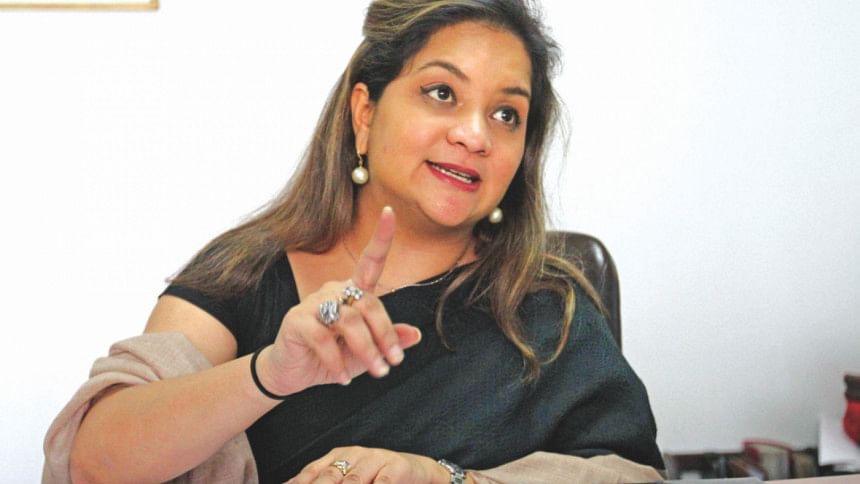 When she told her family that she would lead the effort to revive their family's moribund garment business six years ago, they immediately opposed as Vidiya Amrit Khan was just 28.
But after a lot of hard work Vidiya, now 34, has not only turned Desh Garments around but also emerged as an experienced business person.
Established in December 1977 at Kalurghat in Chittagong, Desh was the first export-oriented readymade garment factory in Bangladesh. It was also the single largest and most modern garment-manufacturing unit in the sub-continent.
Bangladesh's first batch of exports was produced at Desh factory set up by the industry's pioneer Noorul Quader, father of Vidiya.
In 1991, a cyclone hit the factory and disrupted its production. It also received a serious blow when Quader died in 1998.
"Our garment business got stagnant and was very inefficient in the absence of my father," said Vidiya.
When her father died, 18-year-old Vidiya was studying A-levels in London.
She attended Green Herald School in Dhaka and Roedean School in Brighton, England; studied LLB at Kings College of London and attended Bar-at-Law at the Inns of Court School of Law in London.
She returned to Bangladesh in 2005 and joined Barrister Rafique-ul-Huq's law firm in Dhaka, and worked for about six months.
"I gave up practising law as I wanted to do something on my own," she said.
She started with a trading firm of her family which has been working as an agent for Swiss company Buhler to market machinery for food milling sector. She also got involved in her family's another business of locomotive supplies to Bangladesh Railway.
In 2008, the family sat together and decided to run Desh Garments properly. Her mother and brother were reluctant to let Vidiya take such a responsibility at such an age. She had to convince them.
Vidiya appointed a German consultant and moved to Chittagong.
"Initially, nobody took me seriously. It was not very easy for me as I have had a very comfortable life."
She stationed herself at the factory in the port city for the next four years. She dedicated herself to the business. "I personally learnt almost everything by staying at the factory."
She successfully turned the factory into an efficient and a compliant one in four years. "Workers are more disciplined today."
She moved to Dhaka one and a half years ago. Now she visits the factory at least once a week.
Vidiya is now the group director of Desh Group, which has interests in packaging, distribution, IT and real estate. Although her mother is the chairman of the group and her elder brother is the managing director, she is the decision-maker in the company.
"I have been able to turn it around a bit. Not all families can sustain its business," she said. She gave credit to her father for her success.
"Abba [father] taught me everything. He groomed me up. I even learnt cooking from him. Living with my father was like being in another school."
The single-storey factory located on over 80,000sqft of land has 976 workers. "These workers are very nice."
Vidiya now plans to expand the production capacity of her factory, which could happen within this year. And the company will cash in on its expertise in shirt-making.
Now the factory produces 2 lakh shirts a month. Vidiya said she plans to double the capacity in two to three years adding another factory floor on top.
She said the group's packaging factory will also see expansion in the coming months.
The public limited company now exports its products to the US and the European Union. Desh Garments' buyers include Kohl's, Aldi and Li & Fung.
Vidiya said any woman who is planning to establish herself as an entrepreneur must prepare for the obstacles they would encounter. "It is not an easy world. You will have to be ready for the fight."
"We have not diversified production yet. We still make shirts only and will continue to export this particular item."
 Also a director of Bangladesh Garment Manufacturers and Exporters Association, Vidiya is very hopeful about the sector's potential in the world market, as the industry is very competitive and has a huge workforce. 
"Our future is very, very bright. I also think that the $50-billion export target by 2021 is within our ability. The government will have to create the right infrastructure. We will also have to educate the workforce as well as factory managers."