Guardian of nature rewarded
The Daily Star celebrates 26th anniversary by honouring Faridpur's poor rickshaw puller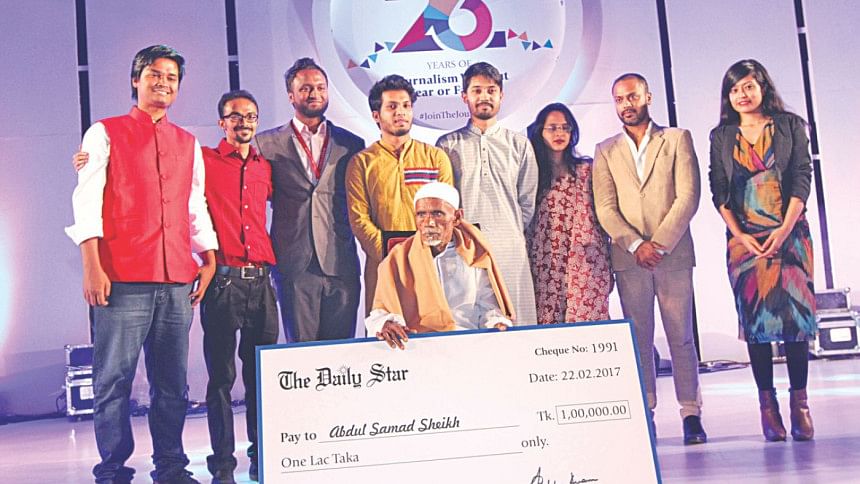 "The best time to plant a tree was 20 years ago. The second best time is now."
This Chinese proverb isn't about planting trees, not literally. But that didn't stop Abdul Samad Sheikh, who in all likelihood isn't even aware of this proverb, to become a guardian of nature. For him the best time to plant a tree was 48 years ago. And the second best time is every day.   
This man from Faridpur, now 60, has made it his duty to plant at least one tree a day ever since he was just 12, often buying it with the little money he earns by pulling rickshaw.
On the occasion of its 26th founding anniversary, The Daily Star yesterday honoured this nature lover at the capital's International Convention City Bashundhara.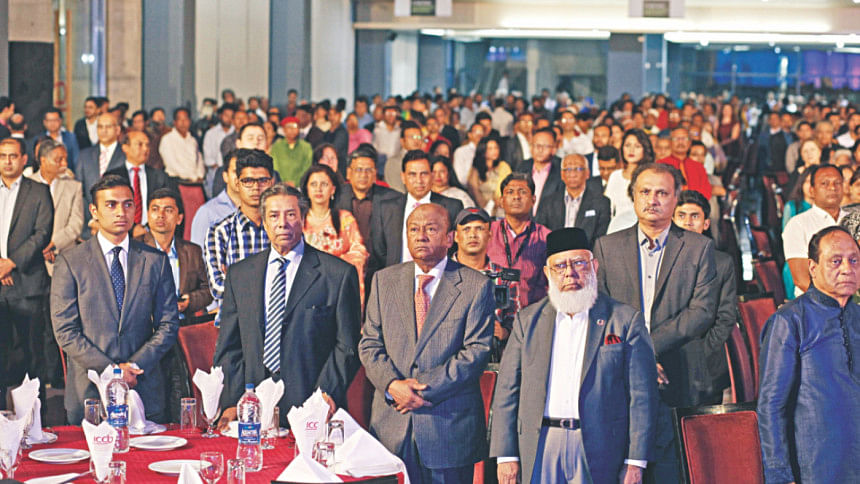 He was also given a check of Tk 1 lakh to help build his house. Samad, locally known as "Tree Samad", now lives in two huts on government land with five members of his family.
"How much can I alone do? You all should plant trees," an overwhelmed Samad said, after receiving the award. 
But even before the programme began, he went up to The Daily Star Editor Mahfuz Anam and complained: "I could not plant a tree today because of this programme."
Later, a coconut tree was brought for Samad, who then planted it by the hall room of the convention city.  
Several thousand people, who made up the evening's audience, all took home a profound inspiration. 
"It takes almost nothing to do something good," many thought, as they shook their heads in disbelief.
Readers, patrons, advertisers, well-wishers, politicians, academics, businessmen, diplomats, journalists and development workers from home and abroad were present at the event titled "26 Years of Journalism without Fear or Favour".
Nine other change-makers were also honoured by this paper for their contribution to various fields.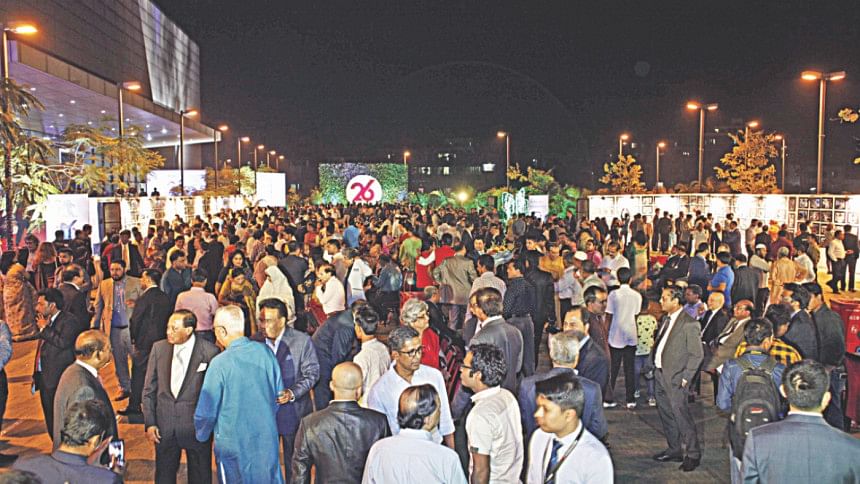 The Daily Star has created a platform for change-makers, who are trying to bring positive changes in the society, a month back. It started this Star change-maker circle with 30 people. Nine of them were recognised yesterday for their direct impact on people's lives in different ways. The objective of this recognition is to present their work to the people and provide them media support.
The programme began shortly after 6:30pm with the screening of a documentary on the brief history of the birth of Bangladesh, its struggles throughout the journey and achievements in the economic and social sectors, followed by the National Anthem.
The audience stood in solemn silence for a minute in memory of Faraaz Ayaaz Hossain, who sacrificed his life in a rare display of courage and friendship during the Gulshan cafe attack in July last year.
Rokia Afzal Rahman, chairperson of Mediaworld Ltd, the owning company of The Daily Star, said that in upholding fundamental rights and rules-based society, The Daily Star was second to none.
"In promoting private sector-based economic growth, we have tried to promote global best practices," she said.
But the task was not easy, she said, adding that the most formidable obstacle was the non-acceptance by the political leadership both in power and those outside to accept a critical voice.
"We are still struggling on that front," she added.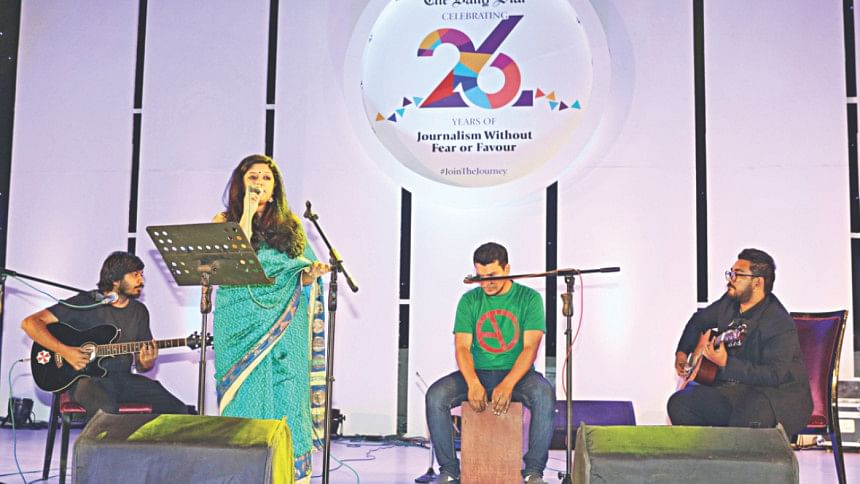 On issues of social and economic development, The Daily Star has been an example of positive journalism in which it highlighted every success the country achieved and tried to point out the shortcomings with constructive suggestions about the way forward, she added.  
"Generally, ours is a journalism based on genuine love for the people, especially the downtrodden, and very strong faith in our own ability to transform Bangladesh into a middle income country."
About the journey ahead, Rokia Afzal said the newspaper had a global vision in the Sustainable Development Goals, which was a great guide to follow.
The Daily Star Editor and Publisher, Mahfuz Anam, said, "We depend on advertisement and business to sustain ourselves, yet we have never moved away from ethical journalism. Our founders gave us such spirit."
He said print journalism was facing a two-pronged challenge -- one technological and the other -- a more insidious one -- ideological.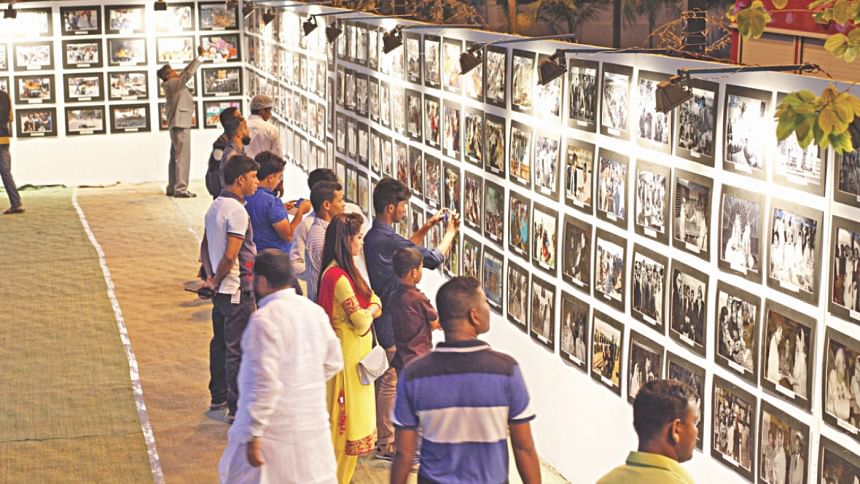 "The technological challenge we will adapt to and overcome. But the ideological challenge we must fight with every bit of strength we are capable of mustering," he said.
For the challenge is not only to journalism but to our freedom and to all the fundamental rights that we have learned to take as given, he added.
About Abdul Samad Sheikh, he said many of us cannot sleep at night for so many reasons.
"But today we have the honour to present before you a man who could not sleep if he did not plant a tree every day. He is a man whose love for fellow human beings, love for nature, and an intuitive sense of environment make us all feel small, selfish and blind," he said.
"What this rickshaw puller from Faridpur knew without any modern education, most of us, with far better education, seem not to know -- that tree gives life and that human beings need trees to survive," he added.
Samad's action is supremely beautiful in its simplicity and awesome in its consistency, Mahfuz said.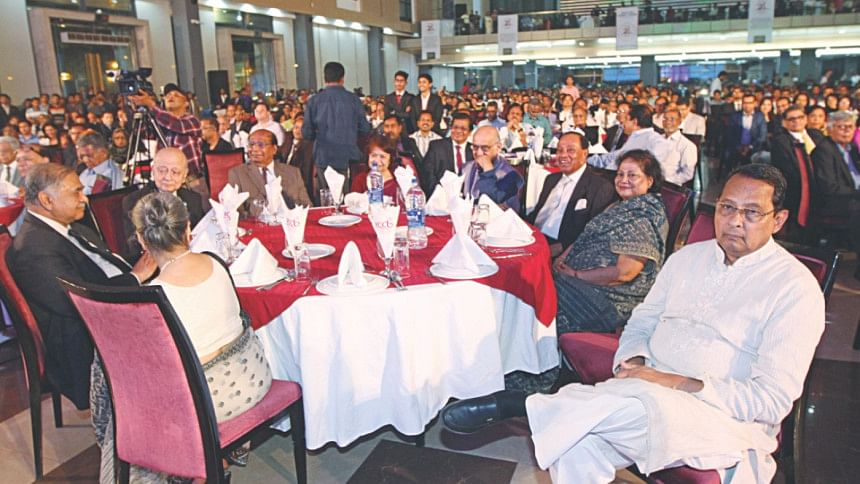 "Can any of you imagine doing something every day of your life for 48 years, let alone plant a tree a day? But Abdul Samad Sheikh, a poor rickshaw puller did so sometimes spending his own money but more often getting free saplings from the local government office.
Samad has been planting a tree a day since he was 12 years old. A normal year has 365 days. In 48 years, with an extra 12 days added to account for leap years, there will be 17,532 days. At a minimum, that's how many trees Samad has nurtured.
Talking to The Daily Star earlier, Samad said, "From rickshaw puling I earn around 100 taka per day. With that I buy necessities for my family and at least one plant from the Faridpur Horticulture Centre."
Speaking about Faraaz, Mahfuz Anam said, "In his decision not to leave without his friends he touched us all with his love for fellow human beings and filled our hearts with pride by his exemplary courage. He has left so much for us to learn from."
Latifur Rahman, chairman of Transcom Group and a member of the board of directors of Mediaworld Ltd, was also present.
Among the distinguished guests were Professor Rehman Sobhan, Gono Forum President Dr Kamal Hossain, Information Minister Hasanul Haq Inu, former CEC ATM Shamsul Huda, former election commissioner Brig Gen (retd) M Shakhawat Hussain, Centre for Policy Dialogue's Distinguished Fellows Dr Debapriya Bhattacharya and Professor Mustafizur Rahman, rights activist Hamida Hossain, political scientist Professor Raunaq Jahan, former diplomats Farooq Sobhan and Shamsher Mobin Chowdhury, BNP leaders Mirza Fakhrul Islam Alamgir, Moudud Ahmed, Amir Khasru Mahmud Chowdhury, Abdul Moeen Khan, Abdullah Al Noman, Gonoshasthaya Kendra founder Zafrullah Chowdhury, former Chief Information Commissioner Muhammad Zamir, Editor of daily Samakal Golam Sarwar, media personalities Shykh Seraj, Muhammad Jahangir and Mozammel Babu, Bangladesh Hindu Buddhist Christian Unity Council general secretary Rana Dasgupta, ISPR Director Lt Col Rashidul Hassan, renowned magician Jewel Aich, prominent classic dance exponent Shamim Ara Nipa, actor and supermodel  Adil Hossain Noble, film director Mostofa Sarwar Farooki, and television and film actress Nusrat Imrose Tisha.