Govt using Facebook
Social media 'blocked' for two weeks but many govt depts, AL leaders found active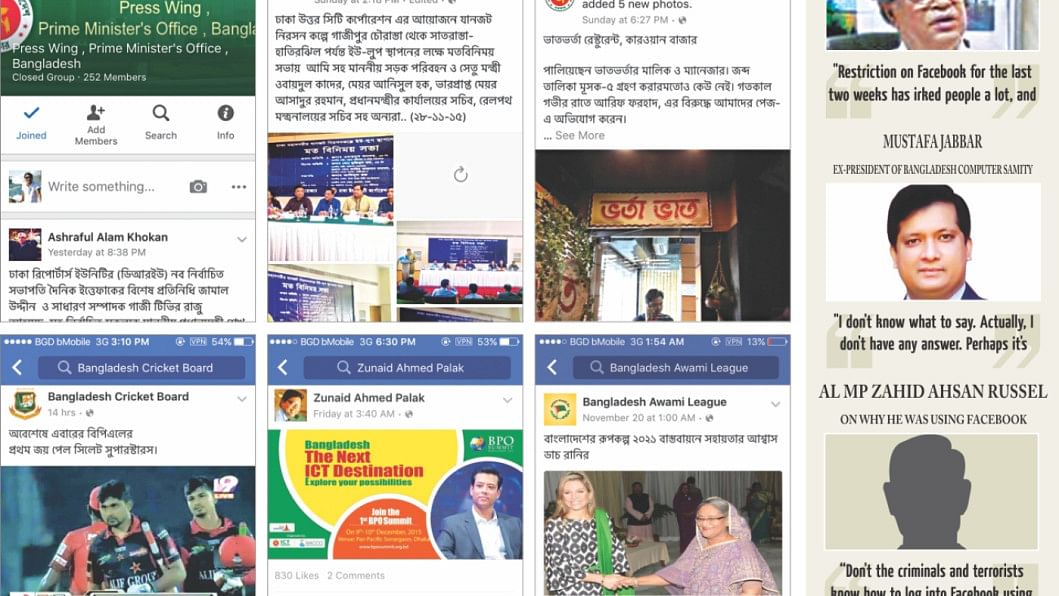 The government appears to be defying its own ban on Facebook.
As the ban on Facebook in Bangladesh steps into the third week, a number of ministers, lawmakers, ruling party leaders, high officials, and wings of different ministries have been using the most popular social media platform almost regularly.
Over the last two weeks, they posted photos, shared links, and updated their statuses in their official and personal Facebook accounts.
They were doing this even though the government had warned people about bypassing the ban and had said workaround was a violation of the law.
For example, State Minister for ICT Division Zunaid Ahmed Palak has updated and shared a few posts in his verified Facebook account after November 18, when the government blocked Facebook, WhatsApp and Viber.
Palak's division is under the Ministry of Posts and Telecommunications, which blocked the services as a means to contain subversive militant activities and political violence centring the execution of two top war criminals.
On Friday at 3:40pm, Palak shared a photo of the BPO Summit. Before posting the photo, he updated his status saying he was at Chalanbeel Singhra.
There were many Twitter posts which made it its way into his Facebook page.
However, Palak denied sharing anything on Facebook.
"I am not using Facebook. But my Facebook account is synced with Twitter. And whatever I've posted on Twitter is uploaded on Facebook automatically," he told The Daily Star.
A Facebook user, wishing anonymity since the user feared reprisal, said, "These people are sharing posts for whom? Is it for terrorists or for the general people?
"Don't the criminals and terrorists know how to log on to Facebook by proxy servers? It's just a farce," the user said.
Facebook use began in Bangladesh in mid 2006 but now it has 1.8 crore Bangladeshi users.
When the government suspended Facebook, WhatsApp and Viber, most users found the move ridiculous.
There were hundreds of free apps, some encrypted, for phones which allow users to bypass the block, not to mention Virtual Private Network (VPN) that were built-in in most modern computers and all smartphones.
Facebook had not only become a part of life but also the main hub for social and business relationships. The ban was hurting businesses badly.
Facebook users and the entrepreneurs called on the government to improve its use of technology to fight crimes since criminals and terrorists could bypass the block and encrypt their communication on Facebook any way.
Mustafa Jabbar, former president of Bangladesh Computer Samity, said, "The home ministry might have reasons for blocking Facebook, but I don't find any rationale behind it." The ministries were making vague arguments to justify the Facebook ban, he said.
Experts found no rationale behind the ban. They said the platform at best could be used for spreading propaganda.
A number of ministers and ruling party leaders, who are known as avid users of Facebook, have not used the site since the ban was imposed.
Road Transport and Bridges Minister Obaidul Quader, State Minister for Foreign Affairs Shahriar Alam, and Prime Minister's Special Assistant Mahbubul Hoque Shakil were among them.
However, many other government high-ups were not following their lead.
Planning Minister AHM Mustafa Kamal Lotus updated his profile picture with a logo of Comilla Victorians, one of the teams of Bangladesh Premier League (BPL), on November 29.
Gazipur lawmaker Zahid Ahsan Russel, a keen Facebook user, updated his Facebook status the following day about a views-exchange meeting.
Contacted, Zahid, also chief of parliamentary standing committee on youth and sports, said, "I don't know what to say. Actually, I do not have any answer. Perhaps it's because of my habit."
Ashraful Alam Khokan, deputy press secretary at the Prime Minister's Office (PMO), frequently updated his profile pictures in the last few days. His last update was on Tuesday.
Immediately after the election of Dhaka Reporters' Unity, the official Facebook page of the Press Wing of the PMO congratulated the winners on Monday.
Bangladesh Cricket Board was not lagging behind either. It was issuing updates of the BPL matches and match fixtures on its Facebook page.
The VAT Intelligence, a government organisation, uploaded a picture on Sunday about its drive at a restaurant.
Two pictures of two different events were uploaded on the official Facebook page of Dhaka University. One of the pictures, uploaded on November 26, was about a report launching ceremony.
The ruling Awami League made several posts on its official Facebook page on November 20, two days after the ban was imposed. However, no posts had been made since then.
Pretty much all embassies and high commissions in Dhaka and almost all media outlets have also continued their use of Facebook through out the ban.
Mustafa Jabbar said the internet had become the "lifeline of modern life, businesses and offices". "I don't support restrictions on any technology that people use for their welfare.
"I don't think it is possible to capture criminals by blocking the social media. Moreover, I have no information that the government has been able to catch any criminal using this technology."
Jabbar said people use Facebook not only for chatting and sharing things but also for news and information on jobs. Facebook has become a commerce platform in Bangladesh.
"Restriction on Facebook for the last two weeks has created a disturbance in the public sphere and is damaging the image of the government," he said.
Small entrepreneurs said the shutdown massively affected their business.
Around 7,500 active Facebook pages were doing business in the country and at least 600 web pages were doing online businesses, according to e-Commerce Association of Bangladesh (e-CAB).
Afsana Shorme, an entrepreneur, said the sale in her boutique business plummeted because of the block and she would have to close shop if the ban continued.
"I will not ask the government to lift the ban. I will just say that Facebook is not just a place for entertainment or means of communication for criminals. It is a place where many Bangladeshis found employment and many families found livelihood," she said.
Seeking anonymity, a student of Dhaka University who had been using Facebook for the last five years said the government move contradicts its vision to build "Digital Bangladesh".
Tarana Halim, state minister of posts and telecommunications division, could not be reached for comments last night despite repeated attempts.