Govt seeks SC review
Appeals for death penalty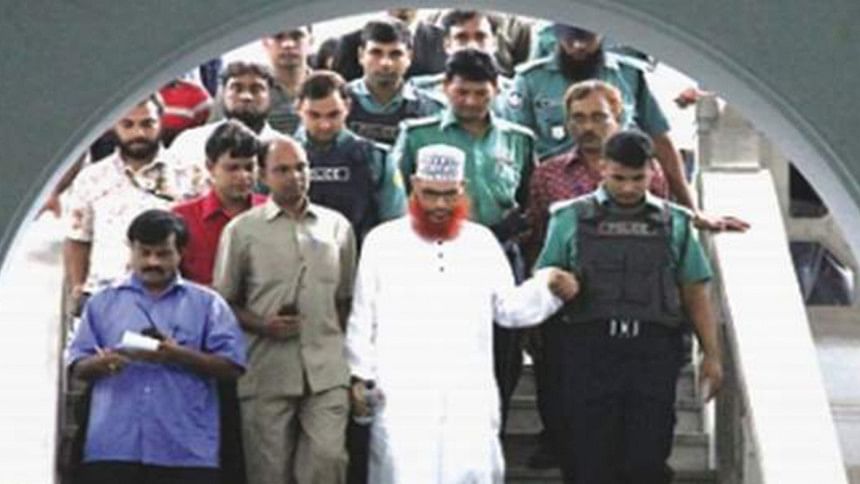 The government yesterday filed a review petition with the Supreme Court seeking death penalty for Jamaat-e-Islami leader Delawar Hossain Sayedee for the war crimes he committed during the Liberation War.
The Office of the Attorney General submitted the petition to the section concerned of the SC seeking review of its judgement that commuted Sayedee's death penalty to imprisonment till death.
This is for the first time the government filed a review petition against the SC verdict in a war crimes case.
In the 653-page review petition, five grounds have been included so that the apex court could consider the prayer, Deputy Attorney General Ekramul Haque Tutul told The Daily Star.
Sayedee's lawyer SM Shahjahan has meanwhile told this correspondent that a separate review petition would be submitted to the SC today on behalf of his client seeking his acquittal.
Earlier in the day, Attorney General Mahbubey Alam told reporters at his office that the government in the review petition prayed to the Appellate Division to uphold the International Crimes Tribunal-1 verdict that sentenced the Jamaat nayeb-e-ameer to death for his involvement in the killing of Ibrahim Kutti and Bisha Bali in Pirojpur in 1971.
The five-member bench of the SC by majority view sentenced him to 12 years' rigorous imprisonment for killing Ibrahim Kutti and imprisonment until death for murdering Bisha Bali in Pirojpur. The bench also found Sayedee guilty on three more charges and acquitted him of three others.
The SC, which announced the short verdict on September 17, 2014, released the full judgement on December 31 last year.
In a war crimes case, the government and the defence are allowed to file petitions with the SC seeking review of the judgement in 15 days after the release of the full verdict.
The attorney general yesterday refused to reveal the contents of the review petition that sought Sayedee's capital punishment.
He, however, said Sayedee could not be exempted of the charges of killing Ibrahim Kutti and Bisha Bali, rape of Shefali Gharami and loot of 22 kg gold from Makhan Lal Saha's shop in Pirojpur during the War in 1971.  
The top state law officer also expressed the hope that the SC would alter the sentence to death following the review petition.
He added his office would submit an application to the SC for fixing a date for hearing the petition.
The Tribunal-1 on February 28, 2014 sentenced Sayedee to death.
The SC on September 17, 2014 commuted the death sentence following his appeal seeking acquittal of all the charges brought against him.