Gono Bhaban Access: BCL president, gen secretary's special passes suspended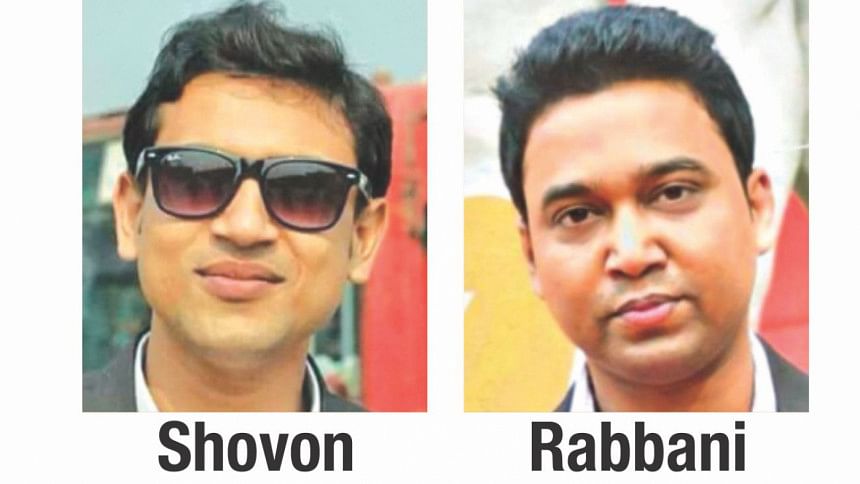 Chhatra League President Rezwanul Haque Chowdhury Shovon and General Secretary Golam Rabbani's special passes to the Gono Bhaban have been suspended, sources at the Gono Bhaban said.
If the duo now wanted to meet Awami League President and Prime Minister Sheikh Hasina, they would need to collect a temporary pass from the authorities concerned to get into the prime minister's official residence.
Temporary passes are valid for only a few hours. 
Top Awami League and its associate bodies' leaders are given special passes as well as verbal consents to meet Hasina at the Gono Bhaban, the sources said.
When asked about their passes being suspended, the Chhatra League president and general secretary told The Daily Star that they did not know about the matter.  
The passes were suspended three days after Hasina, during a meeting of AL leaders in the Gono Bhaban, expressed annoyance over the recent "controversial" activities of the Chhatra League leaders. 
At the meeting, the AL leaders pointed out the various "controversial" activities of Shovon and Rabbani. 
After being made president and general secretary on July 31 last year, Shovon-Rabbani declared Chhatra League's 301-member central committee.
The committee had a few married people, non-students, extortionists, expelled Chhatra League men, drug dealers, and addicts, and former leaders and activists of Jatiyatabadi Chhatra Dal and Islami Chhatra Shibir, according to insiders.
They said many dedicated Chhatra League leaders had also been left out.
Amid protests by a section of Chhatra League leaders, 19 committee members were dropped on May 29 but their names were not made public.
During the first half of their two-year tenure, the duo could form only two committees. They failed to form committees for Jagannath University and Eden Mohila College although the councils of these units were held two months ago. 
On Tuesday, two vice-presidents of the organisation got involved in a scuffle over sitting inside Shovon's car near Madhur Canteen in Dhaka University. 
Shovon dragged a journalist inside his car when the latter was filming the scuffle and Shovon deleted the footage himself. 
Rabbani, also the general secretary of Dhaka University Central Students' Union (Dcusu), faced criticism for installing an Air Conditioner in his Ducsu building room.  
Meanwhile, AL General Secretary Obaidul Quader yesterday said Prime Minister Sheikh Hasina herself is looking into the matter involving the incumbent president and general secretary of Bangladesh Chhatra League.
"Any amendment or changes to Chhatra League will be handled by the prime minister herself," he told reporters at the Secretariat.
Asked about the upcoming council of Chhatra League, the minister said, "There has been no decision about it yet. It's an internal matter of the party."
He said the prime minister tasked four party leaders to deal with issues related to Chhatra League.