Part - 2: Hilsa & Killer-nets
Gill Nets Burnt; Factories Boom
Fishes being wiped out of rivers as manufacturing units of death-nets not shut down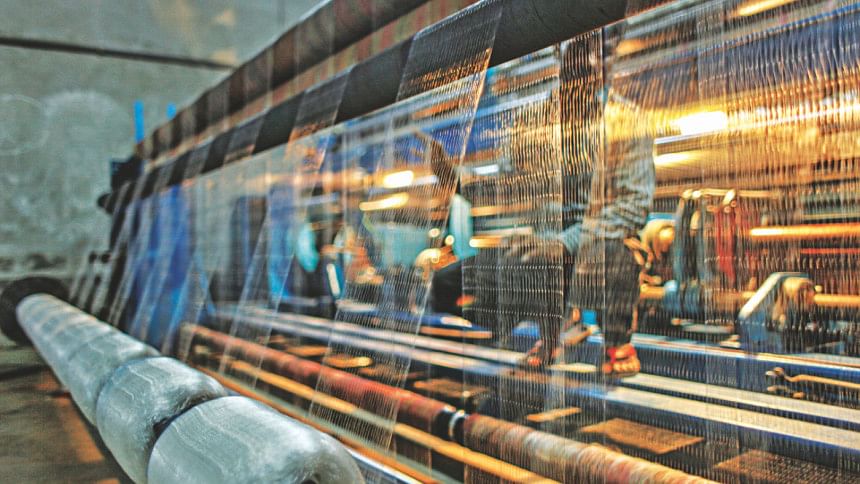 To us Bangalees, hilsa isn't just a fish. It's an integral part of our culture and heritage. Be it fried or cooked with mustard, hilsa is a must in Pahela Baishakh celebrations. But they aren't anymore safe in our rivers, home to world's 60pc hilsa. This four-part series focuses on the existential crisis, changing  habitat and ways to conserve this much coveted fish.    
"Jhake Jhake jatka, current jaale atka."
This was part of the dialogue of a popular television advertisement aired in the early 90s to raise public awareness against jatka catching with gill net, locally called current jaal.          
Despite such awareness campaigns, the use of gill net has never stopped as the government has done little to stop its production and trade.
Cheap and effective in catching fish, this small-mesh net made of monofilament synthetic nylon fibre is very popular among fishermen.
The net easily traps hilsa fries or jatka -- less than 25cm in length. It is also a danger to other fishes, big or small, and aquatic species like turtles and dolphins. Their gill, neck or flipper gets tangled up when they try to escape the net.  
"The price of 1,000-metre-long current jaal ranges from Tk 600 to 900 while other types of nets of same length cost Tk 7,000 to Tk 35,000," said a manufacturer, requesting anonymity. This is however for one-time use.
The Daily Star obtained a list of gill net producers from the fisheries department, and learnt that almost all of those are based in Munshiganj.
Visiting Munshiganj recently, these correspondents found many of the factories are located at Bangladesh Small and Cottage Industries Corporation (BISIC) area, which means government facilities are being used for manufacturing gill nets.
From Munshiganj, the net is sent to Dhaka's Chawkbazar, its main wholesale market in the country, and to other districts. 
Shahajada Khasru, fisheries officer of Munishiganj Sadar upazila, said, "We have already sealed two current jal factories out of 154 enlisted ones."
He, however, said traders are putting pressure on the authorities not to take any further steps.  
Habibur Rahman, vice-president of Fishing Material Manufacturers Association, said, "With at least one lakh people involved, there are over 500 current jal factories in Munshiganj and 200 of them are big business establishments."
Some other countries including India, Vietnam and Thailand produce and export gill net, he noted. If its manufacture is banned in Bangladesh, local manufacturers should be allowed to export it.
Manufacturers said apart from current jaal, there are many types of net that can be used for catching jatka.
"Only banning gill net would not stop jatka catching," said Neaz Morshed, owner of Modhumoti Fishing Net Industry.
"A proper policy on fishing net is needed to protect hilsa and other fishes of Bangladesh," he said. 
According to an estimate, factories produce around 3,000 kg or five to six thousand pieces of nets a day (if a single net weighing 500gm is about 500 metres long), while law enforcers and officials from different government agencies seize merely 3.5 lakh metres or 600 to 700 pieces of net a year.
A total of nine government agencies seized 335.75 lakh meters of gill net in 2011-12 and 381.16 lakh meters in 2012-13.
THE LEGAL BATTLE
Though the government in 2002 amended the Protection and Conservation of Fish Act 1950 imposing a ban on manufacturing, marketing, importing, storing, carrying, possessing and using gill net, writ petitions against the law hampered its implementation, said fisheries department sources.
"We could not conduct drives against current jaal, as there were 57 writ petitions against the law that bans the net," said Syed Arif Azad, director general of fisheries department.
The verdict on the last of the petitions, filed between 2000 and 2002, came in November last year.  
"As we have got all the verdicts on the writ petitions in our favour, there is no obstruction to drives against all the parties, including manufacturers, users and sellers," he said.
"It is hard to stop the use of current jal in fishing only by conducting raids in rivers. There has to be action at the manufacturing level," he added.
For its violation, the law provides for three to seven years' rigorous imprisonment and a fine of upto Tk 10,000.
"Measures have been taken to stop the use of gill nets. We have sent letters to the authorities of every district to take action regarding gill nets," said Selina Afroza, secretary to the fisheries and livestock ministry.
In the first week of January this year, the fisheries department wrote to the ministry seeking initiatives for legal action against all those involved in the business.
Contacted, Fisheries and Livestock Minister Sayedul Haque said, "We got all the verdicts, and we are going to start the drive within a week or so."
[Our Munshiganj correspondent Mirza Farhana contributed to this report]
--Edited by Shahtub Siddique Anik