Gaibandha MP shot dead at home
Four bike-riding assailants storm his guest room and open fire; motive unclear; two detained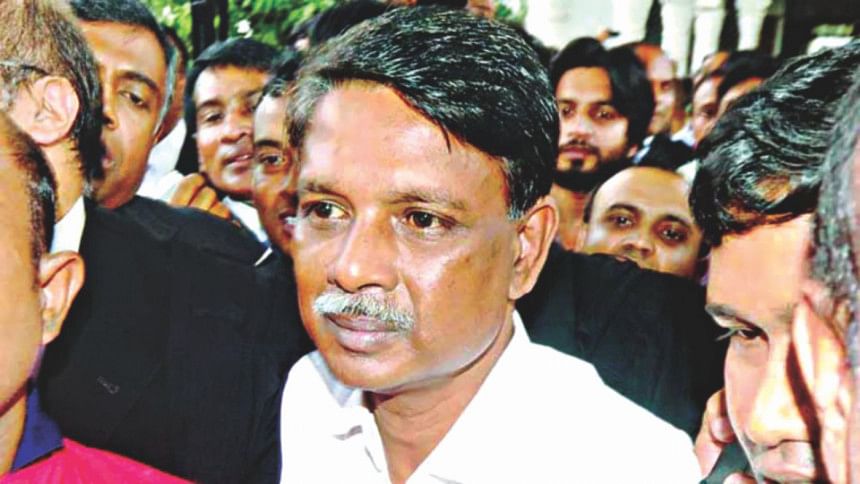 Manzurul Islam Liton, ruling Awami League lawmaker of Gaibandha-1 constituency, was killed after unknown assailants opened fire on him inside his home at Sundarganj upazila of the district yesterday evening.
Four men stormed the MP's home in Bamondanga area around 6:00pm and shot him when he was in his guest room, said Atiar Rahman, officer-in-charge of Sundarganj Police Station.
Liton's brother-in-law, Bedarul Ahsan, said four men arrived at the gate of the lawmaker's home on two bikes after Magrib prayers and said that they wanted to meet the AL leader.
Later, they stormed the guest room and shot Liton, who was having tea there, he said, adding that all the attackers had their faces covered with scarf. They shot him at close range.
"I was talking to my sister [wife of Liton]. Suddenly, there were gun shot sounds," Bedarul said, adding that he then heard the lawmaker calling for help.
"When I entered the room, I saw him [Liton] lying on the floor. By that time, the attackers had fled on the bikes firing shots in the air," he added.
Critically injured Liton was rushed to the Rangpur Medical College Hospital where doctors declared him dead at 7:30pm, head of the hospital's surgery department Bimal Kumar Roy said.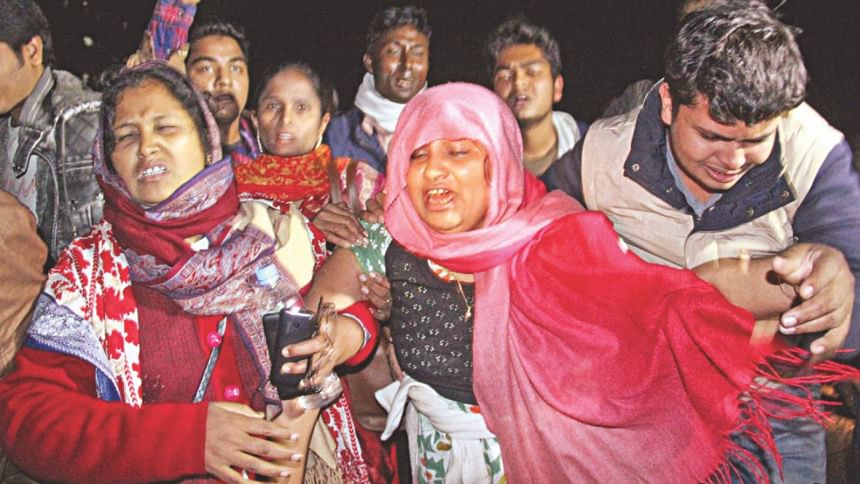 Bimal said five bullets had penetrated the MP. Two had hit him in the chest while the others went in his left hand.
Police could not immediately give any specific reason behind the attack.
Asked whether the incident had anything to do with internal conflict of the local AL or militancy, Ashraful Islam, superintendent of police in Gaibandha, said they were investigating the matter.
Talking to The Daily Star around 12:30am today, he said several of their teams were working and two suspects had been picked up.
PM CONDEMNS
Strongly condemning the killing of MP Liton, Prime Minister Sheikh Hasina yesterday asked the law enforcement agencies to bring the killers to book.
"When Bangladesh is advancing towards development, a vested quarter is making ill efforts to create anarchy in the country to gain their interest ... they have chosen the path of killing and terrorism which would not be tolerated," Hasina said in a condolence message, reports BSS.
Hasina said the vested quarter killed Liton following "the path of their politics of killing".
The premier said Publicity and Publication Secretary of Khulna City Awami League and Khulna City Swecchasebak League General Secretary ZA Mahmud had been shot in Khulna. A pedestrian was killed as the bullet missed the target, she said.
She asked the authorities concerned to hunt down Liton's killers and take legal actions against them.
The PM prayed for eternal peace of the departed soul and conveyed sympathy to the bereaved family.
A two-member AL delegation went to Gaibandha last night from Dhaka to enquire about the incident, BM Muzammel Haque, a member of the delegation, told The Daily Star. The other member is Jahangir Kabir Nanok.
PROTESTS
Leaders and activists of local AL and its associate bodies demonstrated at several places in Gaibandha and Sundarganj upazila last night.
Blocking the railway lines at Bamondanga Railway Station, they demanded the attackers' arrest and punishment.
Several hundred activists of AL barricaded Gaibandha-Bamondanga-Rangpur road immediately after the attack. Led by local AL MP Abul Kalam Azad, they also brought out a procession at Gaibandha district headquarters.
A group of locals set fire to the home of a Jamaat leader Abdul Gaffar at Sundarganj municipality.
Talking to The Daily Star, MP Azad said MP Liton was always vocal against Jamaat leaders.
Inspector General of Police AKM Shahidul Haque said the perpetrators would be arrested soon.
He claimed that yesterday's incident happened after MP Liton had asked a police team guarding his home to leave.
Liton had drawn widespread flak after he allegedly shot a 10-year-old boy in Gaibandha on October 2, last year.
Sourav Mia, son of Sazu Miah of Gopalcharan village in Sundarganj, was shot twice in his legs.
Sazu filed an attempted murder case against Liton the following day.
Liton was arrested on October 14 at Uttara in the capital.
Born in Shahbaz Masterpara area in Bamondanga of Sundarganj in 1968, Liton became a lawmaker of Gaibandha-1 through the January-5 national elections in 2014.
Liton mentioned farming and business as his profession in his affidavit submitted to the Election Commission.
Earlier, two AL lawmakers -- Ahsanullah Master and Shah AMS Kibria--were killed in 2004 and 2005.
On May 7, 2004, gunmen shot dead Ahsanullah, also the then president of Jatiya Sramik League at Noagaon near the legislator's house in Tongi.
On January 27, 2005, former finance minister Shah AMS Kibria was killed in a grenade attack during a public meeting in Habiganj.