Myanmar Coast
Fishermen rescue seven Bangladeshis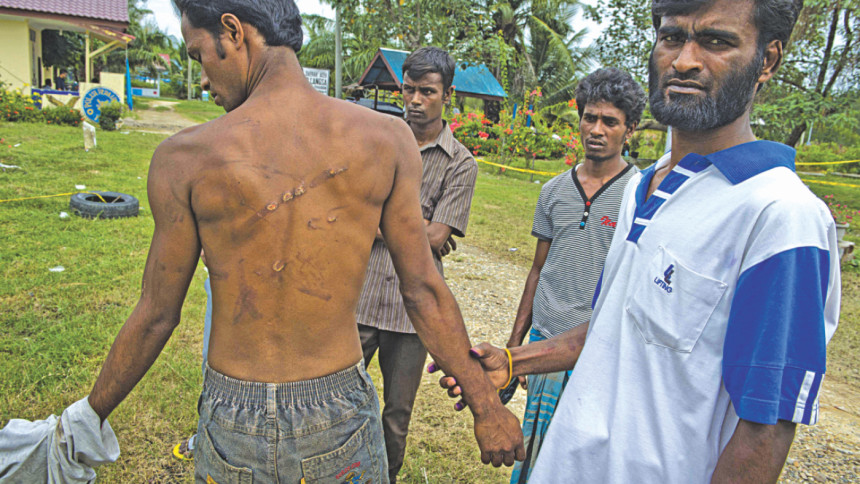 Seven Bangladeshi nationals were rescued yesterday off the Myanmar coast after they were thrown from a fishing trawler packed with migrants heading to Malaysia, a coast guard officer said.
Lt Dickson Chowdhury, in-charge of the Coast Guard's St Martin Station, said the seven men had been pulled from the Bay of Bengal by fishermen from Myanmar and handed over to local Bangladeshi fishermen.
The victims are identified as Alauddin Sheikh, Mamun Mollah and Jasim Munsi of Jhenidah; Idris Ali, Mohammad Ismail and Imran Ali of Sirajganj; and Shahadat Sarkar of Jaipurhat.
"A Thai fishing trawler threw them into the Bay of Bengal. A Myanmar boat rescued them and handed [them] over to a Bangladeshi fishing boat. They are now under our custody," said Dickson.
He said the seven had told coast guard officers there were three boats in the area packed with migrants from Bangladesh and neighbouring Myanmar's persecuted Rohingya minority.
"They told us that the three boats were parked eight kilometres south of Myanmar's Sitaparokia coast. In one boat, there were 68 people and the two others have more than 100 people each."
The claims could not immediately be verified by other government agencies, reports AFP.
But a migrant stuck in one of the ships told a Bangladeshi private television station that it was carrying more than 200 Bangladeshis in Myanmar waters.
"There are Burmese [Rohingya] and Bangladeshis in the ship. The number of Bangladeshis in the ship would be 200-250," said the migrant, who was not named.
The illegal migrant, who left his village more than a month ago, said the smugglers were charging migrants $650 each as a fee for sending them back home.
Meanwhile, members of Border Guard Bangladesh (BGB) rescued six Bangladeshi jobseekers from Shah Porir Dwip around 11:15pm on Sunday.
Lt Col Abu Jar Al Zahid, commanding officer of BGB battalion-42, told our Cox's Bazar correspondent that a team of the border guards rescued six people, who boarded a fishing trawler from Cox's Bazar's Maheshkhali several days ago to go to Malaysia.
The CO said the victims were rescued by Bangladeshi cattle traders, who were coming back from Myanmar's Akiab to Teknaf, from Merulla inside Myanmar territory.
They rescued jobseekers are Faruk Hossen and Mohammad Musa of Chittagong; Shahin Mia and Zahedul Islam of Narsingdi; Jasim Uddin of Jaipurhat; and Shahidul Islam of Pabna.