Festivity all over
Road to developing nation status celebrated
People across the country yesterday celebrated Bangladesh becoming eligible for graduating to Developing Country by bringing out colourful processions and joining rallies in festive mood.
The capital as well as other parts of the country was adorned with festoons, posters, banners, and flags. Parts of the capital and important government buildings were decorated with lights.
In the capital, employees of the government, semi-government, and private organisations, students of university, colleges, and schools brought out processions to celebrate the country's achievement.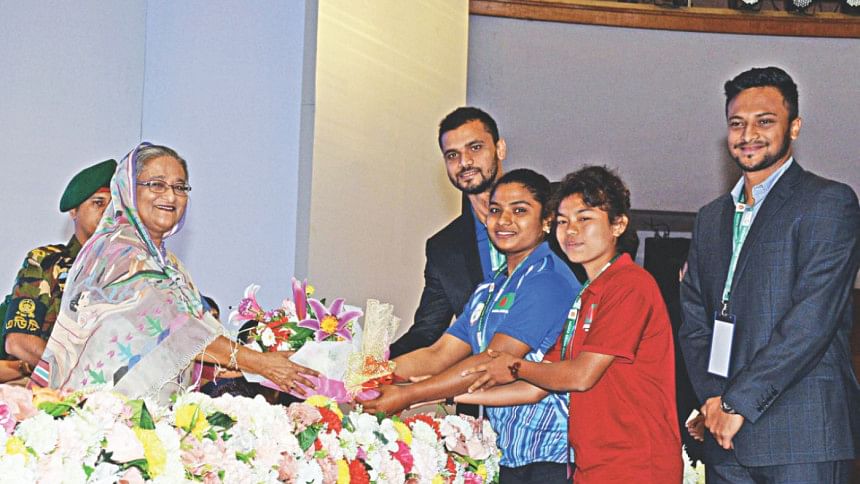 Cabinet Secretary Mohammad Shafiul Alam verbally asked secretaries and chiefs of the 57 ministries and departments to bring out processions. The secretaries issued official orders to employees and staffers.
Officials and employees of NGOs and educational institutions were also informally asked to join the processions, said sources.
A holiday mood gripped public offices on the week's last working day as officials and employees were busy preparing for the processions and rallies since morning. They left work around noon.
Dhaka Metropolitan Police (DMP) requested city dwellers to avoid 11 areas in the city between 2:00pm and 6:00pm. The 11 areas were: Shahbagh, Kakrail Mosque intersection, Nightingale intersection, Fakirerpool, Shapla Chattar, Gulistan, Fulbaria, Chankharpool, Bakshibazar, Palashi and Nilkhet.
The closure of certain intersections and roads had detrimental effect on others streets. People were stuck in traffic for hours. Lack of public transport on other streets only made things worse.
A huge number of people were seen walking to their destinations.
Processions from across the capital started to head towards the Bangabandhu National Stadium since noon. The people in the processions carried festoons, posters of father of the nation Bangabandhu Sheikh Mujibur Rahman, and his daughter Sheikh Hasina, banners describing their success stories, and colourful flags. Bangabandhu's historic March-7 speech and patriotic songs were on loudspeakers.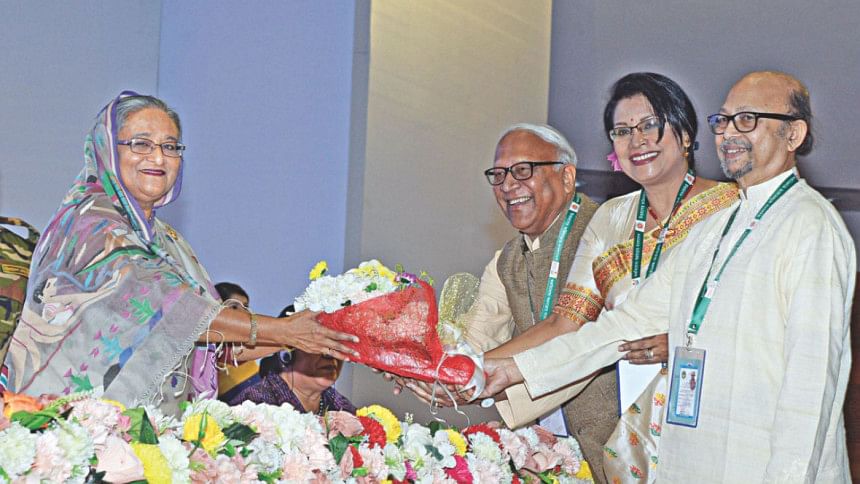 Processions started simultaneously from a number of designated spots, including Bangla Academy, Shilpakala Academy, Matshya Bhaban, Shishu Academy, Doyel Chattar, Suhrawardy Udyan, Engineering Institute, Dhaka University, Ramna Park, Bangladesh Bank Chattar, Shilpa Bhaban Chattar and Nagar Bhaban.
Dhaka University, Bangladesh University of Engineering and Technology (BUET), Controller General of Accounts and several organisations brought out such marches.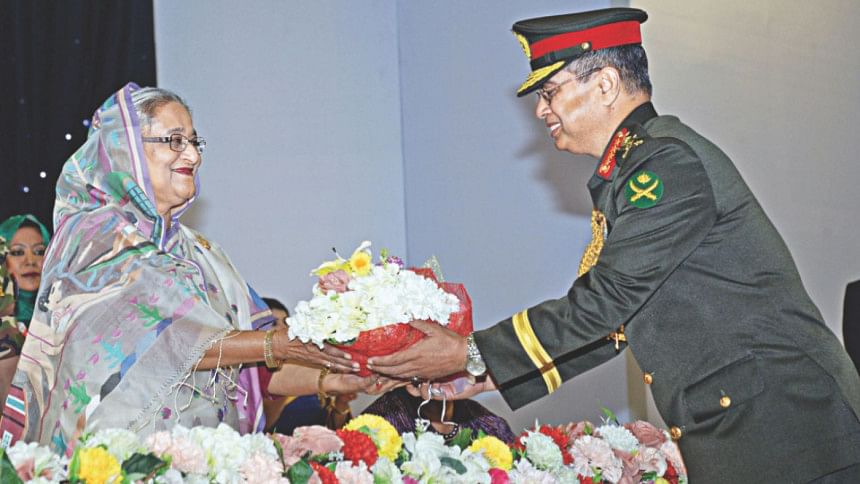 A cultural programme was held at the stadium from 7:00pm. There was a seven-minute laser show and 12-minute-long fireworks.
Prime Minister Sheikh Hasina was at the stadium.
Earlier, as part of the celebrations, Hasina was accorded a reception at the Bangabandhu International Conference Centre (BICC). Finance Minister AMA Muhith handed her the UN letter that recognised Bangladesh's achievement.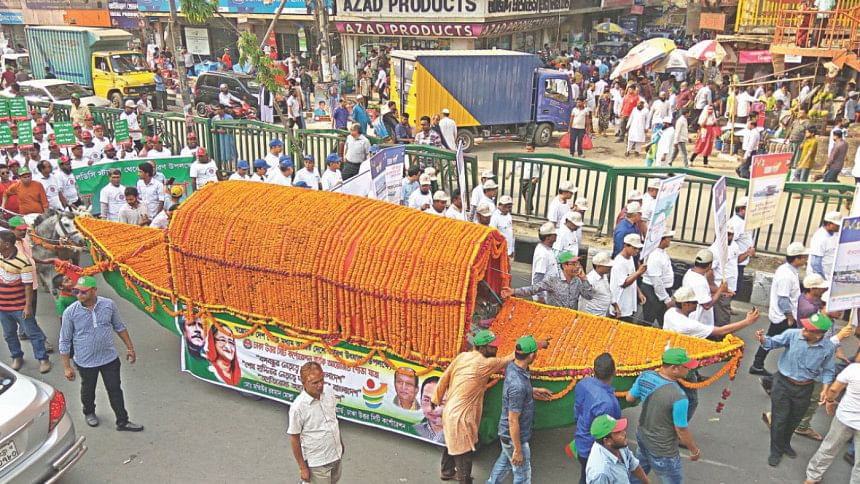 Like in Dhaka, processions were brought out and rallies were held across the country and the celebrations would continue until Wednesday. Local administration would organise photo exhibitions, art competitions, cultural programmes, sport events, and show videos on the government's development activities.
An international seminar would be held at Hotel Radisson Blu at 10:00am today. Muhith would preside over the seminar attended by civil society members, economists, NGO workers, and high officials of UN bodies.
A views-exchange meeting of experts would be held at the same venue around 4:00pm.
There would be a cultural programme and fireworks at the city's Hatirjheel today.