Fahim Munaim passes away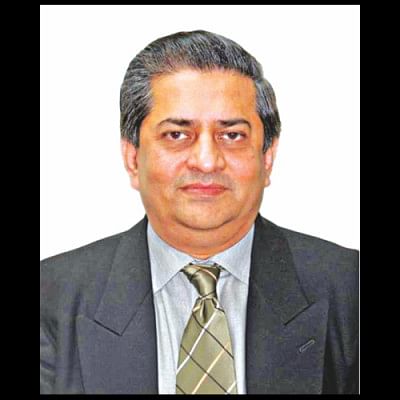 He had an endearing smile that would light up his face. He would always greet people with a great deal of warmth and leave them enchanted with his sharp wit.
Syed Fahim Munaim, chief executive officer and chief editor at Maasranga Television, was involved in the media industry for more than three decades and contributed to the development of professional and ethical journalism in the country.
A former executive editor of The Daily Star, Fahim died of cardiac arrest at his Gulshan residence around 6:00am yesterday. He was 63.
He left behind his wife, three sons, a daughter-in-law, and a host of relatives, well-wishers and admirers.
The decision on his burial will be made after two of his sons return from abroad. Till then, the body will be kept at the Square Hospital's mortuary, according to Maasranga Television.
Fahim served as managing editor of The Daily Star from 1996 to 2007.
He joined The Daily Star on June 10, 1996 as deputy managing editor and was promoted to the post of managing editor on December 1 the following year.
Fahim became executive editor of the newspaper on February 1, 2010.
A well-known TV personality, Fahim joined Maasranga Television, a concern of Square Group, as the chief executive officer and chief editor in March 2010.
He became press secretary to the then chief adviser of the caretaker government in 2007 and the ambassador to Indonesia the following year.
Fahim, son of journalist Syed Nuruddin, was born on July 4, 1953. He studied at Mirzapur Cadet College, and later completed his bachelor's and master's degrees in Public Administration from George Mason University in the US.
In his professional career, he was executive director at the Daily Sangbad and managing editor at the Morning Sun, news agency UNB and weekly Dhaka Courier. He earned huge popularity among journalists during his stint there.
He also worked as press councillor at the Bangladesh Embassy in Tokyo, Japan.
As the news of his death broke, tributes began pouring in from his well-wishers and colleagues and admirers.
Mahfuz Anam, editor and publisher of The Daily Star, said, "Fahim joined us when we were still a small and struggling newspaper. As the managing editor, he played a crucial role in introducing modern and dynamic management system making, The Daily Star financially viable."
The Star editor said it was a privilege to work with Fahim whose ever cheerful disposition and positive outlook on life made working with him a constant pleasure. He devoted his whole life to building professional and ethical journalism.
"He was a very dependable colleague and a more dependable friend," said Anam.
Expressing profound shock, Fakhruddin Ahmed, former chief adviser to the caretaker government, said Fahim contributed immensely to the public life of Bangladesh during his long and successful journalistic career.
When Fahim was called upon by the council of advisers to serve as press secretary to the chief adviser of the non-party caretaker government in 2007, he welcomed the opportunity to serve his country, and did so effectively and with deep integrity, Fakhruddin said in a condolence message.
"I spoke with him virtually every morning during my tenure as chief adviser, and I always found his counsel to be immensely valuable, on topics ranging far beyond his immediate purview as press secretary."
"We shall all, as a nation, miss his deeply-held commitment to the freedom of the press. And I will remember him always as a man of honesty and openness, who maintained calm and a sense of humour in every situation," Fakhruddin said, expressing deep sympathy to the bereaved family members.
In a condolence message, Dhaka University Vice-Chancellor AAMS Arefin Siddique said Fahim's contribution to the flourishing of journalism in the country would always be remembered.
Mizanur Rahman Khan, a journalist of BBC Bangla Service, said on his Facebook profile, "Hard to believe. I had a good time with him at The Daily Star. This terrible news tells us again that there is no serial number to die."
Zafar Sobhan, editor of Dhaka Tribune, wrote, "... I can't believe that you are gone so young. You were a friend, mentor and role model, and we are all the poorer for your passing."
Eminent personalities and government high-ups also offered their condolences. They include Finance Minister AMA Muhith, Information Minister Hasanul Haq Inu, Jatiya Press Club President Shafiqur Rahman and its General Secretary Kamrul Islam Chowdhury, and Inspector General of Police AKM Shahidul Hoque.